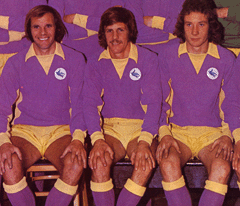 There wasn't much good football, City were clinging on by their fingernails at times and Middlesbrough must have returned to Teesside cursing the officials, but, right now, yesterday's 1-0 win rates up there amongst our most satisfying of the season for me. As to why I should rate a match that a neutral would probably have thought was a scrappy affair not helped by a bobbly pitch which hindered constructive football so highly, well it's nearly all to do with the context in which yesterday's game took place.
With supporters protesting against the way the club is being run beforehand, with another Court appearance due on Wednesday and with signs in their last two matches that they had finally began to be affected by all the off the field crap, the team had plenty of excuses for turning in another Barnsley or Preston like performance against Middlesbrough. Instead though, they played with a spirit, determination and sheer bloody mindedness which screamed out "Don't write us off yet".
However, even in a display which helped so much to raise spirits and restore a bit of hope, there were clues present as to why the odds still have to be against our depleted squad finishing in the top six. After the last two defeats the theory that the players were fast running out of steam has been rubbished by some – "why should they be knackered when they only play twice a week and train for a couple of hours a day?" they ask while pointing out that their own working week is much longer than any City player. However, did those critics notice how much more lively the team looked in the first half in particular as their endeavour and desire had Middlesbrough looking distinctly second best? Could that have had something to do with the fact that we had only played one match in the previous fortnight instead of the Saturday, Tuesday, Saturday, Tuesday slog that typifies so much of the Championship season?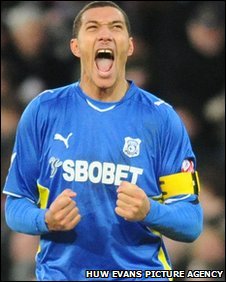 Apart from a couple of International call ups, the sixteen or so players which, realistically, make up the current first team squad were given a rare chance to recharge their batteries last week and the high energy first half performance offered offered evidence that they had a bit more in the tank than they have had for any other game in recent weeks – we were even on top in central midfield for God's sake! The second half brought a change though which had something to do with the fact that high quality players such as O'Neil, Robson and Arca started to show their ability more, but also owed a lot to City players running out of steam somewhat after putting so much into the first forty five minutes.
For me, it's sobering to think that, bearing in mind the number of games we play this month, the boost received by a break from the grind of two games a week football only lasted for something like forty minutes before the in their faces harassing and closing down that had typified City until then began to fade a bit. After the break it was much more a case of holding on to what we had and on another day the opposition's pressure would have been rewarded with an equaliser and even perhaps a winning goal, but sometimes you get matches (Sheffield United the day after Black Friday was one) when the team and supporters almost feed off each other in adversity and sheer willpower carries us through to the win.
There is no doubt in my mind that, whilst the earlygoal obviously helped greatly, the crowd picked up very quickly that the team were really in the mood for this game and this helped produce a Cup tie feel to procceedings which gave a lie to those who still argue that you can't get a decent atmosphere in the new ground. However, while I believe that the supporters definitely helped the team hold on in the second half, it would have all been for nothing without the intervention of that linesman after Wheater had found the net for the visitors. Dave Jones said after the game that televsion showed that the officials got the three key decisions (the goal, the penalty shout in the first half for a foul on Chris Burke and the disallowed Boro eqauliser) in the game right, but having now seen the pictures myself, I'm not totally sure they got any of them correct – I think Bothroyd was probably onside when he scored, I thought it was an obvious penalty at the game (I was about 100 yards away from the incident mind) and it sill looks like one now and I don't think Lita touched the ball with his hand.
City survived though and they owed much to two sections of the team that have come in for a lot of criticism lately. While Gavin Rae and Darcy Blake weren't as prominent in central midfield in the second half, they still both gave their all to the cause – Rae had his best game for some time for me while Blake was a man of the match candidate who also got forward enough after the break to reveal a goal threat which, I for one, didn't think he possessed. In central defence, Anthony Gerrard and Gabor Gyepes might not have turned in faultless performances, but they were both much improved from recent games – Gerrard offered promise than he can develop into a good quality Championship quality centreback in time and Gyepes looked a bit more like the commanding figure he was for much of last season.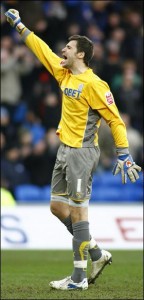 With Adam Matthews (benefitting from not having an out and out winger to mark) , Kevin McNaughton, Chris Burke and Jay Bothroyd all putting in good shifts, most of the City team could feel pleased with their performance yesterday, but the best of the lot for me was David Marshall who, after Peter Enckelman's escapades last week, looked such a reassuring figure between the sticks. I wouldn't say that any of the saves Marshall made in the second half were that eye catching , but they were all good quality stops from the player who is the one summer signing who has definitely improved the team – in fact, I don't think I have seen a better keeper play for us.
So full credit to Dave Jones and his backroom staff for getting our tiny squad into such a positive frame of mind for a crucial game and full credit to the players for a great win, but will we be able to offer any credit whatsoever to the our Chairman and his cohorts after our monthly visit to the High Court on Wednesday? Yesterday I mentioned the possibility of the full tax debt not being paid off by the March 10 deadline and the rumours doing the rounds last night strongly suggested this would be the case with another part payment being offered. If this is true, I think we can only hope and pray that the judge shows us more sympathy than we probably deserve. It would be great if we could all say "oh I'm a bit skint this month, so I'll give paying my tax a miss for now" but we can't and I cannot understand why so many poorly run football clubs don't realise this – statutory tax contributions aren't like yet another potential loan that they can draw on when they feel like it.