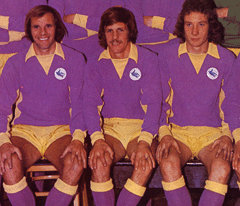 Although Saturday's heavy defeat at Derby tended to confirm the suspicion that it is going to be a long, hard winter for the South London side, I wouldn't mind betting that after the game some Crystal Palace fans were casting their mind back seven years to the 2003/04 season. In November 2003 I can remember watching Palace being thrashed 5-0 by Wigan in a televised match that was even more one sided than that scoreline suggests – that defeat left Steve Kember's side just outside the bottom three with only one win from their previous thirteen matches (no prizes for guessing who that came against!).
Hardly surprisingly, Kember lost his job two later as ex Wales player Kit Symons took over in a caretaker capacity. Symons stayed in charge for almost two months during which time results improved marginally, but Palace were still deep in the relegation mire when Iain Dowie was appointed manager a couple of days before Christmas. Dowie made an ignominious start on Boxing Day as local rivals Millwall went home with the points after a 1-0 win at Selhurst Park saw his new side looking over their shoulders in twentieth position with just twenty one matches and sixty three points left to play for.
A little over three months later Palace came to Ninian Park for what was a vital game for both sides. City's very promising displays over the opening few months of their first season back in the second tier in eighteen years had seen them get as high as sixth in the table just before Christmas, but patchy results since then meant that they were now four points away from that last Play Off position with six matches to play in need of a very strong end to the campaign if they were to extend their season. Given what what I had said above about Palace, you would have thought that their need for points would have had more to do with what was going on in the bottom three of the league rather than the top six, but an incredible run which had seen them win eleven of their last seventeen matches meant that they were just a point below City with a game in hand.
Ten points from their previous four games meant that City were in good form going into the match, but Palace had an ominous momentum behind them and on the day they proved too good for City as their 2-0 win all but ended our hopes while also prolonging the visitor's amazing sequence of results which would eventually see them making sixth place despite losing their final match at Coventry. Palace's promotion seemed almost inevitable after that and, sure enough, they secured their place in the Premiership with a 1-0 win over West Ham at the Millennium Stadium in a nondescript match that almost made our win over QPR twelve months earlier look good (oh for a crap 1-0 win at Wembley last May!).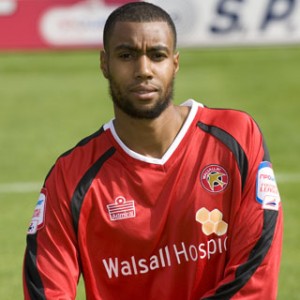 Something that made City's defeat that bit more galling was that someone who could have been playing for us played a prominent part in Palace's promotion. Left winger Julian Gray had been on loan at Cardiff for a couple of months earlier in the season and with him in dispute with Palace over a new contract, it was widely assumed in those innocent days before everyone realised that we were skint, that Sam Hammam would splash the cash yet again to make Gray's move to Ninian Park a permanent one. Instead though we went for a much cheaper option in Paul Parry (who, to be fair, represented good value for money given we got five and a half seasons out of him).
Gray was still determined to leave Selhurst Park despite Palace's promotion though and, for a while, Lennie Lawrence made noises about bringing him here on a Bosman, but that was never going to happen with other Premiership clubs interested in him and he ended up signing for Birmingham, who often used him as a left back, before going on to Coventry, Fulham and Barnsley – he's now playing for Walsall and scored for the League One strugglers on Saturday.
Looking back now at Gray's short spell with us, what strikes me is that he didn't really have any outstanding facets to his game – he was quick but not lightening fast, skilful, but not outstandingly so and his crossing was usually into the right areas. Gray may not have provided many memorable moments while with City, but it's worth noting that we lost just one of the nine matches he featured in, five of them were won and with seventeen goals scored, we averaged virtually two goals a game in that time. Based on his spell with us, I would say that Julian Gray has made a decent career for himself by being good at many of the various factors that make for an effective wide player – this makes him a difficult opponent who doesn't have many weaknesses that can be exploited.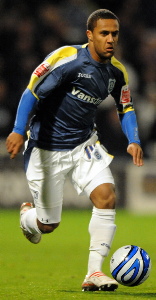 Going back to the game, it's tempting to say that the most memorable thing Gray did was when he gave an Ayatollah during the first half (which very clearly annoyed his manager!) when requested to by the home fans, but that would be to ignore the part he had to play in the vital first goal which came ten minutes into the second half of an encounter that had seen Palace contain City with few alarms in the first half. Gray was put clear down the left and sent over a fine cross which was desperately scrambled away from the onrushing Dougie Freedman, only for the ball to fall to Andy Johnson who was able to tap it into an empty net.
City huffed and puffed away after that, but, without the injured Kavanagh and Thorne, there was barely a threat to the visitor's goal and the closing stages of the match were most notable for the part played by another player who featured in plenty of stories about him coming to Cardiff permanently even though we never had anything like the money needed to sign him. Nineteen year old Wayne Routledge was just about the best player on the pitch that day and didn't he know it! Routledge's performances in the early part of his loan spell with us during 08/09 established him as real crowd pleaser, but from the perspective of an opposing fan that afternoon six and a half years ago, he was annoyingly good and, by the end, he was taking the piss at times.
City lost Tony Vidmar to a second yellow card with five minutes to go and Routledge got the goal his performance deserved two minutes later when a sweet one two with Johnson put him in on goal and ,with the confidence he had shown all afternoon, he found the net with a shot across Martyn Margetson.
Routledge looked a tremendous prospect that day, but I think it could be said that the less spectacular but more reliable skills of Julian Gray have given him the more successful Premiership career. I say that because, after making little impression in a Palace side which were relegated back to the Championship a year later, he has never really established himself in the top flight despite being given plenty of opportunities during spells with Spurs, Portsmouth, Fulham and Villa but, maybe, things are changing for the man we think Chris Burke makes look shite. Although being a transfer target of Liverpool isn't quite the compliment now that it was a few years back, it's still a sign that a player must be doing something right and weekend reports suggested that Roy Hodgson might be taking him to Merseyside – perhaps Routledge is finally starting to fulfil that promise he showed at Ninian Park in 2004?
10 April 2004
Cardiff City 0 Crystal Palace 2
City Margetson; Croft, Collins, Gabbidon, Vidmar; Robinson (Bullock), Langley, Whalley, Parry (Campbell), Earnshaw, Lee (Gordon); Subs. (not used) Alexander, Barker
Palace Vaesen; Butterfield, Hudson, Popovic, Granville; Routledge (1), Hughes (Derry), Rihilahti (Leigertwood), Gray; Shipperley (Freedman), Johnson (1); Subs. (not used) Berthelin, Black
HT 0-0
Att. 16,656