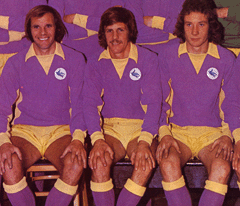 After about forty minutes of yesterday's match with Preston, I asked my mate sat next to me who, with Peter Whittjingham and Craig Noone, both scorers from the spot this season, missing with injuries, he thought would take a penalty for us if we were awarded one.
His answer was Whittingham's replacement, Aron Gunnarsson. I must admi, that I tended to agree with him because I had a vague memory of him confidently scoring one in some penalty shoot out somewhere.
The fact is that we were both overlooking the most obvious candidate, City had an in form striker who, from memory, had taken penalties successfully at previous clubs and so, when we awarded one about five minutes later, it was Anthony Pilkington who stepped forward to score from the spot. You just knew this was a very important first goal in what had, up to then, been a tight affair between two sides who were both looking in on the top six from a distance which may have appeared too far to the loser.
Ten minutes from the end, with City still 1-0 ahead, Pilkington got a second opportunity to show his prowess from the spot and he went on to dispatch this one more emphatically than he had done the first to confirm what turned out to be a very important 2-1 win which lifted us to seventh, while also cutting the gap from the top six to three points.
I think I'm probably right when I say that games won by a penalty are often perceived as somewhat fortunate victories because scoring from the spot is not quite seen as the equal of finding the net when a goalkeeper has ten others trying to help him out. I suppose such thinking applies in particular if you are a supporter of the team on the wrong end of the penalty decision, so, you have to imagine that the impressive turn out of Preston fans in what was our biggest home crowd of the season must have headed back to Lancashire feeling they'd been very unlucky to have been doubly penalised.
I'll give my take on whether such feelings would be justified later on, but, certainly, it is pretty rare for a side to be given two penalties in one game. Off the top of my head, I can only think of two previous matches where we have been awarded two spot kicks this century – the first was when Graham Kavanagh netted from both of them to give us a 2-0 win over Northampton in 2001 and there was also Michael Chopra's first match in his second spell with us when he scored from the first one, but saw his second saved in a 2-1 win over Palace in 2008.
Rightly or wrongly, it's a pretty widespread feeling that a referee who has given a penalty to one side will be looking to "even things up" by awarding one at the other end – failing that, the team given the first penalty will be very lucky to get another one, no matter how clear cut the offence.
Strictly speaking, referee Brendan Malone didn't award us a second penalty, the linesman on the Ninian Stand side of the pitch did and, speaking as someone who had a perfect view of the incident from about twenty yards away, I'm pretty certain that the man with the flag got the decision right – my only query at the time being whether the first instance of Paul Gallagher pulling Tom Lawrence's shirt occurred outside the area or not.
I daresay it was the fact that Mr Malone initially waved play on which upset the Preston players, because, having accepted the first penalty decision, awarded for an obvious looking foul on Pilkington by Paul Huntingdon with barely a murmur, the visitors protested long and hard about the second one.
From my perspective though, the offence took place on the blind side of the referee and so it was not altogether surprising he missed it, but I believe the correct decision was made because the system worked as it should do with the linesman, correctly, playing a leading part, as opposed to just letting the man in the middle get on with it.
Just one more thing before I finish with penalties. Going back to that era when Chopra rejoined the club (2008/09) it seemed like we were being awarded a penalty every game. Of course, Messrs Chopra, Bothroyd, Ledley and McCormack were not slow in going to ground back then, but they also moved at speed with the ball in the penalty area and had quick feet which drew opponents in tp make challenges they shouldn't have. With Chris Burke arriving to add to the, at times, mesmerising Whittingham as well, it was not really surprising that we were on the right end of so many penalty awards.
Perhaps the sheer volume of spot kicks we were given seven or eight years ago are a factor in why  the seasons since then have seen us receive so many fewer penalty awards, but the most likely explanation for me is that we have not had so much attacking depth and quality in a squad since then.
Certainly, our current batch of forward players struggle to match up to that set of predecessors, but, with three penalties, correctly in my view, awarded to us in our last two home games, perhaps we now have a group of players that are better equipped to draw defenders into expensive errors when defending in their penalty area? Pilkington and Lawrence have the skill, speed and balance to lure defenders into mistimed tackles and with Whittingham and Noone to come back from their injuries, perhaps we might be seeing more spot kicks being awarded in our favour than we've become used to in recent years?
Anyway, back to the game, Preston arrived in South Wales in a very confident frame of mind on the back of four successive wins that had seen them close to within a point off us – I'm guessing only Burnley would be above them in any Championship form table over the past ten games.
In the event, Preston looked exactly what their record indicates they are – they average less than a goal a game at either end of the pitch.
Using a system I saw described in the North West press as 3-5-1-1, the visitors, once again, were putting the emphasis on defence, but having been without important attacking players through injury for long spells of the season, they can hardly be criticised too much for such an approach. If you compare where Bristol City and MK Dons, the other two sides to be promoted last season, are in the table to them, you can see that Simon Grayson has done a great job this season despite the perceived disadvantage of his team having come up via the Play Offs rather than automatically..
Preston's defensive efficiency played a big part in turning the opening half an hour or so into a game like so many at this level whereby teams cagily probe for a weakness while making not conceding their first priority, but, even so, City were occasionally able to show the attacking fluency which proved to be too much for Brighton last weekend.
Granted, it was more luck than ability which led to Pilkington's cross curling on to a post and then out, but when the mobile and sharp striker got his head to a cross from Scott Malone, a goal seemed certain only for a combination of great goalkeeping from Anders Lindegaard and the same upright hit earlier to deny him. Lex Immers, again intelligent and neat as he builds an impressive understanding with Pilkington, headed narrowly wide from a cross by Lee Peltier and, with Preston only having a scuffed Adam Reach shot across goal to offer in reply, City were deservedly ahead at the break thanks to the first of the penalties.
Preston's need for a goal saw a change to a more conventional 4-5-1/4-3-3 for the second half with the introduction of Callum Robinson to play as a left winger. The switch helped to ensure Preston saw more of the ball in the second half and, consequently, they did more of the attacking.
In truth though, despite being able to work themselves some good crossing positions, Preston were still looking punchless in front of goal.
Whether by accident or design, City spent the second half looking like the away side. If it was intentional, then it was understandable to a degree I suppose because, by scoring, they had already done enough to, in all likelihood, ensure that they wouldn't lose the match.
As it was, a second home goal still looked more likely than a first visiting one with Lindegaard again doing well to foil Pilkington, while the striker than had a shot defected not too far over.
Despite their seeming lack of ambition, City were still looking comfortable. Defensively they were pretty strong as David Marshall's 250 League appearance for us remained a quiet one which involved little more than the collection of the occasional cross, but, with Stuart O'Keefe, Joe Ralls and Gunnarsson all a bit "samey" in midfield, I thought the range and pace of pass an in form Whittingham gives us was missed.
Having Ralls in a more left sided position may have given left back Malone the confidence to push on more because he became our most effective wide attacker in the last forty minutes or so – Ralls (who, for reasons which elude me, has been said to be in need of a rest by some in the local press in the last week) automatically tracks back if the full back on his side goes forward and Malone prospered in what is the most impressive part of his game.
I had a go at Malone after the Middlesbrough match, but, here, as he did little wrong defensively, he was one of our best three players – I see the challenge for him in the coming weeks being exactly the same as the one the team faces, can they put together a run of consecutive convincing performances?
By contrast, with Peltier being occupied by Robinson, Lawrence on the right became something of a spectator. People have said that our lone Welshman is more convincing on the wing than he is in a more central area – I'm not convinced about that. After a very good first half, Lawrence was a lot less involved in the second period against Brighton as well and I thought, with the personnel we were missing yesterday, that a Christmas tree type formation which saw Lawrence and Immers used centrally behind Pilkington would have been a decent variation.
I daresay Russell Slade's response to a suggestion like that would be along the lines of we got the result playing like we did, so what does it matter? Fair enough, but, although I certainly don't want to be seen as aligning myself with opinions such as the "I'd rather not see us reach the Play Offs if it means Slade staying" line I heard on the Radio Wales phone in last night, I must end by saying I was, once again, left a little flummoxed by our manager's substitutions.
Firstly, while I accept that the second penalty should have meant that the three points were ours, the fact is that we do have a bit of previous when it comes to defending 2-0 leads this season and I thought all the switch which saw Kagisho Dikgacoi replace Pilkington did was offer Preston a slither of hope where there should have been none.
Pilkington was confident, hunting a hat trick and, surely, willing to give another ten minutes for the team, while Preston would have been more wary about committing defenders forward if he was still on the pitch. Instead, we lost what Pilkington was giving us and what Immers was doing defensively in his midfield slot- Lex has made a very good impression so far, but, based on what I've seen, he's more effective in midfield than he is up front.
Also, what had been a samey midfield trio became a samey midfield quartet with Dikgacoi in there and having all of those defensively minded midfielders on the pitch still didn't mean that Robinson had any of them near enough to him when he sidefooted home from around fifteen yards out to make it 2-1 with three minutes of normal time left.
With four minutes added time shown on the board, our manager then ensured that this would be stretched by a further minute by making two more substitutions – maybe there are stats available to those in the game which show that such changes work in favour of the team defending a lead, but it has always struck me as odd that managers want to prolong the game when, surely, the ideal thing is to get it over and done with as soon as possible?
A jittery crowd saw Robinson sky a free kick from a dangerous position over the bar in the time which remained, but the fact that Preston offered so little going forward throughout means that, in my opinion, they couldn't use the penalties as justification for any "we wuz robbed" claims – penalties and dodgy substitutions or not, the better team ended up with the three points yesterday.
*pictures courtesy of http://www.walesonline.co.uk/