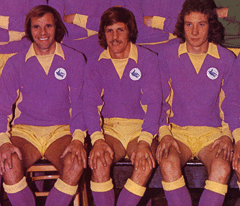 There's a certain type of match which has the "experts" saying at half time that "one goal will win this" and most of the time it probably turns out they are right. I can remember my mate turning to me after five minutes of the abysmal home match with Brighton in 14/15 and saying "this is going to end up 0-0″, I nodded my agreement – it just seemed so obvious that the two teams involved were incapable of scoring (as it was, they barely mustered an on target effort between them).
If such a game does produce a goal, then it tends to be a truly scruffy affair or something of a quality way, way above what precedes and follows it and after about fifty minutes of today's Under 23 match with Colchester at the Vale, I was definitely watching such a match as two sides who had not lost a game between them this season were largely cancelling each other out – a goal seemed a long, long way away.
However, there is always the exception which proves the rule and this was it because, when a goal did finally arrive in the fifty third minute, it was followed by three more within ten minutes and then there was more late on for good measure – at the end of ninety minutes, City had maintained their 100% record with a fourth consecutive win.
4-1 sounds like a crushing victory and, by the end, City were certainly good value for their win, but the scoreline was harsh on a competitive Colchester outfit that I thought just about edged the first half.
During that first forty five minutes, City, using the same 3-5-2/5-3-2 formation as the first team, had their best spell early on as, having come through a first three or four minutes of the visitors dominating possession, they settled to produce three attacks which might have produced goals.
Firstly, strikers Eli Phipps and Jamie Bird linked nicely only for the latter to lose his bearings somewhat as he side footed what was a decent chance well wide. Bird was then played in by Lloyd Humphries only for him to fire over from a similar sort of position to his first effort.
I would have thought that a talented player like Bird would have been disappointed not to have hit the target with at least one of those attempts and things got worse for the number ten shortly after when he was yellow carded for a foul, but his afternoon would improve from that rather sorry start!
During this brief spell when City were on top, wing backs Marco Weymans and Dylan Rees caught the eye. The former did so by hitting the sort of crossfield diagonal pass that was much talked about as an essential part of the first team's attacking play under the new system, but has barely been seen since the proper stuff started, while the latter showed a willingness to perform the attacking side of his brief with an enthusiasm not always seen from those who have played in the position so far for the senior team,
Captain Tom James also showed a liking for that long left to right pass when he fired a free kick into Rees' path and lad from Tenby cut inside to get in a shot which the keeper had to turn for a corner at his near post.
Apart from a shot from twenty five yards from Phipps which looked for a second or two as if it might catch the keeper out, City had nothing else to offer really as an attacking force in the first half. Truth is, the same sort of problems with the three centreback system which have afflicted the first team for much of the time (e.g. isolated strikers, central midfield not able to impose themselves and wing backs unable to get into advanced areas on a consistent basis) all put in an appearance.
Without really causing City's defence too many problems, Colchester were able to get slightly on top with their tendency to hunt in packs and win a majority of fifty/fifty tackles and it was becoming increasingly clear as to why they had come through matches with Sheffield United, Hull and Charlton unbeaten.
Just as in the first half, City offered signs that they might be able to break the deadlock early in the period, but this time it had more to do with the way they were able to counter attack at speed in a way that had eluded them up to now, rather than any tangible threat to the visitor's goal.
As it was, when the whole character of what had been such a tight contest was changed by City scoring, it came following two counter attacks. First, Colchester broke dangerously down their left, but when City dealt with that threat, they took advantage of the visitors having committed so many men to attack by working the ball quickly up the same side of the pitch and Rees' fine cross got the finish it deserved as Phipps nodded crisply into the corner of the net.
City were leading by an impressive goal, but the one which doubled their lead three minutes later was right out of the top drawer. Once again, it came from a counter attack, but whereas the first one had been a team effort, this was all the work of a one man as a Colchester corner was cleared to Bird standing just outside the edge of the penalty area and he promptly ran about sixty yards with the ball before steadying himself to guide a sublime effort from twenty five yards into the top corner of the net.
As someone who scored a goal for the Under 18s against Palace last season when he received the ball from the kick off for second half and waltzed past four or five opponents before scoring, Bird has already shown a penchant for the spectacular. However, I'd rate today's as the better goal – the descriptions I've read up to now say that he beat two Colchester players during his lung bursting run up the noticeable slope on the pitch at City's training centre, but I thought it was three and the shot to top it all off was of such quality that it would have been heralded as a great finish even if it hadn't had such an eye catching build up.
There had been little up to now to suggest that Colchester could retrieve anything out of the match from this position, but they were back at 2-1 just past the hour mark when Luke O'Reilly, whose performance contained moments which those messageboard critics that accuse City keepers of not commanding their penalty area would have loved combined with some erratic kicking, presented the visitors with the ball about thirty five yards out and a quick pass gave Akinwande the chance to score with ease.
City were soon given the chance to go two goals clear again though when a defender miscontrolled and his attempt to retrieve his error ended up with MaCauley Southam being brought down for a clear penalty which Phipps confidently lashed home.
It was amazing to think that just a few minutes earlier, space had been at premium for attackers of both sides, but now the game had really opened up and both sides had the chances to keep the scoring burst going, However, there was to be only one more goal to follow when, in the eighty second minute, Humphries' shot was pushed out by the keeper into the path of Bird who added what could be described as bread and butter type striker's goal to his spectacular earlier effort.
I suppose when you look at the leagues that the respective senior sides play in, Cardiff should be beating Colchester at this level, but this was an impressive win for City because their opponents fielded a team with a smattering of players with first team experience including Owen Garvan, who is making his way back from injury. On the other hand, with regulars Tommy O'Sullivan and Theo Wharton away with Wales Under 21s and Rhys Healey loaned to Newport, this was a City team made up mainly of first and second year pros with only Tom James I believe not falling into that category – having rarely, if ever, fielded a team with eleven players under 21 when that was the category for selection. I believe City may well have done it when it's been changed to a competition for Under 23s.