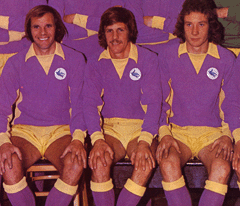 In recent years City have done a good job of winning at grounds which had been considered to be bogy grounds – in the past three seasons we have won at Carrow Road, Bloomfield Road, Ashton Gate and Portman Road all grounds where we had gone forty plus years since our previous victories there. By comparison, twenty four years without a win at London Road Peterborough seems pretty small (Barry) fry, but seeing as how I cannot remember a single thing about Peterborough 1 Cardiff 2 on 1 October 1986, I'd rate it as one of our biggest bogy grounds now – maybe we should have been grateful for that 4-4 last season, because I just associate the place with us getting beat.
Nigel Vaughan and Paul Wheeler were, allegedly, our goalscorers that day in a match which, apparently attracted a crowd of 2,600. I use the words "allegedly" and "apparently" there because I must say that I am not 100% convinced that this game ever took place – maybe City didn't fancy (or couldn't afford)  a journey across country and so agreed with Peterborough that the game could be decided on the outcome of a Subbuteo match between a Peterborough supporter and a City fan who lived in that area?
Anyway, for the second time in less than a year, City went to London Road last night and completely dominated a first half which ended with them in the lead and for the second time they didn't leave with the win. Credit has to go to the home side for their 2-1 win achieved by doing what so few have been able to against Dave Jones' Cardiff sides (i.e. win after conceding the first goal), but, from what I heard on the radio at least, City should have made sure of their progress into the Third Round of the League Cup well before Posh were able to launch their second half fightback.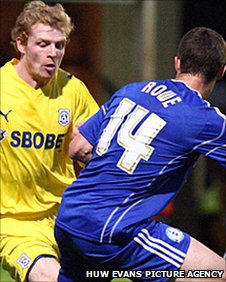 There were some positives from last night – Jay Bothroyd continued his fine scoring form so far with a header from a Jason Koumas cross, Koumas got a full ninety minutes and Steve McPhail and Aaron Wildig both got some match time in. It was also encouraging to see a continuance of a policy which has seen a lot more tactical flexibility from us so far this season (it could be argued that Dave Jones' hand was forced into opting for 4-5-1 last night mind), but with some of those who are short of matches tiring as the game wore on and others, apparently, being unable to effectively clear their lines when defending, City became increasingly indebted to Tom Heaton for keeping their lead intact as the match approached it's last fifteen minutes. Listening to the game on the radio though there seemed to be an inevitability about Peterborough's equaliser and then, after that, their winner.
So, following an incredible week which has seen us the focus of so much national media attention, it was back to reality somewhat last night as an under strength team (which appeared to be disrupted by the first half loss of the influential Seyi Olofinjana with what  was, hopefully, a minor injury) , lost to a side who had scored eleven goals in winning their first three home matches – hardly a huge shock then and if it convinces a few people who have been going over the top about our prospects for this season that we aren't another Barcelona yet, then there's hope that some good will come off it.
If Ross McCormack and Gavin Rae had featured in City's eighteen last night then, perhaps, there would have been a different outcome, but those two players were, apparently, up in Leeds discussing a deal which could, reportedly, net the club £750,000. When you consider that this time last year we were turning down multi million pound bids for McCormack, you can gauge how much his stock has fallen in the mean time. That said, McCormack is the type of player who may well come back to haunt us somewhere down the line and that fee might easily turn out to be a source of some embarrassment, but, especially, when you consider the players we have brought in recently, it's hard to see him featuring much for City this season.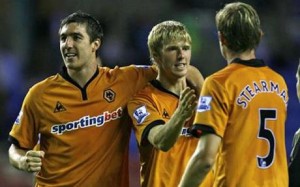 The notion that a move might be the best thing for McCormack is only emphasised further by the news that the Wolves' Official website had confirmed that their striker Andy Keogh would be joining us on another season long loan deal. Dublin born Keogh has won twelve caps for his country and is a player who can operate in a variety of forward positions. Perhaps it this versatility which explains a scoring record which (if you include International appearances) works out at one goal every five games – he certainly had his critics amongst the Wolves fans, but is that based purely on the fact that he isn't a prolific scorer?
It goes without saying that those who watch him week in week out at Molineux should be better placed to judge him than I am, but I have to say that Keogh is a player I've liked for some time. He strikes me as having a good all round game, is pretty quick and works really hard for the team's cause. Perhaps he might not be the twenty goals a season man that so many teams are pining for these days, but you would like to think that, with our fire power, this isn't the only consideration when Dave Jones is looking for a striker – Keogh appeared as a sub for Wolves in their opening day win over Stoke ten days ago and his manager seems to always have plenty of good things to say about him, I'll take his opinions over his critics at Wolves for now.