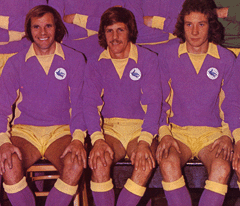 City Chairman Peter Ridsdale met with supporters for the second time this season when he appeared in a question and answer session at the Municipal Club, City Road on Monday night. I didn't attend the meeting so, if you want a detailed breakdown of what was said, I would recommend that you visit here (unfortunately you have to register on this site before you can view the messageboard) or here.
Having read the reports and listened to the debates which followed the meeting, I think it is fair to say that it was business as usual from our Chairman when it comes to what he has to say in any forum where he has contact with supporters – if you take what he says at face value then everything is fine, Peter Ridsdale is a consummate professional on occasions like this. Speaking as someone who has experienced his gift of being able to get audiences eating out of the palm of his hand at first hand, it's only when you stop and think in the cold light of day a few hours later, that you start to question some of the things you heard.
Speaking for myself, I must admit to being concerned by a revelation which does not appear in either of the reports I posted links to. That is that Dato Chan Tien Ghee (TG), our new director who has already put "millions" into the club according to our Chairman, was unaware of the fact that we had appeared in court over unpaid tax debts on the day he was confirmed as a Board member (apparently he admitted as much in an exchange of e-mails with a supporter after the club, probably mistakenly,  put TG's address on the official site). Peter Ridsdale's answer to this point is not clear because I have seen two quite different versions on message boards over the past couple of days – one claims that he said"Well, they didn't actually ask me that so I didn't volunteer it", while the other has it that he said "he has never asked me any of these questions, he just asks me for sets of documents to be sent to those completing the due diligence process on behalf of the investors".
Hopefully, the second version is the correct one because, although it still strikes me that not informing TG of the court proceedings against the club could put the deal for future investment in jeopardy, at least the Malaysians would have been made aware of our tax debt through the papers filed with them as part of the due diligence process.
Mention of due diligence raises the prospect that major investment (which, increasingly, it seems the club is in desperate need of) may be not too far away and, with Mr Ridsdale confirming that billionaire Vincent Tan is one of the interested parties, it has to be said that, if the club could seal this deal, then the future would start looking an awful lot brighter.
However, in true Cardiff City style, more information gained only raises more questions and so I suppose everyone is going to have to wait for a while yet before they discover whether the outlook is as rosy as Mr Ridsdale claims it is. With our Chairman stating, not for the first time mind, that a formal agreement with Langston over the loan notes debt is only days away, that wait shouldn't be a long one – all should be an awful lot clearer by the end of this month.