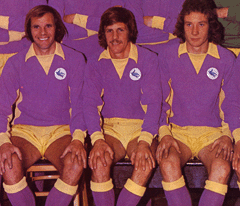 There's been something of a running joke amongst some Cardiff fans since the autumn about Crystal Palace and their "flair". Back in October and November when Palace were lording it over the rest of the Championship, their messageboards were full of stuff about how their flair would take them to promotion and the title. Well, yesterday they got their promotion, but they owed it to a Play Off campaign which relied greatly on the more prosaic qualities that saw Cardiff comfortably win the title. The best thing about Palace going up for me was that Danny Gabbidon (who, after a superb debut season at West Ham, has had a pretty rough time of it since leaving us in 2005) was able to set what I'm pretty sure must be a record as the only player to have got promotion through the Play Offs twice in sides which didn't concede a single goal in the tension packed mini tournament which finishes off the Football League season.
Actually, yesterdays 1-0 win by Palace over Watford reminded me a lot of our win over QPR (it was the tenth anniversary of that never to be forgotten day on Saturday), in that it was a memorable match for the participants (by that I mean players, staff and supporters of both clubs, but particularly the winners) and pretty awful viewing for the neutral. To be fair, the prize on offer in footballing terms, but more so in what it would mean financially to the winner, was always going to have an effect on the game. In past years, it has been a positive effect as sides have decided to give it a right go, but, with the money to the winner now probably more than double what it was when were beaten by Blackpool three years ago, it's not too surprising that the two highest scoring sides in the Championship produced a cagey affair in which it took something like sixty five minutes for either keeper to be forced into a serious save.
If the quality was poor, there was at least justice in that the right team won – Palace dominated the second half and there should really have been no need for extra time, but their lack of a killer touch allowed Watford to keep on believing that they could still prevail (even if it was on  penalties). It has to be said that Watford were the latest in a long line of sides who froze on their big day. The much hyped Troy Deeney had something of a nightmare, but, it was home grown players like Doyley and Hogg who looked least effected by this occasion. As for their foreign legion, it was ironic that the only two of that large group who made any positive impact were the ones who had signed for the club permanently, as Almunia made a series of saves to keep Palace out in the closing stages and Forestieri provided what was virtually their only real goal threat when a lovely dribble and shot was cleared off the line by Ward in the last minute of extra time.
It was mediocrity all round for the Hornets' army of loan signings however, with the efforts of Marco Cassetti exemplifying the nerves shown by too many of their players. In the early minutes of the game the commentators told us that Watford fans had christened the veteran Italian international "Cool Cassetti", but it was hard to think of less appropriate adjective to apply to him as a series of poor passes, defensive errors and fouls marked him out as a weak link on the day. Eventually, it was a case of one foul too many by Cassetti as Wilfred Zaha (maybe too greedy on occasions, but, by a distance, the most dangerous attacking player on the pitch) tempted him into the indiscretion which gave Palace their matchwinning penalty.
Zaha apart, it was Palace's back four and defensive midfield man Jedinak who were most responsible for their win – it was boring but important things like defensive organisation and being stronger mentally then their opponents that won the day for them, not flair.
So, forty one days after our promotion was confirmed, the last of the three sides to go up has been identified and I suppose that, with no new signings announced yet, it could be argued that we have not taken advantage of the additional time sides that go up automatically get over the one that wins the Play Off's when it comes to the transfer market. I'm not so sure about that though, the number of names being linked to us may have slowed to something of a trickle lately, but I'm sure progress is being made and if it takes weeks and months to get our targets here, then so be it. That said, some of the names mentioned so far look more likely than others – based on what we have seen from him in the near two years he's been at Cardiff, QPR's Jamie Mackie looks like an archetypal Malky Mackay player and Assistant Manager David Kerslake's knowledge of Lewis McGugan through his time at Forest makes the goalscoring midfield player a realistic target as a Bosman free transfer in my book.
The truth is though that it is this story which has caused most Cardiff City related comment in the past ten days or so. Quite what all of this might mean I don't know because high finance is most definitely not my forte, but Keith Morgan (Since 62 on City messageboards) is someone whose opinions are never far off the mark when it comes to the club's finances and it's interesting to read what he has to say in this thread from the Cardiff City Forum messageboard. So, if Keith is right, it might be that this has something to do with the ongoing negotiations regarding the Langston debt. When he attended the last home game of the season, what I will call sources close to Sam Hammam were claiming that good news on this long standing debt was on it's way within four weeks, well, it's more than that now since our former owner was a guest of Vincent Tans for the Bolton match, so does this mean that negotiations did not go as well as first supposed?
No doubt there'll be more rumours and, possibly, some concrete information on this subject through the close season and it will be one of a number of matters I can report and comment on during the summer, but, with the football finished now for a couple of months, we are back in that time of year where I will provide a weekly report on what has been happening with Cardiff City in the past seven days. My plan is to report what I see as major stories within a day or so of them breaking, but otherwise, it will just be a summing up on the weekend until pre season matches start in late July – in the mean time, I'd just like to wish all readers of this blog a summer which actually lives up to that description on the weather front!