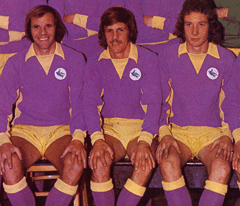 Yes the officials were poor and yes City had more than twice as many goal attempts than their opponents did (they also won the corner count 8-1), but there can be no denying that their 3-0 home defeat by Middlesbrough was completely deserved as they turned in a woeful performance at a time when the prize of automatic promotion to the Premiership was still so close at hand. That prospect should have been enough have to have guaranteed that the near capacity home crowd saw at least something from their side that showed why they had spent the whole season as genuine candidates for a top two finish. When calm heads and focussed minds were required though, too many in the blue shirt failed to put in an acceptable shift and I'm afraid that, not for the first time, there is going to be a linking of the words "Cardiff City" and "chokers" this morning.
Before going any further though, some credit has to be given to Middlesbrough who produced a committed and very effective performance of a quality far higher than you would expect from a team in their position in the table – the truth of the matter is that they won at a canter. After their first half horror show, City at least had a bit of a go in the second half and, maybe, if Kevin McNaughton had scored from that gilt edged chance seconds after the restart, then there might just have been a way back into the game for them, but Boro were happy enough to sit back and soak up our fitful pressure content in the knowledge that they had done more than enough to have sealed the points in the first twenty one minutes – as their manager Tony Mowbray, rightly, said they "saw the game out quite comfortably in the end."
In those opening minutes a City defence that had kept three clean sheets in it's last four matches simply imploded. Although not up to his recent levels of performance, Paul Quinn could, largely, be absolved of blame for the shambolic start, but Tom Heaton, Kevin McNaughton, Dekel Keinan (who undid much of the good work of his first three months with us and was lucky not to be sent off as, like a few of his colleagues, he lost his discipline in the first half) and Jay-Lloyd Samuel were all found wanting to different degrees as Boro were handed their goals on a plate. In front of them, the midfield were just not good enough as Seyi Olofinjana buckled under the huge workload that has been placed on him this season, there was further proof that the 2010/11 Chris Burke is not a patch on the 09/10 version (perhaps his unresolved contract situation isn't helping matters?) and, sadly, Steve McPhail (who I have always had a lot of time for) looked a spent force at this level while he was on the pitch.
Craig Bellamy at least kept on trying, picked up his obligatory booking for dissent and was, probably, our best player – his was only a six out of ten performance though where he had been turning in eights or better over the past month. Jay Bothroyd looked like he might be able to provide that missing spark for a while in the first half but faded into the general mediocrity around him long before the end and with Peter Whittingham not doing the business in any of the variety of positions he found himself in during the game, not one of the starting eleven performed to the standard required by the situation. If there was anything encouraging to be taken from individual performances, then I would say Darcy Blake did okay in the second half and Jason Koumas, surprisingly, showed that he could possibly be used as a deep lying continuity type player instead of McPhail in the remaining matches but, in both cases, it has to be remembered that most of their good work was done against opponents who were sitting a lot deeper than they had been and were content to let City keep the ball in their own half.
Predictably, the message boards had people pointing out that it was just one game and that there is still everything to play for as far as the last promotion place goes and they are right of course – my mind goes back to that dreadful 3-0 home defeat to Colchester in 2002/03 just over a month before we were all celebrating promotion at the Millennium Stadium. However, I've got to say that so much of what happened yesterday had a familiar look to it – for Preston 6 Cardiff 0 in 08/09, read Cardiff 0 Middlesbrough 3 in 10/11? It's not just that awful last four matches two years ago though is it – miles clear at the top in 06/07 only to finish below halfway and although I have always thought that last season's Blackpool defeat was simply a case of being beaten by a better team, it should not be forgotten that City did their best to chuck away a two goal lead in the Play Off Semi Final with Leicester. I accept that now is not the time for witch hunts against the manager, but, by the same token, it cannot be said that what happened last night was an isolated event can it.
Finally, it would be churlish to ignore Norwich's remarkable achievement of gaining successive promotions. The fact is that, since our 3-1 win over them in October, they have proved themselves to be a better team than us and I truly believe that the best sides over the course of this season are currently in first and second position. While I think it's fair to say that Norwich never had as much expectation to cope with as Cardiff have since August, they fronted up to the pressure when it did come on them and their team of, mostly, lower division recruits saw it through in a way that our "galacticos" couldn't – congratulations to Norwich and, in particular, to Paul Lambert.