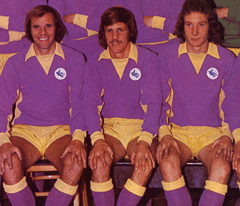 Not won a game all season? Only won one match in your last twenty in all competitions? Well, don't worry, you are due a visit from the Football League's comedy club – things are sure to look brighter after you've played Cardiff City!
That's the record Blackpool were "defending" at Bloomfield Road last night when they faced a Cardiff City side that many of their supporters, and some in the local media, thought were showing signs of improvement after an unbeaten run of three matches in the Championship under caretaker managers Danny Gabbidon and Scott Young – the result, Blackpool 1 Cardiff 0.
Blackpool have been a club in crisis for a few seasons now as their owners stand accused of pocketing most of the takings from their season in the Premier League in 10/11. The Oyston family have been in charge at Blackpool for nearly thirty years as father Owen and son Karl (the current Chairman) have overseen their club playing in all four divisions during that time. However, I read somewhere that Blackpool have only paid a fee for two players since their relegation from the top flight and it seems that every summer sees a complete change of playing staff at Bloomfield Road as players are occasionally sold, often released or, in many cases, turn down offers of a new contract and a new bunch of journeyman out of contract players or loan signings are drafted in.
The Oystons point to the new stands at the ground as evidence that the Premier League money has been spent on the club, but their, apparently, very basic training ground (branded a "hellhole" by former manager Ian Holloway) has not had any work done on it in years and their notorious pitch, easily the worst in the Championship, was already showing signs of wear and tear last night.
Last night's game took place against a backdrop of demonstrations against the home side's owners as supporters unconvinced by the argument put forward by the Oystons that their club is financially sound because they do not try to buy promotion by putting together squads full of mercenaries, showed their anger at the way their club is being run. Now, I have a lot of sympathy for those supporter's viewpoint, but the ironic thing is that, at the end of the game last night, the Oystons could claim that the evidence of the ninety minutes had offered proof that their approach works – after all, their team had just beaten the side representing a club that is a polar opposite to theirs.
On the one hand, there was the Blackpool way of doing things and on the other we had a club that for nearly fifteen years now has had a spend, spend , spend philosophy which has resulted in massive debts. Whereas Blackpool have the most basic of facilities in terms of ground, pitch and training facilities, Cardiff's players do not want for anything on those fronts and, not for the first time, flew to an away game this weekend.
In terms of wages, the Blackpool and Cardiff players are, surely, on different planets – this is a guess, so I may be way out, but it wouldn't surprise me at all if City's playing wage bill is more than ten times what Blackpool's is.
Yet, for most of the game, it was the Blackpool players who looked like they wanted it more, they consistently won fifty/fifty challenges all over the pitch and were easily the better side in a first half in which Cardiff played as if they fully believed the ridiculous claim (which was resurrected in the local media yesterday) that "Cardiff had the greatest squad assembled in the history of the Championship". There were fancy flicks and step overs (which almost always failed) aplenty from a group of players who appear to believe they are so talented that opponents should just step aside and let them parade their talent.
Many of City's huge and expensively assembled squad have extensive experience of the Championship and you would have thought they would know by now that this division just does not work like that. If you have talent, then you have to earn the right to display it by putting in the hard graft first. This team seem unwilling or unable to play with the intensity you need at this level – I'll be generous for now and say that in many cases, the spirit is willing, but the body cannot respond as required. We have looked unfit compared to other sides right from day one and so I would argue that another black mark should be entered against the previous management, who already have a large charge sheet against them. in terms of pre season fitness training.
On the other hand though, David Marshall was arguing a couple of days ago that Gabbidon/Young had restored City's fighting spirit. Well, I saw little evidence of that last night – as mentioned before, Blackpool were consistently winning 50/50's all over the pitch for about 80% of the game and it was only in the closing quarter of an hour or so that the side roused themselves somewhat as they they began to make their alleged superiority count.
City raising their game late on, probably combined with Blackpool tiring as they began to pay for their hard work they'd put in for the first seventy five minutes, resulted in them dominating the possession stats for the first time in a league game this season, but their figure of 61% possession only went to prove the point that having the football for the majority of the game isn't a guarantee of success. City lacked the ability to make all of that possession count and the fact that only two of twenty goal attempts of theirs were on target, offers the clue that, this time at least, the strikers could not point to a lack of creativity from the players behind them as the reason for the opposing goalkeeper being given a quiet time.
While our midfield were, once again, far from dominant, even when we had two strikers on the pitch the television commentators would talk about crosses into great areas that no one could get on the end of and, although of course not all of them came from strikers, only getting ten per cent of goal attempts on target tends to tell a story – sub LeFondre's wild effort blazed over the top with a couple of minutes left encapsulated a lack of composure and technique shown throughout by our forward players.
At the start, I called City the Football League's comedy club and I stick by that – when you look at the expenditure this summer, it's a joke that the result of all of that spending is the outfit that is stumbling along in the bottom half of the league with it looking at least as likely that we will drop lower rather than climb higher.
This is also the club which has been pursuing a manager who has never been in charge at this level in his career for the past fortnight or so as they try to arrange compensation with his former club. Now, I happen to think Russell Slade might turn out to be a shrewd appointment, but the fact of the matter is that, with reports this morning contradicting earlier ones that a formal announcement of his appointment was imminent and we may be kept waiting until the middle of next week before he takes over, we have played four Championship fixtures while we wait for him – all of this time, seemingly better qualified candidates, who we would not have to negotiate with former clubs over, are left kicking their heels presumably because they are considered too much of a risk when it comes to working harmoniously with our owner.
When you also add in that we are the Bluebirds who play in red, there are plenty of reasons why supporters of other clubs laugh when the subject of Cardiff City is brought up – I'm one of many fans of the club who might do the same thing if I didn't find what has happened to it over the past year so sad.
Pictures courtesy of http://www.walesonline.co.uk/