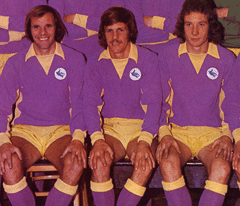 I think it is fair to say that even older City fans who had seen us play in the top flight in the fifties and sixties didn't know quite what to expect when we returned to the second tier of the domestic game for the first time in eighteen years in 2003. I have often said that during the dark days of the late eighties and nineties I never thought I would see City play at our current level again in my lifetime – when we were losing to the likes of Maidstone,  York and Chester week in week out what is now called the Championship seemed a million miles away.
Therefore, even though Sam Hammam's arrival had introduced a completely different way of thinking amongst supporters, I for one had a sense of trepidation as to how we would fair against "big name" clubs like Rotherham, Bradford City, Crewe and Walsall! Okay, these were clubs who we had faced plenty of times in the lower divisions, but they had all, to different degrees established themselves at Championship level over the years and, in the case of Bradford, made it all the way to the Premiership for a while. The thought that these "smaller" clubs were able to survive for a while at least offered hope that City could get by at the higher level, but even with our recently acquired reputation of being a money bags club, it was hard to see how we could get anything from sides like Nottingham Forest, Derby, Coventry and West Brom who had spent more time in the top flight than out of it during our eighteen years in the wilderness of the lower divisions.
During the summer of 2003 manager Lennie Lawrence worked hard to add to the squad which had scraped up through the Play Offs, but when the season kicked off at Rotherham on a weekend which saw temperatures reach 100 degrees Fahrenheit, only veterans Tony Vidmar, who City had tried to sign the previous summer, and John Robinson had arrived on free transfers. The match at Millmoor finished in a goalless draw, but the home side's striker Alan Lee had caused the City defence plenty of problems and during the following week he signed for us along with QPR midfield player Richard Langley for a combined fee of over a million pounds.

Although Bradford City somehow escaped with a 2-0 win at Ninian Park in Lee and Langley's first game, the quality of football played was something of a revelation for those of us who had watched the nervy home performances of the second half of the previous season and it offered hope that, far from just surviving, City could even prosper at the higher level – for those first few months of the 2003/04 campaign that is exactly what they did.
Stars of the promotion team like Earnshaw (once Lennie Lawrence had been persuaded to stick him in the starting line up that is!), Gabbidon and Kavanagh all looked better players at this level as City found goals easy to come by with their slick passing football making a real impression in their new setting. Games invariably offered high quality entertainment during this time with memorable goals like Earnie's pair against Stoke and Kav's at Palace only reinforcing the impression that this was a great time to be a City fan.
By the time top of the table West Brom came to Ninian Park on November 25, Forest, Derby and Coventry had all been beaten as City stood eighth in the table on the back of an unbeaten run of seven matches and they were genuine Play Off candidates. It wasn't just a good time to be supporting City though because, although they had been beaten in the Play Offs for a place in Euro 2004 by Russia, Wales were having one of their better periods with City players well represented in the team – Graham Kavanagh's fine form had also seen him win his first cap for the Republic of Ireland in five years only to pick up a serious injury, courtesy of a shocking tackle by Canada's Mark Bircham, which kept him out for six weeks.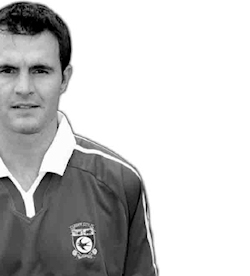 With strikers Alan Lee and Peter Thorne both suffering with injuries as well, City were doing well at a time when their resources were being severely tested. Classy left winger Julian Gray had arrived on loan from Crystal Palace , but the squad that took on the Baggies included players like Willie Boland, Mark Bonner, Gavin Gordon and Gary Croft who all would probably have been seen as squad players at the start of the season.
However, City were undoubtedly a confident team during this time. Someone like Mark Bonner, who had struggled at times to get in our side when we were in the old Fourth Division, had been playing as well as he had ever done for us as he started most games during the first half of that season and Gavin Gordon was another whose performances when given his chance had certainly pleasantly surprised this City fan for one.
Having said that though, West Brom represented out toughest test so far. They had recovered from an amazing 4-1 defeat at Walsall in the opening day of the season to establish themselves as the form team in the league and in Jason Koumas they had someone who probably had only Norwich's Darren Huckerby as serious competition for the title of best player in the division – at that time, the idea that Koumas would be turning out for us in less than two years was just too daft for words!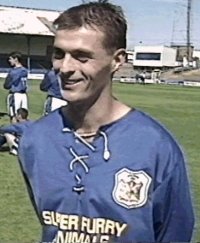 The match itself turned out to be another high quality affair with City not suffering at all in comparison with their illustrious visitors. An even but goalless first half saw both sides looking to win the game from the off, but being foiled by good defending and goalkeeping as much as poor finishing, though when Koumas' long range shot just after the break got a slight deflection which took the ball over Neil Alexander and into the net you couldn't help thinking that City were on their way to their first home defeat since Bradford''s smash and grab back in August.
However, cometh the hour and all that and with ten minutes to go the unsung Mark Bonner was brought down by Albion's Swiss International right back Bernt Haas. It was an obvious penalty which Earnie put into the roof of the Grange End net to level things up. After that City could have won it as Langley's deflected shot hit the crossbar and the ball was scrambled off the West Brom line, but to balance that, Alexander made a couple of excellent saves to deny the visitors so, all in all, a 1-1 scoreline was about right.
A fortnight after this match, City actually made it into sixth position to occupy one of those Play Off spots and with all of the money we had to spend, it surely only needed Sam to make Gray's loan move a permanent one and spend another million or so to see us stay in the running for a Premiership place. However, in the first sign that all might not be as healthy financially as our owner had been telling us, Sam Hammam spent only £75,000 on Paul Parry (given the way Julian Gray's career has gone in recent years, would he have been the better buy?) and brought in young York midfielder Lee Bullock on loan with a view to a permanent transfer in the summer. When another midfield player Gareth Whalley was deliberately kept out of the team later in the season to stop him getting an appearance related bonus, then what many were beginning to suspect had been confirmed – the era where you needed to be an accountant as well as a football fan to support Cardiff City had begun and it shows no signs of ending yet!
25 November 2003
Cardiff City 1 (Earnshaw pen 80) West Bromwich Albion 1 (Koumas 49)
City Alexander; Croft, Gabbidon, Vidmar, Barker; Robinson (Boland), Langley, Bonner, Gray; Gordon (Thorne), Earnshaw (1)
West Brom Hoult; Haas, Gaardsoe, Gilchrist, Robinson; O'Connor (Sakiri), Gregan, Johnson, Koumas (1), Dobie (Dichio), Hulse
HT 0-0
Att. 17,678