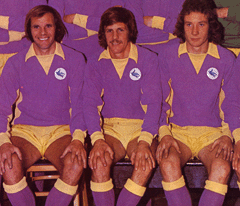 You only need to look at the number of clean sheets for either side that occur in matches played by Cardiff City's Under 18 team this season to get an idea of what games at this level tend to be like.
Before this lunchtime's encounter with Queens Park Rangers, the eighteen league matches played so far had seen City fail to score only twice, but it took them nearly five months to keep their first clean sheet in an excellent 5-0 win over Crystal Palace and it remained their only one before today.
So, if Academy games hardly fall into the same category as those matches you remember from your youth where either side were desperately searching for the game's thirty ninth goal in a contest where the first one to twenty won, defensive discipline and organisation is still some way short of the level you would expect to see in senior professional football – I feel short changed if I've seen less than four goals scored in an Academy team game!
Therefore, an encounter at this level which finishes with a scoreline of just 1-0 is something of a novelty. In doubling their number of clean sheets for the campaign, City ensured that they kept their recent improvement in the league going, but it really was a close run thing and QPR will feel hard done as they head back to London with nothing to show for a very competitive showing over the ninety minutes.
In some ways, there was an old school feel to the match, played as it was on a pitch which was better than the normal venue for these games (the match was switched to the pitch adjacent to the stadium where the Under 16s normally play as the younger age group played on the artificial pitch nearby), but still showing the sort of wear and tear you'd expect in such a wet winter as this one.
In a funny way, I enjoyed slopping about in the mud and puddles only a yard or so from the touchline, but, with no stand to sit in to keep you protected from the elements, you couldn't half feel the blast of the icy wind that blew down the pitch, so, on balance, I can't say it was an experience I would want to repeat any time soon!
In their last two visits to South Wales to face City's youngsters, QPR's under 18s had been beaten 4-0 and 5-1 and, for fifteen minutes or so, City suggested that they could be on their way to another big win. While never quite working themselves a genuine opening, City were able to dominate by looking stronger and quicker than their opponents despite playing into the strong wind. However, the visitors were able to gradually turn things around and in doing so, they showed an ability to create opportunities for themselves, something which City had been unable to do when they were on top.
In short order, home keeper Scott Coughlin was forced into a couple of saves that were not too testing as QPR forwards rather misfit their shots when in a promising position, then a cross flashed dangerously across the face of City's goal before being put out for a corner from which a header beat Coughlin only to be cleared off the line by Rhys Abbruzzese I think it was, with the visitors claiming a goal.
All City could offer by way of a response was a fluent move where they defied the tacky and slightly unpredictable pitch to work left winger Aiden Chappell-Smith into space for a shot which flew narrowly over with the aid of a deflection which, for reasons known only to himself, the referee ignored as he awarded a goal kick.
Apart from that, City had a couple of free kicks in dangerous areas which gave Jamie Bird the chance to repeat the fine goal he scored to set himself on the way to a hat trick in that big win over Palace. However, it wasn't to be this time for Bird who struggled to hit the heights as he had reached in the previous home match.
Indeed, it was increasingly looking like City would get to half time without having had a single on target goal attempt when they conjured up a goal out of nothing around the thirty five minute mark.  It came about because City were able to exploit a yawning gap in the visitors ranks in the middle of the park as my City man of the match James Waite passed to Bird who played in Elvis Menayese and the centre forward gave the goalkeeper no chance with a calmly taken side footed finish from fifteen yards.
The striker had a similar opportunity a few minutes later only to be foiled by the keeper this time, but before that, City parted like the Red Sea in the middle of the park in much the same way as their opponents had done earlier, only to have luck on their side as the visiting centre forward's shot rebounded off an upright to a team mate who probably should have done better than fire well over the top from around ten yards out.
The second half continued along the same competitive lines as the first had, but this time it was City who looked the more likely scorers as they benefitted from having the wind in their favour.
City came on strong as the match entered its final quarter and Bird wasn't too far away with a shot from around twenty five yards, then, when Lloyd Humphries tried his luck from similar range, the keeper was forced to turn the ball around the post for an unproductive corner. Bird then had a good chance to seal the game when the ball was pulled back to him as he waited by the penalty shot, but the keeper denied City again – although he did the need the help of a defender to complete the clearance when the ball looked like it may drop over the line.
There were other chances for the home team as the match became very open, but it was one of those nearly games for them in an attacking sense and, this time, it was the defence who were most deserving of praise, with Rollin Menayese playing as well as I've seen him this season and Humphries showing maturity and discipline in his deep lying central midfield role.
QPR had their attacking moments, but by the time their centre forward had headed straight at Coughlin from close range, they were showing plenty of signs of frustration and a lack of attacking confidence as they became increasingly reliant on a series of often harshly awarded free kicks within thirty yards of City's goal for their hopes of an equaliser. Nothing came from any of them though and so City edged to a win of a different kind to the other ones I've seen from them this season.