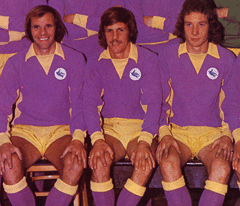 Completely predictably, the media were labelling Wales' first game (I repeat first game)  in their qualifying group for Euro 2012 in Montenegro as a "must win" occasion and, equally predictably, the home side were being written off as whipping boys beforehand when all logic pointed to them being favourites to win the match (especially when you considered that they had won more comfortably than the 2-1 scoreline suggested when the sides had met just over a year ago). Sky commentator Alan Parry was fond of telling us every few minutes in the second half that the home side had only won one competitive match previously which, on the face of it, suggested that Wales were up against another San Marino, but, what he didn't tell us what that they had only lost three out of ten of those competitive matches – Montenegro were very far from being a bunch of mugs.
Given the build up beforehand, it follows that now Wales have lost this "must win" game, many are saying that we are as good as out of the tournament already, but, although it's certainly going to be tough to finish in the top two from now on, I'll be surprised if all of the other sides in our group are able to pick up the three points we missed out on when it comes to their turn to visit Podgorica.
It's hardly surprising that much of the criticism for what, it has to be admitted, was a poor performance is being directed at manager John Toshack. Speaking as someone who has tended to be supportive of him over the past six years, it is becoming harder to argue his cause because last night's setback was just another chapter in a recent history which, mass squad withdrawals notwithstanding, has seen no sign of his squad progressing. Up until a year or so ago, when Wales lost it was often possible to cling on to some good things which suggested that things will get better soon, but lately you look at some of the players who came in two or three years ago and think that they are not making the progress that they seemed capable of when starring for the Under 21 team.
To a degree at least, John Toshack has to take responsibility for that lack of progression, but it also needs to be said that last night the manager was let down by the experienced players who I would guess he would have thought he could rely on. Craig Bellamy was poor by his standards, Sam Ricketts was very bad in the first half in particular and I'm afraid James Collins had a real night to forget. The worst thing that happened to Wales all night was when Collins lost it with Montenegro skipper Mirko Vucinic after he had headed just wide around the twenty five minute mark. Something went on there which was not clear on the television pictures but the two players squared up to each other straight after Vucinic had missed the chance and from then on it seemed that he decided to make life as miserable for Collins as he possibly could and as, on this evidence at least, the Roma striker is a tremendously gifted footballer, that was very miserable indeed.
Within seconds Vucinic had skinned Collins down Wales' right hand side and when he did it again a few minutes later, the striker this time fired in the goal which decided the game. Besides that though, Vucinic dominated Collins in a way you see few strikers do in the Premiership – maybe, like a few others in the team, Collins was lacking in match fitness to a degree, but it was surprising to see him taken to the cleaners like he was.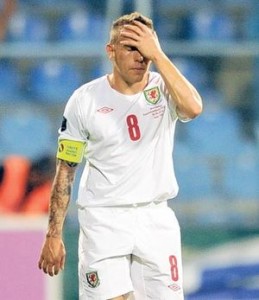 Virtually everywhere you looked in the Welsh side there were players who fell short of their best. Although he made some good saves, I thought Wayne Hennessey looked like someone who has seen little first team football in the past year and when a keeper is beaten on the near post like he was last night, you have to wonder whether he had got his angles wrong. I've already mentioned Ricketts and Collins at the back, but Chris Gunter also struggled and in recent internationals has looked a worse player than he did when he first came into the team three years ago. In midfield, Joe Ledley and Dave Edwards weren't so much poor as anonymous and Bellamy was another who looked like he could have done with more games, while up front Steve Morrison battled away but achieved little (the service to him was abysmal at times though).
No, for me, the only Wales players who performed to anything like their capabilities were Ashley Williams, David Vaughan before he tired and Gareth Bale, while it was also good to see Earnie prove that he does have something to offer at this level with his lively contribution after coming on for the last twenty minutes or so. Another sub, Simon Church did hit the bar and have a goal, rightly, disallowed late on as Wales came close to exploiting Montenegro's nerves as they sought to protect their lead but, truth be told, the home side could and should have been out of sight by then as they found it much too easy to create chances against opponents who were comfortably second best for the majority of the match.
In many ways Montenegro were an impressive side, but they also had a cynical side which I believe will cost them dearly when they play away. The referee who, beforehand, John Toshack thought would favour the home side was fair in his decision making much of the time, but that stopped short of sending off two or three of the home players who had already been cautioned, with Dzudovic's assault on the unfortunate Collins being worthy of a straight red. Montenegro's treatment of dangerman Bale was a throwback to the 60s and 70s when every side had their own hatchet man who played the man throughout (with the ball being something of an afterthought) and they were allowed to get away with it in their compact, noisy and intimidating stadium, but, as I mentioned before, they'll suffer if they use the same tactics away from home.
So, can Wales still make that top two? They can do, but a timid looking Bulgaria (on last night's evidence anyway) will have to be beaten at Cardiff City Stadium and, given what happened last night, I'm guessing that this will have to be done in a stadium which is some way short of being full to capacity. Even if Bulgaria are beaten though, the odds have to favour a Swiss win when Wales travel there a few days later and that would leave them having to get something off England, home wins over Montenegro and the Swiss and a victory in Bulgaria to seal that second place – if Aaron Ramsey and Jack Collison can come back at something like their best, the likes of Collins and Bellamy put yesterday's performance behind them and some of the youngsters start looking like the players they promised to be a while back it could be done but is anybody prepared to bet on it happening?