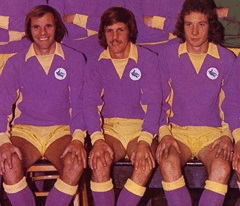 Neil Warnock seemed surprised when he was told that his Cardiff City team had set a club record by making it three league wins out of three to start the season after their 2-0 victory over Sheffield United last night. The manager was quick to point out that he'd been in charge of teams that had taken nine points from their first three games though as he asked for confirmation of this from a Sheffield journalist who was at the press conference!
In fact, Warnock's United team started the 2005/06 Championship equivalent off with ten wins out of ten as they made a blistering start to what, hardly surprisingly, turned out to be a promotion season+. Therefore, it's hardly surprising that our manager seemed a little taken aback when told of the record his current side had created – after all, you would have expected something a bit more impressive than that from a club which will be celebrating a century in the Football League in three years from now.
Nevertheless, it's no reflection on the City players that the record they beat last night was a pretty modest one – all they could do is go out and create a new record by overcoming potentially awkward opponents in an encounter which could have been seen as something of an anti climax after the humbling of promotion favourites Aston Villa on Saturday.
So, congratulations and respect to the team for keeping us at the top of the embryonic Championship table by breaking one club record and equaling another one.
The fact that a win last night would have signaled our best ever return after three league games was widely trumpeted beforehand, but I've not seen any mention of the other record which could be equaled if things went well against the Blades.
A messageboard thread started after the Villa win pointed out that no City team had ever won their opening two league games while keeping a clean sheet, well now the 2017/18 team have done something that only their counterparts from seventy years ago have managed.
Back in 1947/48, City opened their league campaign with a 0-0 home draw with Chesterfield, Doncaster were then beaten 3-0 at Ninian Park, before they secured a 1-0 win at Millwall. Until now, this was the only time a Cardiff team had failed to concede a goal in their first three league fixtures of a season and the 17/18 side will travel to Wolves on Saturday in search of a fourth shut out which would make theirs the best defensive effort in their first four matches of  a season in the club's history.
Going on to the game itself, I mentioned earlier that there may have been an element of anti climax around given what had happened in the previous game played just over seventy two hours earlier, but not a bit of it.
Sheffield United may not have the star names that came here in the battered Villa team, but they had their so called betters licked when it came to things like belief, team spirit, physicality and willingness to get goal attempts away – their form over the second half of last season also ensured they had a winning mentality.
None of this came as a surprise to me because much of what I'd read about Chris Wilder's Sheffield United team was that they "were in your face" and direct  but what did do so was the assured way they were able to employ some neat and, at times, incisive passing to put that no goals conceded record under more threat than Villa and Burton ever did.
In fact, I thought United dominated the first half, but only if you gauge such things by who has the ball most and, increasingly, it seems those in charge of playing style and tactics at Cardiff City Stadium do not do this.
Certainly, I could understand why anyone might be moved to say that the visitors were dominant in midfield during this period. However, it all comes down to what you want from your central midfielders in the end and by including Lee Tomlin to play a number ten type role at the expense of Loic Damour, Neil Warnock placed a huge responsibility on Aron Gunnarsson and Joe Ralls – especially when you consider they tended to be outnumbered much of the time and that there seems to be more of an emphasis on pressing our opponents this season.
Warnock, with typical honesty, strongly implied that Damour did not start last night because he was still knackered after the game on the weekend. Assuming this is true, and I've no reason to believe it isn't, then it does rather bring home just how big the workload is for our midfield players – especially when you consider that there were three of them against Villa.
Depending on whether you're of a glass half full demeanour or a glass half empty one, you will view the last fifteen minutes of the game as either City being happy to sit back and let opponents who now only scored once in their three matches come at them or them hanging on to some extent as tiredness was beginning to set in towards the end of a fourth match (one of which lasted one hundred and twenty minutes) in ten days.
Certainly, if it were the latter option, then you couldn't blame Gunnarsson or Ralls at all if they were slowing down given the amount of running they are doing and the distance they are covering this season.
City, yet again, comfortably lost the possession stats (61/39 this time) and it's tempting to think that our central midfield pairing had endured a tough night as they fought a losing battle.That's definitely how I reacted throughout our 14/15 season (under Russell Slade anyway) as I, as well as most other fans I believe, cited Gunnarsson and Peter Whittingham, as our usual starting central midfielders, among the primary reasons as to why that season turned into such an unattractive slog for so many supporters.
Yet, to hear our manager talk about our pair in the middle of the park after the game, it's pretty obvious he has very few complaints about either of them currently and I know what he means – for me they're both playing very well.
All Warnock had to say about Iceland's captain was that "Gunnars is Gunnars really", so, to me, that sounds like a simple "he's good and he's doing exactly what I want him to", but our manager was fulsome in his praise of Ralls, saying he's "become a Roll's Royce" and emphasising how much he has matured this season.
What I would add to that is that I don't know if he's found some acceleration from somewhere (unlikely I would have thought at his age) or he's acquired a bit more power and strength, but Ralls is so much more effective when he runs with the ball this season – he's going by players in a way he didn't use to, I've always had a lot of time for him and, for me, he's one of the best young central midfielders in this league now.
So, we're losing the possession stats and yet our midfield is playing well as a unit and individually – even at sixty one, I'm still learning that this game is not quite as straightforward and black and white as I've believed it to be!
Returning to that final period of Sheffield United "dominance", whatever the reason for it, one thing it did was give Neil Etheridge a chance to show he is handling the step up in standard from Walsall with some style. Despite not having seen very much of him at all beforehand, I'd decided that he and Lee Camp (who, it seems, has had to have another operation recently) represented a decline in standards in the goalkeeping position to what we have become used to in recent years, but I'm going to have to revise that view pretty quickly if he keeps on performing like he did last night.
Despite my earlier comments about our midfield two, I think that, in essence, the Sheffield United manager got it right when he said that the difference between the teams was down to what happened at both ends of the pitch – Morrison and Bamba were generally dominant against Leon Clarke, Billy Sharp and Ched Evans when he came on , whereas our attacking quartet were able to spring to life every now and again to come up with something that the United backline couldn't cope with.
This was especially true in a first half where the visitors troubled us quite often, but, one snapshot just wide by Sharp apart, were never able to really open us up – they maybe could have had a penalty when Bamba seemed to handle mind, but Lee Mason (who managed to award us just two free kicks in the first thirty seven minutes of the game as he officiated in true "look at me I'm a Premier League ref" style, before disappearing into the background, as all the best refs do, in the second half) saw nothing wrong.
By contrast, City would crackle into attacking life every now and then, notably when the improving Lee Tomlin shot just wide early on, the very much in form and confident Junior Hoilett forced a great save out of Nick Blackman, Jazz Richards crashed a thirty yard shot against the crossbar and Kenneth Zohore burst on to a Hoilett pass in the manner we've become so used to, only to drag his shot just wide in a manner we're not used to any more.
I must admit that when Zohore missed that chance, I did allow a few "it's going to be one of those nights" type thoughts to go through my head". Three of our four attacking players were causing United problems and generally performing well, but, in the event, it was the other one in the quartet who made the decisive contributions.
With a couple of minutes of the half left, I remarked that Nathaniel Mendez-Laing was really struggling to get into the game. Of course, this was the prompt which forced the winger into action as, within about thirty seconds, he had shown all of his pace and power as he flew down the right wing for forty yards to force the corner from which Sean Morrison headed us in front.
I still think we miss Whitts' at times laser like deliveries from corners and free kicks, but this time Ralls came up with a flag kick the man who did what he wanted couldn't better and the finish for our captain was quite simple as he got off the mark for the season.
Boosted by this lead, City then had their most dominant spell early in the second half as they again showed an attacking cutting edge the Blades couldn't match. There was a feeling that a goal was coming and, when it did, it was Mendez-Laing again as he came up with a goal that was similar to, but better than, his second one against Villa.
In truth, he slightly miscontrolled a lovely crossfield ball from Bruno Manga (steady at first, but then increasingly confident in his unaccustomed right back role), but Mendez-Laing then came back from where he had come to run along the edge of the penalty area before powering an accurate shot low into the corner of Blackman's net.
I wouldn't have thought there have been many free transfer signings from Rochdale who have made such an immediate impact on second tier football as Nathaniel Mendez-Lange has – there's still two matches left to play, but, at the moment, he has to be the winner of the Championship Player of the Month award for August doesn't he?
Finally, with just over a fortnight to go before the transfer window closes. it seems City will be doing some more buying and selling in that time. The presence of Brighton manager at last night's game adds credence to the rumours that the Premier League club are considering a bid for Kenneth Zohore, but, for now at least, it all remains speculation, whereas Neil Warnock confirmed that Joe Bennett has a release clause in his contract which means that any club who matches the value in said contract can talk to him – Fulham have done so, but our manager emphasised that this doesn't automatically mean he is leaving.
Warnock also told the media that a bid had been put in for a player whose identity he would not reveal, but was it a coincidence that City became 1/5 favourites to sign Wigan striker Omar Bogle yesterday? Bogle is big, strong, pretty quick, is, apparently, two footed and has a very good strike rate in non league and League Two football, but he only managed three goals (one of them a penalty) in his twelve Championship appearances for Wigan late last season.
With our manager talking about more left footed cover and someone with a hungry attitude who is prepared to wait their chance in the wings, this may well apply to Bogle, but not so much to the right footed Watford veteran midfielder Ben Watson who he managed at Palace – Watson was linked with Forest and us yesterday.
So it's City, Wolves and Ipswich still with 100 per cent winning records as we strengthened our hold on top spot marginally by winning by two goals compared to other two's one. At the moment, I'd say that Wolves have had the hardest games so far, then us, then Ipswich, which all makes Saturday's visit to Molineux probably the Championship's game of the season so far – I think all of those urging calm and not getting carried away may have a different attitude if we come out of that one having extended our clean sheet and consecutive wins records!
*picture courtesy of http://www.walesonline.co.uk/
+ apologies for this, but it turns out I was wrong about this – Sheffield United won nine out of their first ten matches in 05/06, but they were beaten by QPR in their third match of that campaign. Four straight wins (as is the case after the victory at Molineux on 19 August) is a personal best for Neil Warnock.