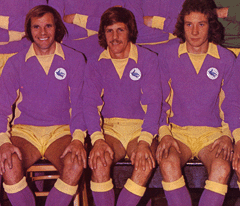 Having said that I had failed to meet my 1,000 words a game target for what may well be the first time in my post for the Wales game in the week, I'm probably going to do the same thing now for a further four matches all of which I watched for a while at least yesterday – no thank you's are necessary for my decision not to inflict a 4,000 worder on you!
Actually, I would have to fill out things an awful lot to get to that target for the first two of those games because my time at Treforest yesterday morning for the Under 16's and Under 18's matches with Brighton consisted more of an ultimately unsuccessful attempt to find out the names of our first year Academy scholars this season than it did watching and analysing the football. In my capacity as Cardiff City researcher for Football Manager 2014, I had to get a final update in today to the publishers of the game which included these details – I've managed to get a short extension to that deadline and have five names I can include, but I'm sure there are a lot more than that we've taken on and, at the moment, they aren't going to be included in this season's version of the game. While I appreciate that's no great disaster in the grand scheme of things, it will, I'm sure, mean that at least some of the young lads concerned will be disappointed not to feature.
Anyway, on to the football I did take in. I watched the first half of the Under 16's match against Brighton and, after arriving a minute or two after kick off, the first bit of action I saw was our number nine (who was being called Elvis by his team mates) getting to the byeline to pull back a low cross which was met by our number ten (I think) whose shot beat the keeper but was blocked on the line by a defender. In the event, although the goalkeeper made a good save at his near post to keep out a shot by "Elvis" and he, rather luckily, managed to turn a header by imposing centreback Rollin Menayese from a corner over the top, that was as close as we came to scoring during the period I was watching – City had most of the play in terms of territory and possession, but Brighton were the more dangerous going forward and had come close to opening the scoring on a few occasions when they took the lead after around half an hour from a penalty awarded for a foul after City had failed to deal with a cross from the left.
The penalty was easily converted and, although I suppose they were a little fortunate to be leading at half time,  I later learned that the visitors scored twice more in the second half to record a 3-0 win. I wandered over to one of the far pitches to watch the second half of the Under 18's match and was told that City were a goal up. The guy who gave me this information turned out to be a long term supporter (since the 50's) and former employee of the club who had gone over to Madrid to watch the second leg of the tie with Real back in 1971 and got a bit the worse for wear for the game after experiencing Bacardi and coke for the first time – thanks for a very interesting forty five minutes mate (it just wasn't my day for getting people's names!), but you are another reason for my reports on these matches being so vague!
Anyway, in an incident uncannily similar to the one I saw when I first arrived at the Under 16's match, the first meaningful action I saw was a City player getting to the byeline and pulling back a low cross, but the difference this time was that it was converted to double the lead. At the time, I thought it was Tyler Roche (who went on to offer proof that he can be a devastating runner with the ball down the right flank at this level) who had scored, but I was later informed that it hadn't been him (although the person telling me this was unable to inform he who had scored). After that, I have to say that, if anything, it was the visitors who looked more likely to score as they worked their way into some promising positions without really testing goalkeeper Liam Matthews. Based on what I saw, the final scoreline of 2-0 flattered City a little, but it was a very good way to start off their league campaign after beating Reading (always a strong team during the eight years or so when they were in the same division as us) 3-2 in a warm up game last week.
I only had time for a quick bite to eat at home after leaving Treforest before catching the train to Newport for County's second home match back in the Football League against local rivals Bristol Rovers. If the match with Accrington Stanley a fortnight ago had been a party occasion as County turned it on to win 4-1, this was a grimmer affair with the elements playing a large part in proceedings. A strong wind blowing down the ground helped County dominate the first half, while they were forced to play more on the break in the second half when they also had to contend with driving rain coming into their faces – it certainly wasn't fun for those of us facing the wind and rain on the open terrace behind the goal either!
County had created, and missed, a great chance when Chris Zebroski shot wide from close range after Lee Minshull's low cross from the right in the opening twenty minutes, but the first quarter of the match was a pretty even affair. The same could not be said of the second though as County got right on top and only some desperate blocks by the Rovers defence kept the scoresheet blank – you could sense a goal was coming though and it finally arrived two minutes from the interval when Christian Jolley was brought down inside the area by Tom Parkes. Although Rovers disputed the penalty award claiming Parkes had played the ball, it was a rash decision by the defender to go flying into a tackle inside the area and my impression was that it was a definite penalty. Former Rovers player Andy Sandell calmly put the spot kick away by placing into the left hand corner as keeper Steve Mildenhall dived the other way and a 1-0 half time lead was the least County deserved on the balance of play.
It was harder work for them in the second half though. As time went on County were forced back (or did they elect to sit on their lead?), but, despite this, they still went on to have the better chances to get the game's second goal – most notably when speedy substitute  Conor Washington got clear but failed to convert from a one on one with Mildenhall. Rovers forced a series of late corners and would probably argue that they deserved a point, but, much like Brighton Under 18's had been a few hours earlier at Treforest, they were let down by a series of poor crosses and wrong options taken from promising positions and so never worked the opposing goalkeeper as much as they should have done.
Obviously, my attendance at Rodney Parade meant that I only had Radio Wales' fairly depressing commentary to rely on as to how City were doing in their much heralded Premier League bow at West Ham, but, having now watched the extended highlights of the match shown on Sky last night, I feel I can give a few reflections on our 2-0 defeat. The first concerns selection and tactics  - given the team which started against Bilbao last weekend, the inclusion of players such as Matt Connolly, Ben Turner, Declan John and Aron Gunnarsson should not have come as too much of a surprise. That said, I had predicted beforehand that Gunnarsson would miss out and Tommy Smith would start to accommodate Gary Medel's selection for his City debut, but, instead, Peter Whittingham moved over to the right and Smith was left out  as we, in essence, started with two sitting central midfielders.
I'm not going to knock that because I happen to think that we should go into away matches (and a few at home as well) looking to keep things tight this season, but the concern for me is that we are not capable of retaining possession for long enough to keep the opposition at arm's length and so the ball keeps on coming back at us. I know it's very early days and Medel should definitely help things in this department, but I do find it worrying that Connolly (whose distribution out from the back was good last season), Turner and John (who I'm sure will improve with experience in this department) concede possession so often – Gunnarsson wasn't great at keeping the ball yesterday either.
Now, I'm sure that there will be some who will look at the BBC's possession stats and say I'm talking rubbish – we had more than 50% of the ball yesterday and you're going about us giving it away all of the time! I'd answer that in two ways, the way West Ham play means that they are one of very few teams in this league who don't value possession that highly (I'm guessing they'll have less than half of the ball in most of their matches this season) and, secondly, a lot of our passing was in areas where West Ham were happy to let us have the ball – even those players whose passing I have been critical of are capable of knocking the ball sideways and backwards to colleagues against opponents (who were leading don't forget) that are prepared to sit back and let us have it inside our own half.
I'd also say that, for a side, which spent about 85% of the game at least one goal behind, we seemed very reluctant to get people forward in support of Fraizer Campbell (who I again thought looked eager and sharp, but that situation could well change if he finds himself ploughing a lone furrow up front week after week). Whether it is fair or not is another matter (I don't think it is actually), but I'd say that this week and last week, all of the creative burden and responsibility for supporting our striker in our team fell onto three players – Kimbo, Whittingham and Craig Bellamy and, I'm afraid that they are not doing enough in either of those departments for me. Kimbo's scoring run in pre-season friendlies suggested he could be able to make a success of playing in the hole behind a striker, but he needs to do more than he did yesterday when he surrendered possession too easily, Whittingham did quite well, but it wasn't enough given the way we are set up and I'm afraid it's been quite some time now since Bellamy has played to his potential in a City shirt.
Given West Ham's reputation as a team that often uses the aerial route, I could understand the selection of Connolly in front of John Brayford, but, especially when you consider the former's first half struggles against Matt Jarvis yesterday, I hope someone who Malky was acclaiming as the best right back in last season's Championship comes into consideration for selection from now on. I read somewhere that Malky was not happy with the way John Brayford kept on charging forward against Chievo, but, given what I've seen in the two matches since then, I think anyone who can get themselves within twenty yards of Campbell would be most welcome – with the correct selection in right midfield, I'd like to think that Brayford's sorties forward could be accommodated anyway.
Of course, there are likely to be at least a couple of new arrivals before September 2 and the signs are that at least one of them will be able to give our lone striker a bit of help as we target a winger. However, speaking as someone who has come around in the last few years to thinking that central midfield is the most important area of the pitch, it is here that I think we don't seem to have quite got things right yet. As I mentioned before, you'd like to think we'll see an improvement as Medel integrates, but it is in an attacking capacity that I feel we need a bit more – perhaps, a fit and firing Jordon Mutch might provide some drive and running power, but the balance doesn't look right at the moment.
* picture courtesy of http://www.huwevansimages.com/
+ pictures courtesy of  http://www.walesonline.co.uk/