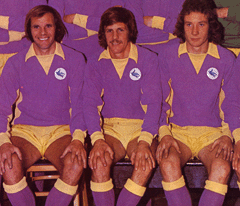 I went to yesterday's match with MK Dons at a rain swept Cardiff City Stadium determined to be positive. After all, City had been winning their recent away games, scoring goals aplenty in the process, and, by general consent, could be said to have had a good transfer window.
My thinking was based on a feeling that I had been overly negative at times in my assessment of matches on here. After all, it seemed that the Joe Mason transfer was proof of the conditions Russell Slade was having to do his job under – he has made it clear that he wanted the player to stay, but, not for the first time, he has seen the rug taken away from under his feet as his efforts to build the team he wants have been frustrated on the altar of "financial reasons".
Despite this, Slade's team had won successive away matches by playing a pleasing brand of passing football that had displayed a surprising speed on the counter attack and, if they were being honest with themselves, regular attenders of home matches would have to admit that the entertainment level provided by the team had risen, albeit from a very low starting position, in recent months.
So, City, and their manager, were not really as bad as I had sometimes made them out to be on here – I do believe that, and yet……….
Truth be told, I couldn't get this nagging feeling that all of this optimism was a little too forced and had an almost manic edge to it – were the foundations for all of this new found positivity built on sand in reality because, although I had an acceptance that I had been overly critical at times, I couldn't deny in my heart of hearts my true feelings about the 2015/16 Cardiff side and it's manager?
Of course, the true test of my new outlook would come when the pre match chat ended and the football started. On this score, there would also have to be an acknowledgement that torrential rain throughout the Saturday morning had led to a pitch inspection at 1.15 that was passed, albeit with the warning that further heavy rain could still lead to a postponement.
As luck would have it, the rain eased in the hour and a half before kick off and, when I took my seat in the ground about five minutes before the match started, my immediate reaction was to wonder what all of the fuss had been about because the new pitch, that had played well in the previous match with Rotherham, looked fine to me.
The presence of one of those Super Sopper machines (maybe borrowed from the SWALEC stadium?) should have alerted me to the true situation, but it was only when it discharged all of the water it had picked up off the pitch on to an area outside the touchline that I realised how waterlogged the playing surface really was.
So, here was another factor to be borne in mind when it came to a more sympathetic appraisal of my team and, of course, virtually as soon as the game kicked off,  the heavens opened again!
Somewhat surprisingly, the condition of the pitch did not appear to be too much of a factor early on and the only clue that things weren't really as they should be came more from  players (particularly City forwards in semi promising positions!) would slip over for no obvious reason, rather how the ball was behaving.
Therefore, I had plenty of reasons as to why I should not start getting annoyed with the team as the minutes passed by, but, the truth (or what I see as the truth) cannot be denied. So it was, that around the quarter of an hour mark questions like "why do we always start home matches so soporifically?", "are we ever going to score a goal in the early stages of a home match this season?" and "why does Sammy Ameobi, who looked so incisive and switched on at times against Huddersfield seven days earlier, look so indecisive and frail today?" began to form in my mind despite my best efforts to stop them.
To be fair to Ameobi, he wasn't the only City player who was struggling. While we looked reasonably secure at the back, there was virtually nothing to take solace from when we tried to do something other than defend – new loan signing Tom Lawrence was looking lightweight as he struggled to get into the game while playing in a central position behind Anthony Pilkington and Peter Whittingham's attempts to take the pitch out of the game by hitting long passes into spaces for our more mobile strikers to exploit were frustrated because his radar was not operating as well as normal.
Six days earlier in their FA Cup tie on their own pitch against a team which played in all blue, MK Dons had conceded two goals by the forty minute mark, but, in truth, it could well have been ten as Chelsea tore them to shreds. Now, of course, the team in all blue they faced yesterday are no Chelsea, but a lot of the Dons' problems last week were caused by their own poor and, at times, naive defending.
Furthermore, there were one or two clues offered by the visitors that the scars from last week's 5-1 mauling had not fully healed. Therefore, my determination to be positive and the awkward conditions notwithstanding, surely City should have had it in them to cause a defence that looked all over the shop last week the occasional moment of alarm in the opening forty minutes of yesterday's match shouldn't they?
The honest answer to that question is no they couldn't – when their opponents blundered occasionally at the back, City didn't have the nous or ability to capitalise on it and a visiting side which began to get on top in the middle of the park were able to create a little more than us without really suggesting that they had a goal in them.
At least the five minutes before the half time interval offered the prospect of a City goal as a scuffed Ameobi shot was deflected not too far wide with the wrong footed visiting keeper David Martin giving the impression that he wouldn't have been able to stop it if it had been on target. Seconds later, a lovely Whittingham cross was headed on to an upright from close range by Lawrence, shortly afterwards, Stuart O'Keefe's header's was palmed away by Martin and then Whitts put a decent chance over the bar as he tried a side footer when it seemed to me that he should have put his foot through the ball.
Ironically, as the rain cascaded down and the water began to stand on the pitch in places, City had finally found some rhythm to their ground passing and so I spent half time with my optimism restored - the early signs were that we had carried on our improvement into the second half as well.
MK Dons manager Karl Robinson said after the game that he rated his keeper's performance as his best of the season so far and you could see what he meant as Marin denied O'Keefe (who again showed up well as he put in what I'd call a proper box to box display) a second time and then Scott Malone at the end of what was probably City's best attack of the game.
With a more influential Lawrence doing a good impression of Tony Watt as he slalomed past three defenders only to shoot narrowly wide from the edge of the penalty area and then just failing to get his head to a very tempting cross, it felt like a goal was coming.
Unfortunately, Lawrence was left clutching his head after that second incident and so, when Ameobi did well to rob Johnny Williams out near the corner flag and cut in on goal menacingly, referee Kevin Johnson, who I thought generally favoured MK Dons (he penalised City for fouls twice as often as he did our visitors) without really influencing the match too much, had a big decision to make.
With Ameobi going on to hit the ball into the net, the ref felt the wrath of the City crowd for his decision to stop the game, but, given that it looked like Lawrence had a head injury, it appeared to me as if Mr Johnson was right to stop the game when he did. It's also worth noting that Martin, definitely, and Ameobi, probably, reacted as if they knew the whistle had gone, so there's no guarantee that the outcome would have been the same if the ref had decided to play on.
Karl Robinson was honest enough to admit that his side had ridden their luck at times, but it was good defending that denied Pilkington when his well struck close range shot was deflected for a corner and the makeshift striker was out of luck again when he showed great technique to get away an acrobatic volley that Martin was able to save without too many difficulties.
The truth as I saw it though was that, if MK Dons did have a City storm to weather, it had, just like the rain, largely disappeared during the game's last quarter because, although the chances still came, the players now wanted to take an extra touch too often as they tried to get the ball fully under control on a pitch where it was not running truly any more. I know Joe Mason had his critics and he wasn't playing very well in his last few months with us, but I couldn't help thinking that the outcome of the game could well have been different if he was still here to be on the end of a few of the chances we created which went begging.
As it was, MK Dons were probably at their most dangerous in the last half an hour of the game. Unlike Jay Emmanuel-Thomas when he came on, Nicky Maynard was given a generous reception by the home fans on his return to Cardiff and he showed some of the ability which made him  such a good striker at Crewe and Bristol City by beating Matt Connolly all ends up, only to blaze over the top just when you thought a goal was inevitable.
There were also dangerous breaks by the visitors which saw them denied by a combination of good defending, the pitch and a lack of confidence which offered a clue as to why they are the Championship's lowest scorers.
The closest we came to a goal as the game neared it's conclusion  was when David Marshall had to make his first serious save of the match to deny Jake Forster-Caskey and so it ended up goalless, with the visitors far more pleased with their point than Cardiff were.
When the opposing manager admits that his side were lucky, then you can safely deduce that City were unfortunate not to win. Furthermore, I believe you can say that about so many recent home matches where we have had the better of things only to end up with just a draw – I'd say Burnley, Forest Rotherham and, maybe Sheffield Wednesday all fall into that category,
The trouble is, you can try to put all of the positive spin on things that you want, but that's five home draws in seven for us now. People can look at just one home defeat this season and talk about how strong we are at Cardiff City Stadium, but we've taken just eleven points there from a possible twenty one since beating Reading in early November.
Truth is that in our last two home matches we've faced sides who, between them, had lost  fourteen of their last seventeen league away matches when they played us and we couldn't beat either of them.
Yet again it seems that, just as a Russell Slade side is getting one thing right (away results in this case), it loses it's way in an area where it had been doing well. It's all very well saying that two wins and two draws from our last four games is a good return,  but one of those draws came against a side that has been beaten heavily at home twice and then lost at Bolton in their three matches either side of them having drawn here.
After the Rotherham match Russell Slade talked of us being at a stage of the season where there weren't going to be many more of the sort of opportunities we had missed in that game  - well, we missed another one yesterday on a day where, not, for the first time, so many results went in our favour and we were unable to take full advantage.
Trying to remain optimistic, Tom Lawrence showed that he can bring skill, creativity and guile to the team and Kenneth Zohore didn't have enough time on the pitch to fully judge him. However, I'm afraid Lawrence also showed at times why his goalscoring record isn't as good as most expected it to be when he was being described as one of the bright young things of Welsh football during his time at Manchester United, while it has to also be said that there was absolutely nothing from Zohore to offer hope that the verdict will be a positive one on him when he has played enough to give an informed judgment on the target man.
So, yes, let's give the new men more time and point to us still only being four points off sixth place, but the brutal truth is that all yesterday did for me was add more evidence to a conviction I've had for months now that this team and manager are heading for a final position which will be about three or four places below what they, and our CEO, have told us is the target for this season.
*photos courtesy of https://www.flickr.com/photos/joncandy/