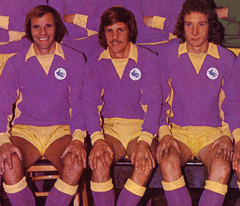 No doubt Ole had what he would consider to be perfectly valid reasons for deciding to make three changes to the side that beat Wigan for yesterday's 1-0 defeat at Wolves, but it is not with the benefit of hindsight that I say I could not see the logic behind two of them – a look at the message boards soon told me I was not alone either!
Okay, even if the young Norwegian wasn't injured (Ole said he had a minor injury in his post match press conference), Anthony Pilkington for Mats Daehli made some sense given the latter's quiet start to the campaign. However, the presence of John Brayford and Kenwyne Jones on the bench means that they must have been dropped to make way for Mark Hudson and Adam LeFondre.
The general consensus seems to be that Brayford had been one of our best players in our opening three league matches – I did hear one or two criticisms of the defensive side of his game at Blackburn, but I didn't agree with them and I saw nothing wrong in his performances in our two home games. It wasn't just that Brayford was left out either, his omission meant that our best defender so far, Matt Connolly, had to move from centre back.
If I'm being honest, I didn't think Jones had that good a game against Wigan, but his form, not to mention his goal scoring, so far surely merited him being given another start yesterday?  This seems especially true when you consider that our good spell at Blackburn coincided with the time when Jones was heavily involved in the game.
In trying to understand why Ole decided to shake things up despite the team having won three and drawn one of their first four games, perhaps a clue can be gained by his fairly constant comments following our matches along the lines of we weren't good enough with the ball and we didn't show much quality?
If Ole was thinking that his side might have been getting the results, but they hadn't really been providing the performances, then I can understand that thinking to a degree – I would say we have only played fluently during spells in the Huddersfield game.
That said, even if you agreed with that reasoning and could support the manager's desire to make changes, you have to scratch your head as to why he made the ones he did.
Clean sheets have been such a rarity during his time in charge that you would have thought that Ole would have been content to leave things as they were at the back after a Wigan side tipped by many for an automatic promotion place were kept out fairly comfortably on Tuesday.
I'll preface my remarks regarding the change made up front by saying a couple of things about possession statistics. Firstly, I think I maybe give them too much importance because, let's face it, every week there are plenty of examples of teams winning despite them having less of the ball than their opponents.
However, when possession works out at 65/35 against us as it did at Blackburn then I think that the sheer size of the margin of difference should be a cause for concern. Now, I feel that the department of the team most responsible for deciding the outcome of the battle for possession is the midfield and I believe that most people who have watched us so far this season would say that this is the most problematic area of the pitch for us at the moment.
Presuming that the change made to the midfield yesterday was a forced one, it seems odd that Ole looked elsewhere to make his other alterations. As it turned out, the possession breakdown was even more against us yesterday at 67/33. Notwithstanding my earlier comment about me placing too much importance on possession figures, I think they are embarrassing given the advantages our £60 million prize money for finishing last in the Premier League and our parachute payment have given us over most of the other teams in the Championship and the fact that we were two divisions above Wolves just over three months ago.
So, the stats say our midfield again failed to function yesterday. The worrying thing about this for me is that, for all the talk of our large and talented squad, I'm struggling to see who could come in and transform us in the middle of the park if we are going to keep on playing four men there.
If Kagisho Dikagcoi was brought in, we might see those possession figures turning in our favour somewhat, but would we have the flair and guile to open up defences with, say, him and Tom  Adeyemi as our central midfield two? Likewise, would switching Dikagcoi for Ademyemi bring an improvement on what we saw yesterday? I happen to think Joe Ralls' good all round game might help matters, but I tend to believe he will only be used in League Cup matches if he isn't loaned out.
All of this brings me on to Kenwyne Jones who, it seems to me, has to start in away games especially if we are going to keep on playing 4-4-2. If we are going to keep on being as bad at retaining the ball as we have been in our first two away league matches, then we need a target man we can knock "fighting" balls up to in the hope his strength will be enough to keep possession and bring team mates into the game.
Of course, there is an alternative – we could start playing three in central midfield. Usually, that would mean you only end up playing one striker and, with all of the hoohah about how many options we have up front now, that might look like something of an admission of defeat on Ole's part.
There is a way you can play three in central midfield and two up front and that is to use the sort of formation that Ole employed at Spurs and Everton last season where we were a little unlucky to lose both matches by single goal margins. 4-4-2 hasn't worked in our two away games in the Championship and I'm not sure that we had less of the ball in any of our games last season than we have done at Blackburn and Wolves – I'd like to see us try 3-5-2 at Fulham next week.
I suppose it could be argued that all of this is a bit of an over reaction when we drew at Blackburn and only lost by an own goal in added time yesterday, but the circumstances behind the winning goal shouldn't be allowed to hide the fact that we were second best for most of the ninety minutes – we aren't playing like promotion favourites and there's little sign so far of our glut of new strikers being given the goal scoring opportunities to prove their worth.
* pictures courtesy of http://www.walesonline.co.uk/