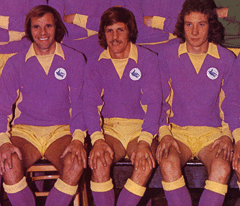 During last week Sky Sports repeated their coverage of some of the games which enabled four of the five national teams represented in the British Isles to qualify for the Finals tournament of the European Championship which began on Friday.
In Wales' case this meant that the home game with Cyprus, the great win in Israel and the goalless draw in Belgium were all given another airing, but it was the coverage of the last of these matches which took my eye most because it corrected an impression that had formed in my mind in the eighteen months or so since then.
My recollection was that the match in Brussels represented a glorious rearguard action by the Welsh as we clung on to our clean sheet in the face of non stop Belgian pressure. Yes, the reality was that we spent most of the time defending, but what I'd forgotten was that, far from barely threatening the home goal, we had our moments in attack as well and the home team always had to be wary of our speed on the break, along with our effective passing in advanced areas.
Watching what we had to offer in attack in a match where the emphasis was mainly on what was happening at the other end of the pitch only served to make me even more aware of how uninspired, punchless and downright ordinary (actually, "downright ordinary" makes us sound better than we actually were!) we had been in this department in our three games going into the tournament.
I won't repeat much of what I said in my piece last Monday about the 3-0 loss to Sweden in our final warm up match. Suffice it to say that the game, along with the earlier ones against Ukraine and Northern Ireland, left me thinking that, short of Gareth Bale conjuring up something wondrous on his own, it was very hard (no, make that impossible!) to see where the goals were going to come from when we reached the tournament that has been so eagerly awaited – thinking about it, that process probably started on the night we defied the Belgians in their own backyard.
Bale and Aaron Ramsey may have been missing for most of that time, but the latter added little to our attacking play in Gothenburg and so, as mentioned before, it seemed to me that we were virtually totally reliant on the former to come up with something – we were closer to being a one man team, in an attacking sense, then any of the others who'll be appearing in France in the coming weeks.
In the earlier piece I alluded to a while back I had been pretty harsh on the three forward options open to Chris Coleman in his squad, but, when I heard his selection for yesterday's opening group game with Slovakia, I found myself thinking that the manager had taken a huge gamble which was likely to end in failure.
What got me wishing for one of Sam Vokes, Simon Church and Hal Robson-Kanu to be included was the use of Bale in a forward position with Jonny Williams being the closest thing he had to a striking partner.
For me, there was a real danger that Wales could end up with Bale being left as an   isolated and ineffective target man who would only have a colleague within twenty yards of him when we had an attacking free kick or a corner – pushing our best player so far up the pitch would also rob us of him being able to run at defenders with the ball from around the halfway line.
Also, while not denying Williams' talent and that he has been an effective performer for his country on plenty of other occasions, I was concerned that a physical Slovakian defence would render him a virtual passenger who would contribute little at either end of the pitch.
Spain may have won this tournament four years earlier with their "false" number nine and a formation which could be best described as 4-6-0 I suppose, but, with due respect to a group of players who are responsible for getting us to a place where most of us have never been before when it comes to supporting our national team, Wales football teams need something more "basic" than that don't they?
What Coleman decided on at the top end of the pitch rather took my mind off another controversial selection further back where Joe Ledley was, hardly surprisingly, not risked from the start. However it was not Premier League winner medal holder Andy King who, came in to play in a deep midfield role, it was Wolves' Dave Edwards, another player who, at one time, looked to be a non starter for this tournament because of injury .
I'd presumed that King would come in to play alongside the fit again Joe Allen, but, even though he's no longer the player whose game was based on runs beyond strikers to get into double figures every season as a goalscorer any more, the Leicester man isn't really a natural for a holding midfield role either, so our manager deciding to look elsewhere was not completely surprising to me.
In the event though, it did seem odd to opt for someone whose career has, in many ways, mirrored King's in terms of how his game has developed through the years, in Edwards – if King wasn't a natural fit for that defensive midfield role, couldn't the same be said about Edwards?
Coleman would have had days. If not weeks, to think about his selection when it came to the forward and sitting midfield roles, but, when the unlucky Wayne Hennessey woke up with a back spasm, he only had a matter of hours to contemplate what to do when it came to picking a goalkeeper.
Truth be told though, the manager would probably have only needed a few seconds to come to his decision. A year ago, to lose Hennessey like that would have been a disaster because goalkeeper was the one position where we lacked the sort of quality squad depth to have an experienced international performer to come in if need be.
However, after a season in which he has shone during a loan spell at Aberdeen, played a couple of times in the Premier League for Liverpool, sat on the bench in a European club final and earned his first two caps for his country, Danny Ward gives us the quality cover in that position that we lacked previously – Ward for Hennessey was a no brainer.
At just twenty two though, this was a huge stage for Ward on which to make his competitive international bow and there had to be a question as to how well the rookie keeper would cope – would he have his career defined by a mistake in a high profile match in much the same way as Scott Carson has following a very expensive blunder in an England v Croatia game at Wembley?
Surprisingly, thankfully and gloriously, we never got to know quite how Ward would react when put under pressure. Grateful for some brilliant defending that prevented a Slovakia goal in the opening minutes, the keeper was hardly tested – while it would be an exaggeration to say I could have played in goal for Wales yesterday and we still would have won, Ward will definitely have had far busier afternoons in his career so far. He did what he had to do adequately, but such was the level of performance of those in red shirts in front of him, "adequate" was all he needed to be.
All of the outfield players turned in seven out of ten performances or better. Gunter was superb in the first half as he showed an aptitude for the attacking side of his wing back role that is often absent from his game and Taylor played like the Premier League regular that he is. Inside them, Chester was a cool customer, Davies my Welsh Man of the Match and, while he could never be called a weak link, captain Williams was outshone by his two central defensive partners on this occasion.
Edwards took to his role like a duck to water before injury slowed him down and Allen was a close second in the man of the match stakes as he, yet again, showed what an important player he is for his country.
When it came to the three players charged with providing most of Wales' attacking ideas, Williams was a complete nuisance for the Slovakian defence as his close control and dribbling skills drew countless free kicks (including the one from which Bale put us ahead from in the tenth minute).
More than that though, the Palace player exasperated Martin Skrtel so much that the Liverpool man assaulted him with an elbow to the head as he shepherded the ball out for a goal kick. With his team 1-0 down at the time, he should have seen a straight red card and the game could have been put beyond his country if the referee and the guy who gets paid for standing by the goal doing nothing had applied the laws of the game in the manner in which they are meant to be  – as the Sunday Telegraph says this morning, "It was directly in front of referee Svein-Oddvar Moen and an additional assistant behind the goal but, in keeping with football's unfathomable convention that a defender can seemingly do anything to shield a ball out of play, no penalty was awarded.".
Skrtel had still not learned his lesson as his dubious, and completely pointless, second half block on Bale could easily have led to a penalty and the rattled Slovakian captain eventually picked up one of five yellow cards shown to his team (Wales had none).
Skrtel can be a commanding and effective centre half who, I believe, would have coped quite easily with the striker in the Welsh squad who would, seemingly, have offered the biggest goal threat –  Sam Vokes has been so effective for Burnley in the Championship in the second half of the season especially. However, Wales' pace, movement and shrewd passing made him look lumbering here and this brings me on to the other two outfield players I've not mentioned yet.
Ramsey and Bale are the two "megastars" of this Welsh team, but they were also the pair of players who drew the most disapproving tuts from me as they gave the ball away carelessly at times. It was interesting to hear Chris Coleman say though that Ramsey is encouraged to try things that might go wrong in a Welsh shirt because, when he gets things right, he produces something that few others can – if that applies to Ramsey, I'm certain it does to Bale as well.
So, with that in mind, and while remembering that he was too easily brushed aside in the build up to Slovakia's goal, I'd say that the way Ramsey was employed as one of two number tens showed him offering far more for his team than he did for most of the time at club level over the past season where he was used in a cautious manner for a role which, probably, could have been better performed by a less accomplished player more familiar with the holding midfield job than he is.
Ramsey was there to play a leading part in the winning goal when it came late in the game and frequently got himself into the sort of positions where a more confident finisher could have made the game safe for his side – I think that confidence may come if Wales can repeat the attacking verve and energy shown here.
However, the question remains, are we getting the best out of Bale by using him as we did yesterday? Well, I think Chris Coleman could reasonably say that the outcome of the game confirms he made the right decision. Certainly, Wales silenced my criticism of them having little to offer going forward because, debates about Bale's effectiveness in the striking position notwithstanding, we manifestly, did carry a forward threat yesterday.
Overall Coleman got it right tactically in the most important match Wales have played in more than half a century, but it seems to me that Bale's effectiveness as an individual was restricted by him being deployed in a manner which, arguably, was for the benefit of the team overall.
Yes, he scored from a free kick (which owed much to dodgy goalkeeping) and  there were some lovely flashes of skill from him throughout and yet, at the end, I couldn't help wondering whether Skrtel and co were happier to have him playing on their shoulders or to have him running at them at pace with plenty of open, inviting green grass for him to move into?
I think that's a real tough one to answer when you consider how things went overall, but, if anything, the introduction of Robson-Kanu complicated things somewhat, because we then saw his unselfish running help create the sort of gaps a deeper lying Bale is possibly better equipped to exploit than any other player on the planet.
If Robson-Kanu is fit enough to start in our next game, then Coleman has a very hard call to make. Again it could be argued that it boils down to the needs of the team against individual considerations, but I've got increasing faith that the decision he arrives at will be the right one.
Reading what I've said so far may give the impression that it was all pretty comfortable for Wales, but that's not the case. Slovakia dominated the third quarter of the game on the back of substitutions and tactical changes made by their coach Jan Kozak and suddenly it was us who were on the back foot looking likely losers.
However, while Wales managers and coaches could legitimately complain about a lack of quality on the bench to influence matters when they were struggling in the past, that's not the case now. The introduction of Ledley and Robson-Kanu provided the impetus for the balance of power to shift again going into the closing stages, as the former's perceptive pass helped unlock the visitor's defence for the latter to scuff in one of the most beautiful goals I've seen in my life!
Yes, we rode our luck when the Slovaks hit the post with four minutes left, but, overall, it was pretty comfortable for us once we went ahead for the second time and I believe that our win was a deserved one given how dominant we were for significant periods of the game (indeed, I can remember thinking around the thirty five minute mark that we were looking the best of the six teams to have played in the competition up to then.). We won the battle on the pitch and our manager won the battle between himself and his Slovakian rival on the touchline.
I'm going to finish with a question for those readers on here who are old enough to remember Sweden in 1958. I have this hunch that even if you are of an age whereby you can recall the events of fifty eight years ago clearly, what happened yesterday was still a new experience to you in the same way it was to those of us who either weren't born then or, like me, were too young to know what was happening – "knowing about" what was happening at that World Cup and a game in Euro 2016 are two completely different things.
So, I would argue that yesterday represented a totally new experience for virtually every living Welshman and woman. For myself, I loved it, I want more of it and, with England conceding very late on to drop two points against Russia last night in the group's other game, the truth is that a win against them on Thursday will secure our qualification into the knock out stage – I still don't reckon we'll beat England, but maybe we will have a fourth game (or more!) to play in France this month after all!
*picture courtesy of http://www.walesonline.co.uk/
+picture courtesy of http://www.theguardian.com/uk