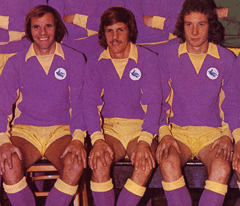 The first thing to say is that if you don't want to read me rabbiting on about some game played nearly forty years ago, you can have a look at the goal referred to in the title at 5.20 in this excellent video which also features the other two goals City scored that afternoon. However, although I am obviously biased, I would say that it is well worth reading on because, apart from that goal, the game with Middlesbrough on 3 October 1970 is one of the most remarkable City matches I have seen.
Before going on to the match itself, it's worth taking a little time to set up the background to the game in question. City had been promotion candidates in the two previous seasons only to come up short on both occasions and manager Jimmy Scoular sought to rectify that by bringing in a couple of new players in the summer of 1970. One of those signings was Ian Gibson who remains my favourite City player to this day – Gibson was signed from Coventry for £35,000 and immediately started to make an impact for us in the middle of the park but, unfortunately, the other new player was not turning out to be such a success.

Goalkeeper Frank Parsons had been signed from Crystal Palace for £15,000 to replace Fred Davies who had left to join AFC Bournemouth and he went straight into the team for the opening day match at Leicester. City gained a great 1-0 win that day over the team that were eventually to go up as Champions and Parsons had a fine game – indeed, if you only ever watched City play away from home at that time, then you may well have thought he was a great keeper, but I'm afraid that at Ninian Park he was having a rough time of it with errors on his part costing us victories over Sheffield United and Norwich.
Parsons' mistakes went some way to explaining why City had only won one of their four home games so far that season, but, with three wins already on the road, they were well established near the top of the league going into the game against a Middlesbrough side who had started the campaign in uninspiring fashion with eight points from their first nine matches (it was two points for a win back then).
It was the visitors who were fastest out of the blocks though and Parsons was helpless when the dangerous John Hickton (he was to score twenty five league goals that season) glanced a near post header into the corner of the net midway through the first half but the goal only served to bring the best out of the City team in general and Peter King in particular.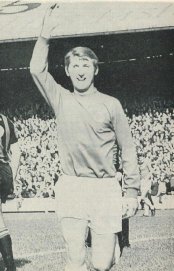 Peter King had been signed from Worcester City (his home town club) in 1960 at the age of seventeen and was the only player still at the club who had played First Division football for them. King had played in more than half of the first team games during the 61/62 relegation season and had established himself as a very important member of the team for the rest of the decade.
Perhaps it was the versatility which saw him play in central midfield, on either wing and up front at various times during his City career that caused it, but I have always thought of King as something of an unsung hero in the City teams of that era. It could also be that, such was his ability and consistency, his good level of performance was taken a little bit for granted by supporters (I think I was guilty of doing that at times).
When City supporters of a certain age have discussions regarding the best players they have seen at the club, King's name rarely comes up in my experience and yet I think it is true to say that however the team were playing, you could almost always be guaranteed a good performance from Peter King.
It was King's persistence that first made an impression that afternoon as he managed to put over a cross from the bye line which resulted in a pretty straightforward headed equaliser for Brian Clark shortly after Hickton's opener, but it was early in the second half when King was instrumental in putting City into what should have been a winning position.
Firstly, having already played a part in the build up to the goal, King showed great awareness to roll the ball into the path of Bobby Woodruff who crashed a right foot shot into the net from twenty five yards. Woodruff's goal was a cracker which should have the adjective "memorable" attached to it, but the truth is that, because of what happened a few minutes later, it barely gets remembered now by City fans old enough to have seen it.
The pictures from the video link are a better testimony to Peter King's superb volley than anything I could ever come out with so all I'll say about it is that I can still remember the thump I heard as King hit his shot (it can also be heard on the video). I was stood in the boy's enclosure behind the goal that would shortly see King's shot fly past the startled Willie Whigham in the visitor's goal and I can honestly say that I have not heard a louder impact of boot hitting ball before or since that moment – in a way, it was a bit like getting a second or two's prior knowledge that something very special was about to happen.
Having conceded two wonder goals within less than five minutes, there shouldn't really have been any way back into the game for Middlesbrough, but, almost immediately, they were awarded a soft penalty for a foul by Don Murray on Hugh McIlmoyle only for Frank Parsons to not only save but also hold on to Hickton's spot kick.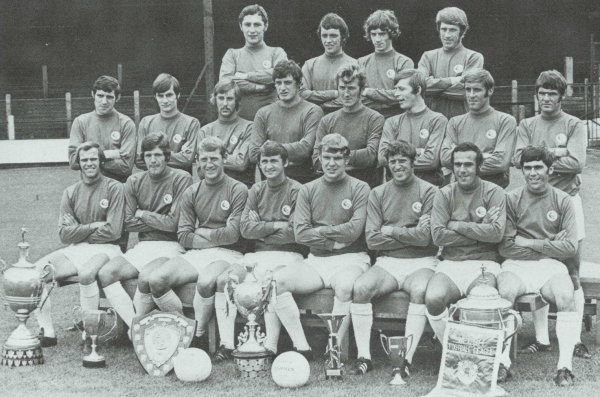 It really was a fine save by Parsons and, for a short while at least, there was the hope that it might signal a change in his City career, but, perhaps aided by some City complacency, the visitors kept on plugging away and they got a goal back when central defender Willie Maddren's weakly hit shot following a corner slipped through Parson's fingers and into the net.
Parson's howler meant the momentum had shifted completely and City now faced the prospect of hanging on to their lead for a quarter of an hour or so. However, with a such a shaky keeper behind them, that was always going to be an uphill task for City and Parsons boobed again when he couldn't hold on to Derek Downing's shot and the ball dropped to Joe Laidlaw who was able to tap in the equaliser from no more than a yard out.
Although it had not been as bad a blunder as the one for Maddren's goal, Parsons' confidence must have been shot to pieces by now and there was an inevitability about what happened next as the unmarked McIlmoyle headed in the winner from inside the six yard box with Parsons stood rooted to his line.
Middlesbrough's unlikely win was the catalyst for a promotion challenge from them which only floundered through too many drawn matches in the run in while City reacted impressively by winning five and drawing two of their next seven matches, all of which meant that they stood at the top of the division a week after the controversial sale of John Toshack to Liverpool for £110,000.
As for the two main players in the drama that afternoon, Peter King went on turning in good quality performances for the rest of the 70/71 season. However, as the team declined in the next couple of years, so did King's contribution as an Achilles tendon injury caused him to miss more and more matches before he decided to call it a day in 1974 at the age of just thirty one, but not before he had scored the best goal I have ever seen in a City game. Who can tell whether it is was really Ninian Park's finest goal or not, but I'd be very grateful if someone could show me a better one.
It was no happy ending either for Frank Parsons, he was dropped in favour of Jim Eadie for the next game and, although Jimmy Scoular showed faith in him to the extent that he was given his chance early on in the next two seasons, Parsons was still a disaster waiting to happen. For example, I can remember watching him give poor performances at Orient, where we lost 4-1, in 71/72 and Swindon when we were beaten 3-0 (with all of the goals coming in the first half) the following season before his unhappy stay at Ninian Park was ended with moves to Fulham and then Reading – he made little impact at either club before dropping into non league football with Wokingham.
When people debate why we missed out on promotion in 70/71 they tend to put it down to one of four things – selling Toshack, not replacing him quickly enough, losing to Watford or losing to Sheffield United. However, although it sounds a bit brutal, the truth is that Frank Parsons' blunders cost us a total of four points (one of them to the team who pipped us for second place) early on in a season where we ended up missing promotion to the top flight by three points – if signing Ian Gibson was a master stroke from Jimmy Scoular, I'm afraid that history shows that bringing in Frank Parsons was a serious error on his behalf.
3 October 1971
Cardiff City 3 Middlesbrough 4
City Parsons; Carver, Murray, Harris, Bell; Gibson, Sutton, Woodruff (1), King (1); Clark (1), Toshack; sub (not used) Bird
Boro Whigham; Maddren (1), Gates, Spraggon, Jones; Downing, Laidlaw (1), Smith, McMordie; Hickton (1), McIlmoyle (1); sub (not used) Mills
HT 1-1
Att. 21,072