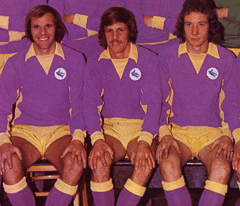 After you have been watching Cardiff City for some time,  you tend to reach the stage where nothing surprises you any more. However back in November 1981, I was nowt but a lad and so, like so many others, I was absolutely amazed when manager Richie Morgan was shunted upstairs to become "General Manager" while ex West Bromwich Albion and Wales left back Graham Williams was installed as chief coach with responsibility for team selection and tactics – there have been many absolutely daft decisions made Cardiff City boards down the years, but this one may well have been the most idiotic of the lot!
Before going any further, it's worth describing the circumstances that Richie Morgan had to work under. He was appointed during the 1978/79 season and he responded by steering the club out of the lower reaches to finish in ninth place (their best finishing position in eight years), after that there was a solid, if unspectacular 79/80 campaign which at least was free from any relegation worries and then he had just kept us up in 80/81 as low crowds meant that he was given very little to spend in the transfer market.
During Morgan's second season in charge, former Olympic athlete Ron Jones was appointed as the club's General Manager and put in charge of the day to day running of things. Under Mr Jones it soon became clear that Richie Morgan would have to sell before he could buy and, given the aforementioned low crowds, that was understandable enough I suppose. However, the summer of 1981 saw the formation of the Cardiff Blue Dragons Rugby League team and, just as with so many other attempts to get the game established in South Wales, the authorities were eager to do all they could to help things along. This resulted in the new team immediately being accepted into the Second Division of the League and so that summer saw a concerted recruiting campaign as the club sought to build a team which would be both competitive and attractive to watch.
Ex Newport and Wales outside half David Watkins who had made a great career for himself at Salford when he went north in the sixties was put in charge of the new team and recruited Rugby Union internationals like Steve Fenwick, Tommy David, Brynmor Williams and the controversial Paul Ringer to their ranks. Obviously though, this was all costing money and there was resentment amongst City fans when it emerged that while £125,000 had somehow been found for Dave Watkins to spend, Richie Morgan and the football side of things would, once again, get nothing.
So it was that the only new arrival for the football club during the summer of 1981 was Manchester City forward Paul Sugrue on a free transfer. When City opened the new campaign with just one point from four matches, Richie Morgan was allowed to go back to Manchester City to bring in defender Gary Bennett on another free, former City favourite Payer Sayer also arrived from Preston on loan and then, shortly afterwards, Gary's brother Dave (who had been playing in the FA Cup Final only four months earlier) also arrived from the Maine Road club for a fee of £120,000.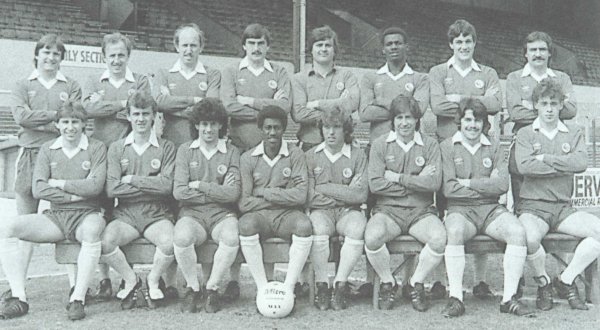 Nearly all of the money spent on Dave Bennett was quickly recouped by the sale of Billy Ronson to Wrexham for £90,000 and John Buchanan to Northampton for £12,000 and  Morgan's surgery on his squad appeared to be working. Successive home wins over Wrexham and Norwich saw City climbing to twelfth in the table in early November only for the decision then to be taken to relieve Richie Morgan of his team responsibilities as he was moved into an administrative job – was it just a coincidence I wonder that this decision was taken shortly after Ron Jones had been elevated on to the club's board as he became football's first paid director?
Mr Jones was given the title of Managing Director and a reputed salary of £25,000 a year (more than the average cost of a house back then) as it seemed that, despite our new Managing Director's reluctance to part with the club's cash, every one but the manager of the football club was doing quite nicely thank you at Ninian Park.
Ron Jones was part of the Board of Directors which appointed Graham Williams as chief coach. Williams had been an accomplished defender who was captain of West Brom's FA Cup winning team in1968, but quite what the City hierarchy saw in a coaching career which had seen him employed in Kuwait and Greece years earlier following a spell as West Brom's Assistant Manager to suggest he was the right man for Cardiff City at that time, I haven't a clue!

Williams, who had been running a health club in Weymouth prior to his appointment at City, made a good start to his new career mind as City went to Vicarage Road and held free scoring Watford to a 0-0 draw in front of the Match of the Day cameras and the change at the top and a run of just one defeat in six matches ensured that there would be a bigger crowd at Ninian Park than normal for the visit of newly relegated Leicester City a week later (there were only four bigger league gates throughout the season!).
Leicester had gone down after just one season in the top flight and had made a decent start to the campaign with only two defeats to show from seven away games, they also had the foundations in place for another promotion side with experienced campaigners like Mark Wallington and John O'Neil being backed up by promising youngsters such as Gary Lineker and future City players Kevin McDonald and Steve Lynex (younger supporters who only saw "Lethal" play for us will just have to take my word that he was a good player in his Leicester days – hard to imagine I know, but he really was!).
For seventy five minutes it looked like the Graham Williams era would see it's second goalless draw as a nondescript match meandered along with little of note happening only for the game to burst into life in the final quarter of an hour as the City took maximum advantage of visiting centre back Geoff Scott's red card to score three times through Tarki Micaleff, Dave Bennett and Gary Stevens with Leicester's lone reply being no more than a consolation.
Although the next two games were lost, a 1-0 win over Derby in their next home match kept City comfortably clear of trouble, but it was downhill all of the way after that as a goalless draw at Ninian Park against Barnsley was all City had to show from their next ten outings. The team's next point came in a 1-1 draw at Shrewsbury in March when Gary Bennett scored our first goal in six matches, but the Board, which had decided that a managerial change was needed only four months earlier, had already had enough of the Morgan/Williams partnership and both of them had been dismissed after a 2-0 home defeat by Sheffield Wednesday a fortnight earlier.
While few were sad to see the back of Graham Williams whose record as chief coach read
P   13   W   2   D   2   L   9   f   7   a   16
it was impossible not to feel sympathy for Richie Morgan who had proved himself to be one of the better managers we have had in the past fifty years before his move "upstairs". Things moved on quickly after that as City appointed ex Hartlepool, Gillingham, Sheffield Wednesday and Newport County manager Len Ashurst as the new boss. Although there was a definite improvement under Ashurst as the first four home games with him in charge were all won, City's atrocious run throughout the winter months had left him with too much to do and they finished up in the last relegation place when, needing a win to send Bolton down instead, they were comfortably beaten 3-2 by classy Champions Luton in their final game of the season played in front of Ninian Park's biggest gate of the campaign.
As for the Blue Dragons, well, in a week which has seen the latest attempt to establish the sport  of Rugby League down here fail with the Celtic Crusaders move up to Wrexham, it's interesting to have a look at their record for that first season. In particular, the steady decline in gate numbers as the initial interest waned is very informative – within six months they were relying on a rump of less than a thousand diehards to keep things going.
The Blue Dragons staggered on for another two seasons at Ninian Park then played for a couple of years at the Brewery Field before folding. I suppose the plan was for a successful Rugby League team to provide funds for the football side of things, but, even at the time, that was an idea which seemed doomed to failure – yes, Graham Williams was a major factor in our relegation in 81/82, but the people who appointed him whilst also getting rid of a perfectly decent manager who had been given virtually nothing to spend because of the ill fated Rugby league adventure are, for me, far more to blame than he was.
21 November 1981
Cardiff City 3 Leicester City 1
City Grotier; Jones, Bennett G, Pontin, Gilbert; Bennett (D) (1), Maddy (Sugrue), Hughes, Lewis; Stevens (1), Micallef (1)
Leicester Wallington; Williams, O'Neil, Scott, Welsh (1); Peake, Smith, Wilson, McDonald; Lineker, Lynex; sub Melrose (not used)
HT 0-0
Att 6,687