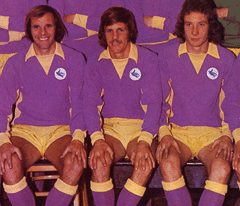 I was out last night and so didn't even get to listen to the game – in fact, I didn't even know how we had got on until I got in at around 11 o'clock. Since then I have seen the goals on Sky Sports News, read a few match reports and taken in what is being said about the game on the messageboards. It's seems a bit pointless therefore me going into great detail about a game which, to be honest, I don't know a great deal about so, apart from a few general comments on it at the end of this piece, I am going to compare how we have done so far with the wonderful start we made to the 2006/07 season and give my opinion as to whether this team can avoid the sort of gradual fade out which, eventually, saw their predecessors finish the campaign in thirteenth place.
On 17 October 2006 City beat Southampton 1-0 at Ninian Park – just like the current team, they had played twelve matches and the Championship table after that match made for amazing reading as we led by six points with twenty nine points taken from the first thirty six on offer. By comparison, the table currently has us three points worse off than the team from four years ago and we have scored less and conceded more than them as well. Furthermore, the 06/07 team had got to where they were largely through taking on, and mostly beating, sides at the top of the table. They had already faced five out of the top seven teams at that time and only three of their matches had been against sides from the lower half of the table. By contrast, we have got to second this time around largely by doing what any side with promotion aspirations should do – that is, beat sides in the bottom half of the league (eight of our matches have been against teams that are below twelfth position and we have not yet played any of the current top six).
Furthermore, the 06/07 team had already won one game by a four goal margin and two more by 3-0 and 4-1 whereas, up to now, apart from the Doncaster match, all of our wins have come from pretty tight affairs. In view of all of the above, it must follow that my conclusion has to be that the current team are not as good as the one from four years ago mustn't it? Well, no it isn't actually – although, having looked again at the question I just asked, I should really have swapped the word "squad" for "team". They never got the opportunity to prove me wrong, but I just can't believe that we would have had so many points in 06/07 if September 2006 had seen the sort of injury crisis that we had to cope with last month.
The position we found ourselves in after twelve matches four years ago represented the high water mark if you will of that season – true, there was a great win at eventual champions Sunderland and high flying Burnley were also beaten in the next five games as we stayed at the top of the table, but they were the only victories gained until well into the New Year as talk of going up as Champions gradually changed into optimistic thoughts of us squeezing into the Play Offs.
However, for me, the most significant difference between now and four years ago is how I perceive the two teams. I can only speak for myself here, but I would doubt it if I were the only City fan who watched those first twelve matches of 06/07 with a sense of wonderment. Now, some of that feeling came from the fact that it had been more than thirty five years since City had been so high in the league system and it also needs to be said that when that City side slipped into gear, they played some tremendous stuff. However, all of the time this was happening I had the feeling that the team were going flat out – although I clung to the hope that they could maintain their blistering form and that they had already put enough distance between themselves and many of their rivals to secure a Play Off spot, there was also this suspicion that it just couldn't last.
By contrast, I find myself being more critical of this team because my expectations have grown – FA Cup Final appearances and two seasons spent fighting long and, ultimately unsuccessful, promotion challenges where the number of wins far exceeded the number of defeats partially explain that feeling. There is also this perception though that, despite them being only three points behind what was achieved in 06/07 after twelve matches, there is so much more to come from the current side/squad – I think that other supporters feel the same way and I definitely get the impression that the players and manager do.
When I compare the squads of 06/07 and this season, we look stronger now in virtually all areas of the pitch than we did then. You only have to look at names like Malvin Kamara, Luigi Glombard and Kevin Campbell to realise that we have far more strength in depth in the forward and wide midfield areas then we did then and when you consider the number of players we now have who can do a decent job in central midfield as compared to 06/07, I reckon the same applies there. Goalkeeper is a bit tougher because I am sure that there will be some who'll argue that Neil Alexander was better than either Tom Heaton or David Marshall, but , once again, in terms of strength in depth, the current squad wins for me. Much the same applies at full back – the Gilbert/McNaughton partnership in their pomp was, arguably, better than anything we can put out now, but Kerrea Gilbert's form soon faded and the number of options we now have in that position again makes me favour the current squad.
It's only when you get to centreback that the current squad suffers when compared to the one from four years ago. To my mind, you could put up a decent argument to say that all of the trio of Loovens, Johnson and Purse were better than what we currently have in that area. Indeed, I see that Mark Hudson has been copping some flak for gifting the ball to Coventry in the build up to their equaliser last night – Hudson and, perhaps to a lesser extent, Gyepes are more error prone than certainly Loovens and Johnson were, but that shouldn't mean that they have to be rubbished as much as they sometimes are because, in my view, what we are seeing in the centreback positions is a reversal of what we have seen throughout the squad in the last two or three years.
From the moment Danny Gabbidon started playing centre back at the start of the 2001/02 campaign to the time last summer when Roger Johnson was sold, City fans were used to having at least one high quality centre back in the team. Those standards are not being maintained at the moment, but we have to keep a sense of perspective about this because, let's face it, we were spoilt rotten for centrebacks for almost a decade. If there is money available for more signings in January then a centreback has to be the number one priority in my view. However, if we do have to make do with what we have got, then Hudson, Gyepes, Blake and, hopefully, Riggott are a quartet that many of our rivals in this league would love to have on their books.
There is a more solid look about Coventry this season and last night City were up against a team whose manager, apparently, knows only one way to play – this meant that the game was always going to be a battle and, although a mistake was made in the build up to the goal we conceded, the low number of saves Tom  Heaton had to make seems to prove that the team, and Gyepes and Hudson in particular, didn't do too bad a job in handling Coventry's physical, long ball approach.
The 06/07 side only took another thirty five points from their remaining thirty four matches after that win over Southampton. In all honesty, I just cannot see the current side coming anywhere close to such a poor return and, while it needs to be borne in mind that we are almost into November which is, traditionally, a poor month for Dave Jones' Cardiff City sides, we are now beginning to justify the favourites tag that we were given when we signed Bellamy and co. If the current habit of "winning ugly" (which is something I can certainly live with) becomes transformed into one where we begin to win with a bit of style, then, although I don't really like saying things like this because it is Cardiff City we are talking about here, you begin to wonder if the vast majority of teams in this league could live with us.