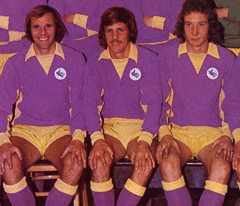 In February 2007 Mark Clattenburg was very much a bright young thing in the refereeing world. He was only 25 when he took charge of his first Football League match in 2000 and was made a FIFA referee at 30 (both of these being a record for an English official). Like all officials in this age of of wall to wall television coverage, Clattenburg made his share of controversial decisions in those early days, but I can remember my opinion of him at the time was that he was one of the better officials out there and I certainly didn't see his appointment to take charge of the Cardiff v Leeds match on 17 February 2007 as a problem – how wrong could I be!
Since the explosive FA Cup tie between the two teams in January 2002, Cardiff v Leeds matches were thought of by the powers that be as high risk affairs with all sorts of travel restrictions being imposed on away supporters  (in December 2005 many Cardiff fans chose to boycott the game at Elland Road because of them) and with former Leeds chairman Peter Ridsdale (the man many of their supporters held responsible for their financial meltdown) ensconced at Cardiff, you could, perhaps, understand why the authorities might have felt the need for a high profile referee used to pressurised occasions to take charge of matches between the clubs.
In truth though, the obvious bad feeling between the rival supporters and the enmity between the two Boardrooms had not transferred itself onto the pitch in the five previous matches between the clubs since the great FA Cup upset five years earlier – while they were all hard fought affairs, in my opinion they were no dirtier than your normal Championship fixture.
With an in form City looking to maintain their Play Off challenge and bottom of the table Leeds desperate for points, there was certainly a lot riding on the game and it turned out to be a scrappy affair. With so much at stake, there was bound to be a bit of niggle about, but nothing that a referee as highly regarded as Clattenburg (who, despite his age, was used to taking charge of Premiership matches in front of much bigger crowds) couldn't handle.
There was nothing much in the opening stages about Clattenburg's refereeing to get the home supporters up in arms – indeed, it was the way that Leeds were taking the game to City (whose defence included Kevin McNaughton in a makeshift centre back role) which would have concentrated their minds more than the performance of the officials. Steve Thompson picked up a booking for dissent and Michael Chopra got one for a foul in the first half hour, but neither caution looked unduly harsh and seemed to reflect a frustration on the part of the players that the team were not playing with the fluency which had characterised some of their recent displays.
Leeds might have been dominating in terms of possession and territory, but there was very little to indicate that this was going to be reflected on the scoresheet though. With players as inventive as Eddie Lewis and Robbie Blake in their team, Leeds weren't short of flair, but, for some reason, Lewis was being used as a left back while Blake (who I would have loved to have seen in the City team at some time in his long career) was unusually quiet. The scufflers in the Leeds midfield were preventing City from having much of the ball, but were also showing their limitations when it came to using it themselves as the game turned into something of a stalemate.
It was now that attention began to turn more towards Mr Clattenburg as he issued a third yellow card to a City player as the on loan Simon Walton (who was Leeds born and made his debut for them as a sixteen year old) was pulled up for a foul. Once again, the decision in itself was hard to argue with, but when set against the the numerous fouls being committed by Leeds players (the worst of the match so far, by the visiting captain Kevin Nicholls, had only led to a warning) without Mr Clattenburg feeling the need to get his cards out then you did begin to wonder.
In the five minutes before half time though, a couple of things happened to push the refereeing into the background again. Firstly, a nasty collision between a couple of Leeds players led to them both leaving the field with head injuries. One of them (defender Rui Marques) was immediately substituted, but Jonathan Douglas spent the rest of the first half off the pitch receiving treatment and it was during this time that City took the lead when Michael Chopra completed a hat tricks of free kick goals at the Canton Stand end in consecutive games by firing past Ankergren in the Leeds goal from twenty five yards.
Chopra's fine goal gave City the confidence to step up their performance a bit in the opening minutes of the second half and they were looking relatively comfortable when the game was turned on it's head as the goalscorer was given a second yellow for leading with his elbow when he challenged for a header with Leeds substitute Foxe (who had, finally, become the first visiting player to be cautioned a few minutes earlier). Although Chopra protested his innocence and the crowd were predictably up in arms at Clattenberg's decision, watching later television replays had me understanding why the ref had acted as he did.
In truth, although he could be accused of favouring Leeds at times, there had been nothing in Mr Clattenburg's performance up until then to deserve the notoriety he now enjoys amongst City fans who there to see his inept display, but, from then on, his performance went rapidly downhill as the expected Leeds onslaught failed to materialise – such was the lack of confidence amongst the visiting players that Leeds' one man advantage was hardly noticed. While City were, understandably, restricted to attacking on the break, they were now looking more likely to score than their opponents and when Roger Johnson's goalbound header from a corner was kept out by Tresor Kandol's arm, Clattenburg pointed to the spot. Bafflingly though, the referee only saw fit to give the Leeds striker (who City had been linked with a few months earlier) a yellow card for what looked for all the world like a deliberate handball and City were unable to take advantage when Thompson's effort was superbly saved by Ankergren.
Five minutes later Clattenburg made the decision which promoted his performance to the ranks of being a realistic candidate for the award for the worst refereeing performance in a City game that I have seen. Simon Walton has proved throughout his career that he doesn't need help when it comes to finding ways to be sent off, but the second of his three red cards that season came about when he challenged for the ball with Lewis and fell to the ground. I don't think I am exaggerating when I say that the vast majority of people in the ground thought it was an obvious City free kick, but Clattenburg chose instead to show a second yellow card to Walton, apparently for diving, and all hell broke out as the player took an age to leave the field and the crowd went bananas!
The last ten minutes saw Paul Parry incredibly almost add to City's lead as his lob was cleared off the line by Foxe and Leeds finally fashion a worthwhile strike on goal as Douglas' effort from twenty yards was well dealt with by Neil Alexander, but City held on for a famous win amid signs that Clattenburg had realised what a mess he had made of refereeing the game – it's hard to explain otherwise his decision not to show Steve Thompson a second yellow card for dissent which appeared far worse than that shown for his first one.
A miserable end to the season saw City fall well short of the top six, while Leeds, cynically, took a ten point penalty for going into administration after their relegation had been confirmed. As for Mark Clattenburg, an eccentric performance in a Merseyside derby in October 2007 (I would argue he wasn't as bad in that match as he had been at Ninian Park eight months earlier) resulted in his reputation being questioned and he then spent much of the 2008/09 campaign serving a suspension because of business and personal issues.
Clattenburg is back refereeing Premiership matches now (he did the Man City v Arsenal match yesterday), but you get the feeling that he is no longer thought of quite as highly in the corridors of power as he once was. He has not refereed a City game since that one against Leeds and I can only hope that he never does again – in my book, he isn't quite in the Barry Knight v Cambridge United class, but he's definitely the worst I've seen at one of our games in the last twelve years or so.
17 February 2007
Cardiff City 1 Leeds United 0
City Alexander; Gilbert (Gunter), Johnson, McNaughton, Ledley; Parry, Walton, McPhail, Whittingham; Chopra, Thompson (Byrne); Subs (not used) Forde, Flood, Redan
Leeds Ankergren; Armando Sa, Rui Marques (Foxe), Heath, Lewis; Westlake (Cresswell), Nicholls, Douglas, Blake (Healy), Moore, Kandol; Subs (not used) Stack, Howson
HT 1-0
Att. 16,644