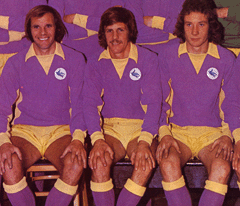 This is the fourth season in which City have competed in an Under 21 Development League and one of the things regular watchers of matches at this level will have realised in that time is that types of sides we face can vary tremendously.
For example, a fortnight ago in the first home match of the season, Sheffield Wednesday fielded a team you just knew was full of very young players as soon as you saw them. City had a big advantage over them in terms of physique and power and, to be honest, although the final scoreline of 3-0 sounded comfortable, they took an awful long time to make the obvious superiority they had count.
On the other hand, when last night's opponents, Brentford, played here last season, their team had a nucleus of senior players with plenty of experience, while the younger players in their side were big and powerful enough to cope – the challenges presented by these two teams were completely different.
Last night's Brentford were more towards the Sheffield Wednesday end of the spectrum in that they did not have a great deal of first team experience (three of their line up had featured once or twice in the first team), but they were better equipped to cope physically than the Yorkshire team were.
In the event, Brentford went the same way as Wednesday –  beaten 3-0 quite easily, and when you consider that these two victories sandwiched a 5-0 win at Portman Road against Ipswich, you begin to see why City currently top the table at this very end early stage of the season, despite being beaten in their first game at Coventry.
Like the other two sides faced in this trio of big wins, Ipswich were definitely more in the youthful range than the one which takes maximum advantage of a competition rule, which I believe is still in force, that allows sides to field three over 21 outfield players, as well as an over age goalkeeper.
Now, I've seen us take this rule to it's limits down the years, but what is very encouraging, as well as quite exciting, is that we have enjoyed this run of victories which has seen us score eleven times while not conceding once with matchday squads which, as far as I can make out, consisted entirely of players who were twenty one or younger.
True, five of last night's starting eleven had appeared in at least one competitive match for the first team and Semi Ajayi came close to making the Arsenal side during his time with them, but I'd say only Matt Kennedy might be considered a realistic first team possibility at the moment and even he appears to have dropped off Russell Slade's radar this season.
It's hard to see a way back in to Slade's squad at the moment for Kennedy, but, judging by the messageboards, I wasn't the only person present last night who, while watching him was thinking we must have a tremendous squad if this player cannot get into it. If Kennedy could, perhaps, have been accused of being a bit self indulgent during what was still a good display against Sheffield Wednesday, last night he was the team man personified. Yes, there were times as the second half wore on where he tried, and failed, to beat one man more than he needed to, but he was a young man enjoying the feeling of playing well and knowing it and I'm not going to criticise him for that.
Most of the time though Kennedy took the right options and his attitude was first class. He looked up for the game from the start and had already enjoyed some success with his work on the right, when he cut infield, shimmied past a couple of challenges and shot across visiting keeper Bonham and into the net, via a post, in the tenth minute.
Brentford, who had taken seven points from their first three matches, were struggling to hang on at this stage and it came as no surprise at all when City doubled their lead five minutes later, but the method by which they did so, probably did, given the slick passing which they'd shown so far.
I'd mentioned in my piece on the Sheffield Wednesday match about how Ajayi gets tremendous distance on some of his defensive headers and last night he proved it again as he nodded a clearance by Bonham fully fifty yards for Rhys Healey to latch on to. Healey had looked a player down on confidence for much of the previous home game, but three goals in his previous two matches had him looking much more like his normal self last night and there was never much doubt that he would score as he took the ball forward and slotted past the keeper with ease.
Understandably perhaps, City's play lost some of it's intensity after this and the rest of the match saw them mix things between short periods where they would raise their game and hunt for the third goal and others where they seemed happy to keep their shape and let Brentford tried to find a way through them.
Despite plenty of possession, the visitors didn't have too much success in putting together the moves which would threaten to reduce the deficit – there was a shot deflected wide which Luke O'Reilly may have struggled to deal with if it had been on target and Curtis Watkins had to time his challenge well as a Brentford striker threatened to get clear of him, but City were largely comfortable in maintaining their lead through to half time.
The start of the second period saw one of those spells where City were on the hunt for the decisive third goal which I mentioned earlier as Healey's header from a Kennedy cross beat the keeper but flew inches wide, Kennedy wasn't too far away with a shot from distance and Tyler Roche's air shot meant that a reasonable chance on the far post was missed.
For the most part though, City, while not just sitting back and defending, did not chase further goals with any great urgency. Perhaps they knew that Brentford's need to push men forward would present them with opportunities to use their attacking pace and skill and this is how things panned out as a lovely bit of footwork by Healey took him to the byeline from where he rolled back a cross that Theo Wharton really should have put away from about ten yards out. Then, after a great forty yard run in which he beat a couple of defenders,  the striker blazed well over with just the keeper to beat – maybe Healey's unusual lack of composure had something to do with him being knackered after what was a lung bursting run!
Brentford occasionally got in a shot which might go wide or high and they sometimes forced O'Reilly into pretty straightforward saves, while their number eleven Courtney Senior at times confirmed my first half impression that he was someone with genuine pace who took some stopping once he started running with the ball, but, generally, City stayed well in control.
However, it was beginning to look like they would have to settle for a 2-0 win when they were given a penalty somewhat out of the blue with ten minutes left. Again, Kennedy played a leading role, as his beautiful cross looked to have set Healey up for an effort on goal, but he was brought down by Brentford defender Gradi Milenge for an obvious penalty. Just as at Ipswich last week, Healey put away his spot kick with the minimum of fuss and he may have ended up with a hat trick as both he and Kennedy were denied by Bonham in added time.
So, 3-0 it stayed and you only have to see how often I've mentioned Matt Kennedy so far to realise that he was the main contender for City man of the match. I assume Russell Slade was there watching the game and performances like this one must, surely, have our manager thinking about restoring him to the first team matchday squad. If the present situation continues though, then I can see Kennedy's interest and performance levels dropping because he's going to start thinking that it makes no difference how well he is playing for the Under 21s – he's looked much too good for this level in the two matches I've seen him play this season and he'd be better off being loaned out somewhere if he's going to remain out of the first team picture.
I say Kennedy was the main contender for City man of the match, but he certainly wasn't the only one. I thought eighteen year old Robbie Patten had a superb game as he played a variety of passes, while barely ever giving the ball away and put out fires all over the pitch – if what was beginning to look like a good Brentford chance was snuffed out, it was invariably Patten who was responsible.
I've been banging on about our manager's inability to give young players an opportunity in the first team for some time now. However, the fact that Patten was one of just two untried local youngsters (last night's captain Macauley Southam was the other) to see any first team action in our pre season programme suggests that Russell Slade likes him and so he may be someone who doesn't fall into the black hole which seems to claim so many of our young players once they get to the stage where they obtain a pro deal.
Finally on possible man of the match contenders, a mention for Curtis Watkins who, overall, I rated the better of our two centrebacks on the night.
Watching the game last night was new striker Idriss Saadi who arrived from French Ligue 2 club Clermont Foot on a three year deal for an undisclosed amount (the Echo describes it as "a small fee").
Regular contributor on here, Anthony O'Brien has already mentioned this video   showing Saadi in action in the Feedback section. Now, speaking as someone who always warned against reading too much into You Tube videos and then did exactly that with the one I saw of Andreas Cornelius, I must repeat the Government Health Warning for You Tube videos here and say that crap players can often be made to look like world beaters in them.
However, I must say that's a superb overhead kick, the chip from the edge of the penalty area while moving backwards is an example of a very difficult technique performed perfectly and I love the way he sends the goalkeeper the wrong way at 1.45. All of that suggests a high level of natural talent, as does the fact that he was selected by France at all age group levels up to and including Under 19.
On the down side, he's only just recovered from a cruciate ligament injury and, as far as I can tell, had not played yet for his former club this season, so the possibility has to be acknowledged that, even if Saadi really was as good as he looks in that video, he may not be any more.
A couple of messageboard contributions regarding Saadi's signing took my eye, the first made the very reasonable point that a You Tube video of his missed chances during his time at Clermont might tell us more about him than one with his goals in, while the second labelled it an "underwhelming" signing.
Well, as someone who has seen more than enough "overwhelming" Cardiff City signings in the last two years or so, maybe being underwhelmed by our transfer dealings isn't too bad a thing.
True, our manager's transfer dealings so far haven't been overly successful, but I get the feeling that players such as Peltier and Revell are contributing to a better dressing room (the former's not doing too badly on the pitch every week as well), Malone is developing nicely and Kennedy definitely has something.
Indeed, if the rumours that we are prepared to loan out, or even sell, Eoin Doyle, the only player Slade has paid what might be called a serious fee for, today are true, then maybe our manager can be added to what is a very long list of bosses who do their best work in the transfer market when buying economy rather than first class?
In a couple of other moves yesterday, Javi Guerra (an "overwhelming" signing who never seemed to fit in here from day one) got the return to Spanish football he wanted when he completed a permanent move to Rayo Vallecano and Etien Velikonja (who, incredibly, is in his fourth season as a Cardiff player!) was loaned to Belgian club Lierse S.K. until the end of the campaign.
Finally, to go back to the Under 21s, Russell Slade is fond of saying we are in "a good place" when talking about the senior team lately, but all of the signs are that this applies equally to the side at the level below them – that was as good an Under 21 performance as I've seen for a year or so last night.