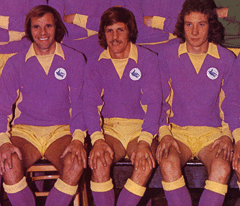 Only once in the twelve completed seasons we've had at Championship level since our promotion in 2003 have we scored less goals in a league campaign than the fifty six we got in 2015/16. That was in 2004/05 and it's hardly a coincidence that this was the one season in which relegation was a realistic proposition from January onwards - we didn't go down that year because of a good defensive record which saw us concede fifty one times in our forty six games, but the meagre forty eight goals we managed for ourselves told it's own story.
It is possible to finish in the top six by scoring fifty six goals or fewer (in fact, Birmingham managed to go up automatically in 08/09 while only scoring fifty four times), but, besides yesterday's opponents, only Bristol City, in 07/08 and Brighton in 13/14 have managed to do so since 1988.
No, you generally need to score something like ten to fifteen goals more than we managed last season if you want to be one of the six teams the promoted teams will come from every year – in the most basic terms, the biggest challenge new Head Coach Paul Trollope faces is where can he find those extra goals from?
Last January, the two players who were generally first choices up front for us left the club, while a deal to bring in a striker to replace one of them never came to fruition. Kenwyne Jones' loan, Joe Mason's sale and the collapse of the deal to sign Tony Watt meant that we played out most of the second half of the campaign with just one specialist striker who was considered a realistic contender for a first team and even Kenneth Zohore was considered to be more of a back up for winger turned striker Anthony Pilkington than a regular starter.
Things have improved since then to the extent that we have made the Zohore loan a permanent deal and we've also brought in Kenneth Gounongbe on a Bosman from Belgium. However, yesterday's 0-0 draw at St. Andrews against a Birmingham team that had the better of the 1-1 draw which rounded off last season back in May at Cardiff City Stadium did nothing to dispel the thought that we don't have the firepower yet to boost our goalscoring figure for the season into, say. the  sixty six to seventy range.
Yes, I know that it's just one game and a nil yesterday is hardly conclusive evidence that the squad we currently have will, again, end up short on goals. However, if you also look back on our more recent pre season fixtures there is evidence there that we aren't going to find goalscoring easy unless we can add more firepower to the squad.
Seven goals in wins over Shrewsbury and Osnabruck gave the hope that last season's biggest weakness had been cured and, with Lex Immers scoring inside two minutes in the next game against St. Pauli, the goals were flying in for a while, but I think it's instructive to look at what has happened since that goal as the matches we have played have become more competitive.
Even when we were scoring, the goals we were getting included some with a freakish nature to them with goalkeeper's clearances being charged down by strikers and crosses from wing backs flying over the keeper's head and into the net. Indeed, the winner against St. Pauli was a soft own goal which owed something to good harrying by Zohore, but more to a comical back pass and some dodgy keeping.
We've played something like three hundred and thirty minutes of football since that Immers goal and in that time we've scored that flukey own goal and a penalty by Peter Whittingham against Bochum. Again, there's plenty said about the folly of reading too much into pre season games and, who knows, the same group of players could be making me look stupid in a couple of weeks from now as the goals rocket in from all angles, but, for now, the only evidence we have to go on suggests we are going to find scoring as difficult as we did last season.
Last season was a frustrating one in some ways because we were able to maintain a promotion challenge of sorts until our penultimate game. So, on one level at least, you could claim that we weren't far off being a top six side, but the reality for me was that we always lacked the overall quality to merit a Play Off place. We had a wholehearted and, generally, united group of players, but there wasn't the something extra there to enable us to compete on level terms with the Sheffield Wednesday's and the Derby's.
I know this is a time of year for optimism, but I do feel that some progress has been made in closing the gap in terms of getting into the top six on some levels. For example, I'll cover this in a bit more detail shortly, but the more flexible tactical thinking of our new Head Coach  appears to be finding a way of playing more to our strengths than Russell Slade ever managed, while you would hope that someone with the reputation of Rylands Morgan can make those slight improvements in fitness and conditioning which can count for a lot in a league where so many of the teams are evenly matched on the ability front.
Yes, it's one game only, but yesterday we went to the ground of a team that were able to come out even (won two, drew two and lost two) in their fixtures with the promoted teams last year and turn in a performance that, by general consent, should have had the game won by half time.
As for why this was not the case, well some of the credit for this has to be put down to Birmingham's keeper. A few years ago, it appeared to be that, no matter who he was playing for, Jon Stead always seemed to score against us - Tomasz Kusczak is like a Stead at the other end of the pitch when he faces us, he always plays well and I'm not sure if we've ever won a match in which he has been in the opposition (just done my boring statto bit and we haven't).
Yesterday, Kusczak was at his best in the first half to deny an Immers header and a superb Whittingham volley. The save he had to make from Pilkington was a more routine one as Pilks got a lob all wrong from the sort of chance that you would guess an awful lot of teams in  the Championship would put away.
The second half saw the home team come into it more and David Marshall had to make decent saves to deny, first, Diego Fabbrini from distance and then, sub, Jack Storer from much closer in. However, neither of these efforts came as close as the Immers shot from twenty yards which cannoned back off the crossbar and so, you'd have to say that City had the better of it on the balance of chances and I've not even mentioned the very early candidate for miss of the season that Gounongbe managed  yet!
Now, before going on, I need to say that no player should be judged solely on one incident, but, by firing over from around two yards out after Declan John had exploited an error by David Cotterill to put over a low cross which left Kusczak helpless, Gounongbe has a howler of a miss to his name that is as bad as any I've ever seen from a City player.
To miss an opportunity like that on your competitive debut is unfortunate indeed, but when you're someone who is trying to win over a fanbase that is, it seems to me, somewhat sceptical about your ability to succeed in the Championship in the first place, then it has the potential to be so much more than that.
Hopefully, Gounongbe will be able to show he has a lot to offer in the coming weeks and it's to his credit that he didn't hide after his horror moment – he has aerial ability and seems to have decent pace for a target man type striker. However, after a miss like that, his first competitive goal for the club cannot come quick enough.
Returning to the subject of Paul Trollope being more capable of finding ways to utilise our strengths more effectively, the obvious thing that playing with three centrebacks does is allow you to get more players in the team from the area where we have most strength in depth.
However, what it also might do is provide the way to best solve the Whittingham problem. As the years go by, Whitts will have been here ten years in January, I feel it's become harder to fit him into the team. Russell Slade found one way of doing it last season by putting him out on the left where he responded with a few goals and some impressive displays for a while, but, increasingly in the view of many, it was becoming harder to use him as one of a central midfield pair in a 4-4-2.
I'll admit that, as I watched Whitts dictating play with his still excellent range of passing in the videos I saw of our matches in Germany, I found myself thinking that it's all well and good him spraying the ball about like that in these games, but he'll never be allowed so much time and room in the Championship.
After yesterday, I'm not so sure about that any more. Certainly, if you're  playing any formation which involves a central midfield two against us, you are going to struggle to get near Whitts unless you withdraw one of your strikers or a number ten to look after him, but the danger of that is that he sees so much of the ball in the way we are trying to play now, that it could become something of a full time job for any "man marker".
With the facility to play either a two man strikeforce or a lone striker and a very advanced number ten, it seems to me that 3-5-2/5-3-2  covers most bases tactically as long as your wing backs are good enough and fit enough to cope with the very high workload that position provides if you are to do it most effectively.
On that score, it was heartening to see that it was John who rivalled Whitts in most people's analysis of who played best for us yesterday. It was a first league start since our final Championship match of 2014 for Declan and no player exemplifies the damaging attitude of Russell Slade towards the younger members of professional playing staff more than him.
Having championed his cause for a couple of years, I accept that there are still justified questions to be asked about his defending yet, but he has earned the chance he was given against Birmingham after the quality of his displays in pre season.
Mind you, I doubt it if John would have started if it hadn't been for the withdrawal of Fabio from the eighteen man squad yesterday following an inquiry about the player from another club. It turns out that, according to the local press at least,  the Brazilian (one of those players whose deal with the club is up next summer) has a release clause of £2 million in his contract and, with, newly promoted Premier League team Middlesbrough strongly suspected of being the club behind the aforementioned enquiry, there has to be a good chance that Fabio will be on the move soon.
With there still being no sign of tangible interest in Macheda, LeFondre and Dikgacoi, the trio "officially" available for transfer, it seemed inevitable that members of the first team squad would be the ones who would have to be sold to guarantee the funds would be available to bring in the striking reinforcements alluded to earlier.
I wouldn't rule out moves from other clubs for other members of yesterdays's team and subs either, but, if we were to sell a player for a couple of million quid soon, what would that get us in terms of goalscorers?
Paul Trollope explained yesterday that changes to the rules for loaning players for this season which see an ending to the emergency loan system have altered the way sides will approach that side of the game – from now on, players will have to be signed before the summer window closes and kept on at least until the next window opens in January.
All of this makes me wonder if the majority, if not all, of any further incoming transfers will be in the form of loan deals. However, it's sobering to think last season £2 million was largely accepted as being the loan fee paid by Reading for Watford's Matej Vydra, who is generally regarded as having been something of a flop at the Madejski Stadium.
Unless we are tracking some gem of a player no one else in the Championship knows about (highly unlikely in my view), we probably need to be realistic in our speculation as fans regarding any striker we bring in and, it shouldn't be forgotten either that, having lost Scott Malone (a player described as having a heart the size of a pea by Iwan Roberts on Rob Phillips' Radio Wales phone in yesterday!), we'll almost certainly need a new full/wing back as well.
I'll end by talking, somewhat reluctantly, about our other wing back yesterday. It seems that Jazz Richards has upset some City fans by not doing the Ayatollah when asked to by the travelling support – Wales Online  were straight on the case with this truly devastating story within hours of it breaking.
As the story points out, Richards was playing for our age group sides as a boy before he ever played for Swansea, but this made no difference as those on social media rushed to condemn the player. The trouble is that, while the lynch mob were baying away, a few City fans who were at the game were pointing out that Richards had, indeed, done the Ayatollah (albeit at the fifth or sixth time of asking) in the first half in front of the City fans as the team defended a corner.
Bizarrely, some weren't pacified by this turn of events, because they didn't like the stealthy or sneaky nature of Richards' Ayatollah, so it seems that now simply tapping your head is not enough, you need to do it with PASSION (what an overworked and, sometimes, pointless word that is – I heard someone who works in a fish and chip shop saying he serves chips with passion last week!).
There was a time when City fans were, rightly, regarded as being among the most passionate in the game,  but a stupid rebrand put paid to much of that and since we switched back to blue, Cardiff City Stadium has virtually become a passion free zone unless Wales are playing there – many talk about the atmosphere not being as good as it once was at City away matches as well.
However, sign an ex jack who doesn't do the Ayatollah clearly enough and it seems that all sorts of people rediscover their lost passion for Cardiff City in protest – maybe this amazing transformation will mean that over 20,000 will turn up, without the considerable carrot of free admittance being offered, next Sunday when QPR come to town?
*pictures courtesy of http://www.walesonline.co.uk/