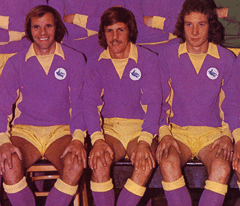 Football supporters are a strange breed, they are never satisfied and they often concentrate on the negatives even when their team has won and played well. We could beat the jacks 5-0 next week and yet I bet there would be threads on the messageboards criticising some player or another's performance. On the other hand, if their side battles to a win while riding their luck at times, the response is often "we won, but we were crap".
I'm as guilty as anyone when it comes to this sort of thing – City played as well as I have seen them do for ages for half an hour against Sheffield United last Wednesday, yet I came out of the game more annoyed than I was after the feeble home defeat by Barnsley for example because I believed we had blown a great chance on the night (I still do actually). The anger I felt yesterday during the game was of a different type as a set of players that have proved themselves to be talented footballers over a long period struggled with basics such as controlling the ball with their first touch and playing simple five yard passes – watching that yesterday, it was so easy to come out with the "we won, but we were crap" line. However, perhaps that verdict is seen to be unfair when you dig a little deeper and take into account who we were playing and where the game was being played?
Although they might get the occasional manager who tries to turn them into a footballing side which passes to feet and keeps the ball on the deck (Paul Hart sides tend to play like that, but he, evidently, believes that Palace's best hope of staying up rests with them playing a long ball game), Palace are one of a few sides (e.g. Sheffield United and Watford) who I always associate with a physical, long ball philosophy and, in their case, I wonder if the Selhurst Park pitch  has something to do with that? The pitch at Palace's ground has consistently been one of the worst around over the past twenty years – I used to put it down to the fact that they ground shared with those masters of the kick and run philosophy Wimbledon, but, they have long departed Selhurst Park and the pitch is still always bobbly and bare from the turn of year onwards.
As City have found on their own pitch over the past two seasons it is very hard to get the ball down and play on surfaces like that and it was to their great credit that they were able to pass it so well at times on Wednesday, but we have played in a much more direct manner in the latter stages of this season and last than we used to late on when the Ninian Park pitch was so good. Therefore, it was perfectly predictable what sort of game we would see yesterday as City travelled to face an increasingly desperate Palace side which looks destined the drop following the deduction of ten points for going into Administration and so should we really be so critical of our performance? After all, we won in conditions which did not best suit most of our team against opponents whose game plan probably worked as well as they could have hoped for.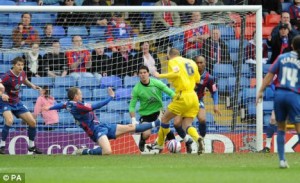 We were always going to face what Dave Jones called an aerial bombardment yesterday and who among our outfield players had the sort of height and build which would make them an ideal candidate to cope with the ball being repeatedly crossed and thrown into our penalty area? There was Gabor Gyepes and, well that's about it actually! With our opponents doing a good job of blocking off David Marshall and without even the help offered by Jay Bothroyd when we have to defend high balls, the City side yesterday should really have succumbed to the aerial assault given the height advantage their opponents enjoyed. When you also consider the state of the pitch and that Palace's gameplan included giving us as little time on the ball as possible in the middle of the park, it was little surprise that our ball players like McPhail and Whittingham, who have played a big part in the recent upturn in results, were never major factors in this game.
As I mentioned, we had a side that was ill equipped physically to withstand Palace and come away with all three points, but we managed to do it. Okay, a couple of major decisions went our way, but it was hardly the case of daylight robbery that Paul Hart tried to claim it was. In my view we won because people who we wouldn't usually rely on so heavily to defend dead ball situations like Quinn, Rae, Blake, Etuhu and even  Whittingham coped better than expected, because Darcy Blake (who was outstanding on the day) gives us that bit of pace at centreback that we don't normally have (would any of Gyepes, Hudson or Gerrard have caught Andrew when he broke clear in the second half?) and because our attacking players represented far more of a threat in open play than Palace's did.
Although it was another disappointingly muted performance by Michael Chopra, the way he set up Kelvin Etuhu for his first half chance showed a level of ability that Palace just didn't have as Stern John showed the lack of confidence you would associate with a striker who has only scored once in his last thirty odd appearances. As for Etuhu, I thought it was a promising performance bearing in mind that he had been out injured for nearly three months – although I am not convinced about him as a target man, he does offer something different and I would like to see how he would fare playing off Bothryod.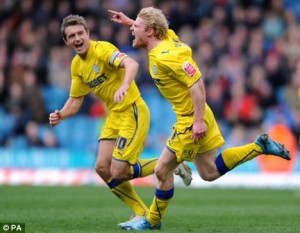 However, rather like against Watford, it was Chris Burke becoming a major factor in  the match in it's last half hour which took the game away from Palace and his fine goal emphasised yet again what a bargain we got when he arrived on a free from Rangers in January of last year. Given the prevailing conditions, it shouldn't really have been Burke's day, but I believe that, if we do make it into the Play Offs, the main reason for doing so will because our pool of attacking players is better than most others we have faced this season. Even with Chopra and McCormack not at their best, we have five attackers who are all capable of winning a game on their own and, even when we are turning in "crap" performances like yesterdays, there is always the chance that one of them will do something special to get us the points.