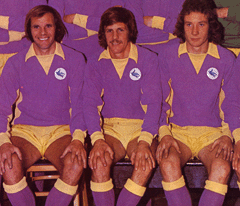 No longer will it just be people who are collecting their state pensions who have memories of Welsh footballers doing their country proud in the Final stages of a major tournament!
As someone who always fights the corner of the 1976 team which won their qualifying group to reach the Quarter Finals of the European Championships that year, when Wales' nearly sixty years in the footballing wilderness is brought up, I have to admit that adventure did not have the happiest of endings as we made our exit amid crowd violence, exacerbated by awful refereeing and the almost obligatory missed penalties by us and/or controversial spot kicks for our opponents.
No, even those of us who champion the cause of Mike Smith's side from the mid seventies have to admit that, when it comes to our football team making the nation swell with pride in the latter stages of a major international competition, you have to go back all of those fifty eight years to Sweden 1958 when a seventeen year old Pele knocked us out of the World Cup after we'd made it into the last eight.
I'm not going to catalogue all of those occasions since then when the country dared to think that this will be the time when new names to rival those of the Charles', Allchurch's. Jones' and Kelsey's would emerge, because any self respecting fan of the national team should know them off by heart and, if they don't, they can watch this to get up to Speed (pun intended).
I don't know if my opinions are representative of the age group who are too young to recall what happened in 1958, yet old enough to remember each of those times we got close to ending the qualifying drought, only for it to end in failure (heroic or otherwise), but, when the long wait was finally ended last September, I told myself that just getting to Euro 2016 was enough for me.
I was so pleased with Chris Coleman and his team because they had given me what I'd began to give up on – watching my country compete in the final stages of a major competition.
The trouble is that human beings tend to be a species that always want more and, as the groups were drawn and the months ticked by towards the summertime extravaganza in France, just being there wasn't enough any more. I would only be fed until I wanted no more if we could get out of the group we had been classed as fourth seeds in behind England, Russia and Slovakia.
Again, I should qualify this by saying that others might feel differently, but all of that failure had made me cautious – if we were going to make it into the knock out stages, it could only be by scraping in there by being one of the four lucky third placed finishers.
So it was that I said I would have settled for a draw with Slovakia beforehand and that I could not see past a 2-0 loss to England. Unusually for me though, as the crucial match got closer, I was fairly confident we could get the job done.
Oh those Russians! A fairly ordinary Russian team had been too good for us in the last of those heartbreaking close misses back in 2003. However, in their matches with England and Slovakia in 2016, they had done a very convincing impersonation of one of those squads which flies home from a tournament having made a surprisingly early departure amid recriminations from home and calls for the head of the manager/coach.
Our opponents were beset by injuries to key players and possessed an ageing pair of central defenders, so there were grounds for Welsh optimism that the point, which should have been enough to take us through, or, whisper it gently, even a win by the odd goal could be gained – I defy anyone to claim though that they predicted a 3-0 pasting for a country over eight hundred times larger than us in area and nearly fifty times bigger than us in terms of population with the best performance I've seen from a Welsh team in my life when you consider what was at stake.
Yes, as many suspected they might, Russia's ponderous defence struggled to cope with Gareth Bale as, for the first time, the world's most expensive player showed the full range of his skills, not just outrageous free kicks.
Also, having looked a poor outfit in their first two matches, Russia were even worse here. After the game, coach Leonid Slutsky said;-
"I would like to apologise to the Russian supporters for our performances, the fans in the stadium and watching at home on TV, they did not deserve this.
I take responsibility. I had enough time to find players. If we did not succeed it is truly my mistake. Someone else should take over with a big championship to come."
and the one player in their team to emerge with any credit on the night, goalkeeper Igor Akinfeev, went over to the Russian fans to, apparently, apologise for the side's display.
So, it's true to say that our opponents were a team with issues and there is no doubt that it was a very good time to be playing them, but England and Slovakia were unable to blow them away as easily and conclusively as Wales did. Any analysis of the ninety minutes has to acknowledge that Russia played nowhere near their potential, but it also, surely, has to credit Wales for a performance that far better teams would have struggled to live with.
Although it didn't feel like it at the time of course, what happened in the first ten minutes clearly signposted that it was going to be a very long night for our opponents. Within less than a minute, Akinfeev had been forced into the first of a series of saves he had to make from Bale and the Welsh were able to enjoy spells of the sort of controlled possession that they could never manage against England four days earlier.
As mentioned before, Bale's pace was always likely to cause Russia problems, but the real concern for them must have been that it wasn't just Wales' "Galactico" who was looking so much quicker in thought and deed than they were – Russia were struggling to live with a vibrant Wales all over the park.
Recent Welsh success has been firmly based on their tight defence, but here it was the more creative players who were really taking the eye as, with Sam Vokes in to give the attack a focal point for our talented creators to work off, a team I thought would struggle desperately for goals in France, looked like they could score every time they crossed the halfway line!
The magnificent Joe Allen had burst past an opponent in a manner you would not normally associate with "the Welsh Pirlo"to set up that very early Bale chance, but when Man of the Match Aaron Ramsey started to get involved, things began to look very ominous indeed for our opponents.
In my opinion, Ramsey had been one of the few Welsh players who could look at himself in the mirror after the England match and say that he had delivered on the day. Rambo, coming off a disappointing season with Arsenal, was inspired by the occasion last Thursday rather than intimidated by it and it looks to me like he has taken a lot of confidence from what he did against the English.
Trying to cope with Bale is a real challenge for any team in this competition, but if Wales can also draw on a Ramsey with the type of confidence he was playing with back in the first half of 13/14, then they become far more of a threat to the sort of sides who would have been expected to make short work of us under different circumstances.
It's a bit early to say that Ramsey is fully back to his best yet, but the way he moved on to a superb Allen pass in the tenth minute and allowed Akinfeev to commit himself before gently dinking the ball over him and into the net was not the sort of finish that the hesitant man in the Arsenal shirt had been coming up with over the past ten months.
With Vokes proving a handful, Joe Ledley, like Allen, adding a high quality passing game, to the work rate shown against England and Chris Gunter and Neil Taylor looking like proper wing backs, as opposed the full backs they were on Thursday, Russia were being overwhelmed whenever they lost possession anywhere within sixty yards of their goal – and then, of course, there was Bale!
In the twentieth minute, match summariser Tony Pulis made it clear that he thought Wales had a chance to double their lead after they gained possession about five yards outside their own penalty area. I must admit I thought he was getting  a bit carried away when I heard what he said, but a few seconds later, the ball was being picked out of the Russian net again as Bale caused such panic with another raking run that the pass which put Taylor through on goal came from a Russian boot.
Perhaps not surprisingly, the player whose last goal had come for Wrexham at Grays Athletic in 2010 in front of a crowd of 298, made a bit of a mess of his glorious opportunity as he allowed Akinfeev to save, but he kept his composure to volley the rebound home from six yards.
Wales were playing so well and showing so few signs of nerves that, realistically, complacency was their only enemy now and there was an element of that around as a long punt upfield by the keeper was not dealt with by the defence and the otherwise under employed Wayne Hennessey had to make a fine save to deny the giant Artem Dzyuba.
That incident helped concentrate minds though and the rest of the first period saw play continuing to head in the direction of the Russian goal. It's hard to remember all of the goalmouth incidents in that forty five minutes, but Vokes shouldn't really have allowed Akinfeev to save after he had been set up by yet another run by Bale, who, like Ramsey, forced the keeper into action with long range shots.
Russia brought on one thirty four year old Berezutski twin to replace the other (it was their birthday yesterday!) at the back at half time, but it made no difference – the new man had given away a corner within seconds as Wales broke with pace again and the overworked Akinfeev was soon making his first save of the half from Bale.
Ramsey was pulling the strings now with some classic number ten play, setting up Gunter to put in a cross from a very dangerous position that was scrambled behind by the defence and then Bale, only for Akinfeev to foil him once again.
However when Ramsey played another pass through a square defence that Vokes had the intelligence not to go for because he was in an offside position, Bale finally got his goal as he nudged the ball home with the outside of his left foot to cap a glorious move which had involved over half of the team.
Peterborough 2009 (City were 4-0 up and ended up drawing) means that I have real trouble accepting that my team are ever home and dry, but even I had to accept that, amazingly given the circumstances, the points were in the bag before the match had entered it's final quarter.
There was time for plenty of "ole's" from an ecstatic Welsh support as they watched their team play keepball and Coleman was even able to take Allen, Ledley and Bale off for Dave Edwards, Andy King and Simon Church, but the closest we got to another goal was when Wales got sloppy for just the second time in the game to give Dzyuba a chance inside the six yard box which he really should have converted in the dying moments.
Shortly after that, Wales completed a win which resembled the one by the same score in Israel in spring 2015 in some ways, but, given the opposition and the occasion, was on another level from that one in truth.
The good news did not end there either. With Roy Hodgson choosing to make six changes to the side that beat us, England could only draw 0-0 with Slovakia, thus making us group winners! That result gives the latter a good chance of being one of the third place qualifiers, while the former now face one of Hungary, Portugal, Iceland or Austria for a place in the Quarter Finals.
As for us, I'm afraid Welsh supporters in France (and I daresay a few over here as well!) now face the task of finding a way to get to Paris on Saturday for a 5 o clock kick off with what looks like being one of Croatia, Czech Republic, Northern Ireland or Albania. Pre- Russia, I would have been a bit concerned about facing any of them, but now I say we could beat all of them (although, ideally, I'd rather avoid the first named).
So, Wales have met the target that I, greedily, set them, but that's it now for me. A win (which looks better by the day) over Slovakia and a night that I still am having problems believing it happened against Russia to win the group is enough for me.
Yes, not really turning up against England (which Chris Coleman and some of the players have now acknowledged) is a slight disappointment, but anything beyond this is a bonus for me now – as far as I'm concerned, the Welsh party can return home as heroes no matter what the rest of the tournament holds for us.
However, I can't help feeling that there is a strong belief within the squad that they can go further still yet and when you consider that the leading scorer and assist provider in the tournament are Welshmen (Bale and Ramsey respectively), that we are the top scorers and have scored two more first half goals than anyone else (albeit we've played a game more than many others) , then, maybe, they've got a point. Thank you to everyone involved in our Euro 2016 campaign, you've made an old(ish!) man very happy.