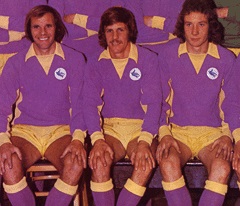 Something decidedly odd happened on 3 November 2015. After thirty one years of trying to beat us in a game, Leeds finally managed to do it that evening as a screamer by Alex Mowatt decided a tight game at Elland Road in the Yorkshire sides favour – ironically, it was Leeds' first home win in nearly eight months.
Four months later, Leeds only went and did it again as they survived an absolute bombardment from a City side reduced to ten men to show an impressive speed on the break as they recorded a double with a 2-0 win at Cardiff City Stadium.
Things were changing to the extent that when Leeds eased to a comfortable win, again by 2-0, in Cardiff just over a year ago, there was no feeling of it being a shock result – yes, we were a poor outfit at that time, but the old certainty that we would soon be ending any run without a win because we had a game against Leeds coming up soon was no longer there.
Perhaps those who are in charge of such things had decided that all of the fun we had at Leeds' expense since George McCluskey's late goal gave them victory at Ninian Park in February 1984 had to be paid for? We'd loved that never to be forgotten FA Cup game in 2002, the Koumas matches in 2005, Leeds 0 Cardiff 4 in 2010 and Bellamy's blasted free kick to win the home game in our title winning season, but now there had to be consequences for that period of almost complete dominance.
Indeed, this time last year as I was seven months into my seventh decade of life's journey, I can remember wondering if I might not see us beat Leeds (one of the very few sides around that I really, really dislike) again – it felt like there had been a changing of the guards and we were going to have to get used to having our noses rubbed in it by Leeds fans in the same manner as we had been doing to them for decades.
So, when we headed to Elland Road back in February, following a flat performance in losing at home to Norwich a week earlier, to face a Leeds side in fine form and with a formidable recent home record, there seemed to be only one possible outcome to me – a fourth consecutive win over us for the team we used to beat as a matter of course.
What I definitely wasn't expecting was us doing a number on Leeds as we, first, drew their sting and then hit them with a couple of unanswered goals to record what was, arguably, our most impressive victory among the many we achieved in the Warnock inspired revival that the 16/17 campaign became.
So, there was to be no period of total Leeds dominance, or there wasn't going to be one for a while at least. However, would that unexpected and, ultimately, fully deserved win just prove to be a blip, a final reminder of how things used to be as Leeds imposed a definite superiority in meetings between the two clubs?
Well, after last night's fantastic, memorable and statement making 3-1 win over the side that came into the game on top of the league, City fans can allow themselves to believe that normal service has been resumed as far as us and Leeds are conecerned.
Leeds may go on to get more than their fair share of victories in the years to come, but that will never alter the fact that, from now on, we will have a match which may not beat the FA Cup win fifteen years ago for a sheer feelgood factor, nevertheless the raucous night when 27,000 well behaved (bar one idiot who staged a late pitch invasion) supporters saw us take them apart and supplant them at the top of the Championship table will be a clear second to the Scott Young game in the annals of great City wins over a club which, with some justification, thinks we are nowhere near their equals.
Seriously, how good were we last night? Given our faltering displays in September after the highs of August and early season reviews like this one by a seemingly awestruck by Leeds Don Goodman (remind me, where is Mr Goodman from?), I went to last night's game expecting a draw – 1-1 was my pre game prediction.
However, when I heard that Joe Ralls and Aron Gunnarsson would both be missing from our midfield, I began to wonder if I was being over optimistic in expecting us to get a point – those two players have become so important to our whole approach under Neil Warnock that, while we could probably get by without one of them, being without both of them threatened to be too much for us to cope with.
After the game, Leeds fans were bemoaning the absence, presumably also through injury, of Eunan O'Kane from their midfield and, given his selection in the Irish squad for the upcoming World Cup qualifiers with Moldova and Wales, it's reasonable to accept that this had an impact on Leeds' performance.
It still must be said though that Leeds' O'Kaneless team were faced with a City midfield three of Loic Damour, Craig Bryson and the recalled Sol Bamba which had a bit of a thrown together, threadbare, look to jt.
What that reconstructed midfield had though was plenty of energy, stamina, mobility and tenacity – Leeds were well and truly "Warnocked" last night and those three were well to the fore as they got in their faces for a good three quarters of the game.
I don't know much at all about Leeds' latest manager, Thomas Christiansen – he's obviously done a very good job so far, but I found a couple of things he did and said last night quite odd. Firstly, by choosing to leave Hamburg loanee Pierre-Michel Lasogga and Spaniard Samuel Saiz (who I've read some glowing reports on) on the bench, Christiansen seemed to be indulging in a spot of squad rotation ahead of this weekend's derby with Sheffield Wednesday – strange that when you were up against a team that would overtake you at the top of the league with a win.
Secondly, although the opening quarter of the game was the sort of cagey affair you'd expect when third meets first in any league, the Leeds manager's assertion that it was only a couple of mistakes that led to his team's first half woes seem to be way wide of the mark to me.
Yes, the opening goal did come somewhat out of the blue and did rely heavily on Mateusz Klich's slip as he presented possession to us just inside the Leeds half, but the process whereby the visitors would become thoroughly rattled during the second quarter of the match had already begun as our pressing high up the pitch and rapid closing down in midfield left Leeds either having to turn backwards to keeper Felix Wiedwald (who looked very impressive with the ball at his feet) or, worse, be harried off the ball in areas where City could break quickly.
Once again, we had the fascinating contrast of styles that you come across so often in City games – the opponents who favour a patient passing approach against a City side that looks to attack quickly by getting the ball forward as early as possible. However, certainly in the first half, Lees caused us little or no problem as, with the gifted, but outmuscled, Kemar Roofe alone up front, it seemed to me that they lacked someone to play off in an attacking sense.
However, City, with their direct approach and aided far more by good passing, not aimless booting, than had been seen for portions of our last two home games, carried the greater goal threat even in that quiet early period, but, once Kenneth Zohore had ended his goal drought in the twenty eighth minute, it felt like a second goal wouldn't be too long in arriving.
When it did, it came via the sort of long shot you saw Junior Hoilett scoring from now and again for Blackburn and QPR, but not come remotely close to doing so at Cardiff until last night.
Leeds had "gone" by this stage as they found themselves put under an incessant type of pressure (even when they had the ball) that I doubt this newly assembled team had come up against before. The visitors were not only losing it in terms of football as Zohore shot powerfully into the side netting and Sean Morrison had a goal ruled out by a close, but correct, offside goal, but also in terms of their discipline.  Captain Liam Cooper (newly added to the Scotland squad) was lucky to stay on the pitch after referee Kevin Friend decided to punish a two footed lunging "scissor" tackle on Damour with a yellow card, but when he then clattered into a flying Nathaniel Mendez-Lange four minutes later with another challenge that could easily have been punished with a straight red, the ref was left with no option but to show him a second yellow.
Being really unfair on City, I was hoping to be fed until I wanted no more in the second half. The opportunity was there at half time to completly thrash Leeds (did I mention that I really, really dislike them?), but instead we, understandably I suppose, saw a "professional" approach from the team as they were content to sit back and allow our opponents to have possession.
Some credit should go to Leeds though because they were definitely a better outfit with ten men than they were with eleven and Neil Etheridge was able to offer a reply to some of those who have been critical of him after recent difficulties against QPR and Preston with a good double save early in the second half as the visitors had three efforts within the space of thirty seconds which threatened our goal more than anything they had produced up to then, but once Zohore had tapped in a third goal on the hour, even I was able to accept that we should now be on our way to three points!
What followed in the aftermath of our final goal was somewhat akin to the Sheffield United match where the result was in little doubt, but City were being forced back – to me it's a little like the old did he fall or was he jumped question, were we being forced back by the play of the opposition or the desire to take things a little easier after the immense effort by all of our outfield players that had got us into the winning position?
If it was the latter, then that would be understandable because the amount of closing down done by the front three and Bryson and Damour in particular was incredible and, as I've mentioned before on here, my one real fear about this squad is that they are playing in such a physically intensive way that they may run out of steam come the spring.
That's for the future though. For now, I'd say we've just made a statement to the rest of the division that, for now at least, there aren't many teams in this league who can live with us when we get things right. The wins against Villa, Wolves and now Leeds should all have been ones to make the rest of the league sit up and take notice, but I get the feeling that any praise we receive will be of the grudging variety and come with the view that our lofty position is not going to last.
I can only believe that this lack of recognition comes because we are perceived as long ball cloggers -laughably, I've seen comments from Leeds (did I mention I really, really dislike them?) fans claiming we kicked them off the park!
While the pundits seem to drool over the Fulham's. Wolves' and Leeds' of this world as they look to open up defences with intricate, patient football, we are viewed as polar opposites who  only succeed because we are powerful, dogged, committed and quick in certain areas – if you like, we are the ugly sisters among those at the top of the league.
Yes, we do play differently, but we are also very good at making teams dislike playing against us and that's something that teams with a more "footballing"approach don't often come up against. Anyway,(and while I'm in mid rant!) if any side in the Championship had scored a goal like our third one with that rat a tat of one touch passes (in a way which fully sums up the different things us supporters and the pros in the game notice in a passage of play, Neil Warnock reserved most praise for Bryson for his run that took Leeds defenders with him – I, on the other hand, didn't even notice it!) the media would be drooling about it – I've not seen a better goal of it's type in the Championship this season.
The precision, movement and pace in that passage of play offered evidence that our front three were back on form and all of them had a claim for City man of the match. Sky gave it to Hoilett and I agree with that decision, but Bamba, magnificent overall and, surprisingly, effective in the creative sides of the game ran him close, as did Bryson and Morrison – there were no weak performers in a marvelous display which, once again, confirmed that we are a side to be reckoned with this season.
I'll leave you with this thought. We've now played four of the other five sides in the top six with us currently (we've also played, and beaten, the side in eighth). We were poor and got what we deserved at Preston, but by the same token, our wins over Wolves, Sheffield United and Leeds were all merited.
Only Milwall, Barnsley and Sunderland can match us in having played four of the current top six and, apart from us, only Leeds, Preston and Boro of those in the top ten at the moment have played a top six club more than once (in each case, they played two top six teams) – so, as of now "Champions in waiting" Wolves have only played, and lost to, the one top six team.
So, with games already been played against improving Villa, Fulham and Sheffield Wednesday as well, I feel it could legitimately be claimed that the side currently at the top of the league have got there despite having a more testing first ten games than any of their rivals in the division.
*pictures courtesy of http://www.walesonline.co.uk/
+picture courtesy of http://www.yorkshireeveningpost.co.uk/