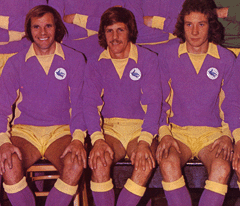 There's definitely a different feel about games played over the Christmas period. Maybe it's all those new jumpers, the smell of cigar smoke (I must admit that one's more from my youth though) or the people around you who don't know any of the players because it's the only game they'll go to all season, but Christmas games (in particular Boxing Day matches) play a very prominent part in what, for me, is the best time of the year for all sorts of reasons.
Time was, that games used to be played on Christmas Day (the last time it happened was in 1954 when 30,000 were at Ninian Park to watch us beat West Brom 3-2) and, although I can fully understand why the practice was stopped, it would have been great just to have had the chance to watch a match on the day itself.
As it is though, I have applied a liberal meaning to the term "Christmas game" as some of the ten games I have picked were played a couple of days before or as much as four days after December 25th, but, certainly throughout my adult life, I have thought of Christmas as an event which lasts at least a week until you can then start celebrating the New Year!
This is a very personal list and it includes a couple of matches which I am pretty sure won't appear in other people's top tens, but, when I think of Christmas matches, they are two that immediately spring to mind.
Just a couple more things to add before I start. First, we haven't had a really memorable Christmas match in quite a while and second, my research reminded me of the daftest Christmas match I have seen – Cardiff 3 Carlisle 1 on 26 December 1990 (the hordes of Carlisle fans in the crowd of 2,281 must have really enjoyed their journey home that day!). Anyway, here goes;
10. Cardiff City 3 (Williams, Nugent, Hill)  Shrewsbury Town 0 26 December 1998 – Att. 12,452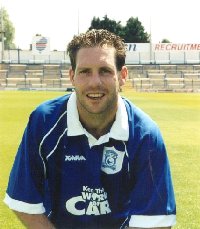 Christmas matches should always be played on snowy pitches (or at least on hard, frosty ones), but this game was played in a monsoon. While the three people I gave a lift to, decided to watch the game from the comfort of the Grandstand, I opted for the then open Grange End and, idiot that I am, got as wet as I have ever done in my life! Within a couple of days, full blown flu had developed and I was off work for four weeks – somehow I always managed to recover on weekends though and didn't miss a match or a Saturday night drink during all the time I was off! As for the game, I can remember that visiting keeper Scott Cooksey had a nightmare – he was responsible for at least one of the goals, I can also remember that Danny Hill (one of the great under achievers seen at the club in the last ten years or so) had a fine game which was topped off with a classy goal.
9. Cardiff City 1 (Thompson) Swansea City 0 23 December 1993 – Att. 9,815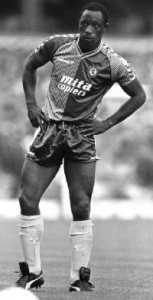 I've mentioned before that I struggle to get too worked up about all this rivalry with the jacks stuff, but I certainly was that night. The disgraceful scenes before the match when visiting supporters threw seats at families in the enclosure below them got me as annoyed as I have ever been at a set of opposition supporters and there was definitely a feeling that the Swansea fans got exactly what they deserved when Garry Thompson won the game with a fine goal midway through the second half.
8. Cardiff City 3 (Showers, Buchanan, Whitham) Aston Villa 1 (Hamilton) 28 December 1974 – Att. 11,040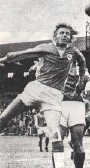 Another game played on a filthy wet and windy day, but this time I stayed dry under the Bob Bank roof as the City produced a superb first half performance during this relegation season to send a Villa side destined for promotion in 3-0 down at the break. Even Derek Showers (seen above sporting the world famous mauve and yellow strip) found the net as City banged in the goals attacking the Grange End with John Buchanan and the injury prone Jack Whitham getting the others as Leighton Phillips made a very unhappy return to Ninian Park in his first match against us since his £80,000 move to Villa three months earlier.
7. Swindon 4 (Anderson, Eastoe, Burrows, Dixon) Cardiff 0 26 December 1975 – Att. 10,003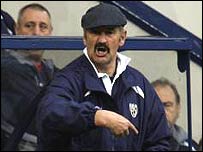 With six successive wins in all competitions behind them, it had to be an away banker for third placed City as they faced a Swindon side just one off the bottom of the old Third Division which had lost eight of their last ten league matches. So thought the thousands of City fans who travelled to the County Ground that day – instead, they watched a horror show as City, missing only John Buchanan from their strongest line up, folded in dismal fashion. Even Frank Burrows (for whom the phrase "uncompromising centre half" could have been invented) headed a second half goal as the team which had been playing some tremendous stuff in recent weeks fell apart – how on earth would they cope when second placed Peterborough visited Ninian Park the following day?
6. Cardiff 3 (Hall o.g., Gorman, Stant) York 3 (Blackstone 2, Barnes) 26 December 1992. Att. 10,411

A truly bizarre match. City spent most of the first half being completely outplayed by an impressive York side which adapted to the hard, frosty pitch much better than we did and yet, somehow, found themselves 3-0 up at the break as the visitors contrived to miss chances galore and a penalty. After an own goal by Wayne Hall gave them the lead, City then scored great goals through a bullet header by Andy Gorman (who, that moment apart, was having a shocker) and an overhead kick by the newly signed Phil Stant. However, the pattern of play remained the same after the break with the difference being that York had now found their shooting boots – they scored three unanswered goals themselves in that second forty five minutes and returned north with a thoroughly deserved point.
5. Cardiff City 3 (Lea 2, Toshack) Aston Villa 0 26 December 1967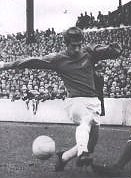 I can't help thinking that this match should really be higher than number five, but the truth is that, rather like the "Farrell match" against Middlesbrough, I was too young to understand the significance of what I was watching. This really has to be one of the most heroic team performances by City in the past half a century as, leading 1-0 through a Les Lea goal, they had to replace the injured Graham Coldrick with Gary Bell at half time and then Bobby Brown suffered the knee injury that ended his career in the build up to our second goal scored by John Toshack. With only one substitution allowed in those days, City had no choice but to soldier on with ten men, only for Dave Carver then to go off with yet another injury! There were still twenty minutes left for the nine men to hold out, but they did more than that as a further goal by Lea sealed a truly amazing win.
4. Cardiff City 4 (Farrington 3, Anderson) Sunderland 1 (Halom) 29 December 1973. Att. 14,979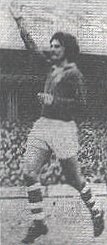 Seven months after their unforgettable FA Cup Final win over dirty Leeds, Sunderland came to Ninian Park, scored within three minutes and then got absolutely tonked as record signing John Farrington showed, for the only time in his City career, just why we had paid £62,000 (an awful lot of money for us back then) for him. Farrington's hat trick proved to be more than enough to see off a visiting team featuring seven players from their Cup Final team including future England Internationals Dave Watson and Dennis Tueart, but the best goal of the four came from previous record signing Willie Anderson whose goals tended to be rare but spectacular.
3. Cardiff City 3 (Hatton, Hemmerman 2) Newport County 2 (Bailey, Vaughan) 27 December 1982 – Att. 15,972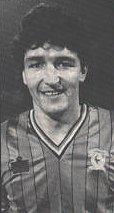 City went into this Third Division promotion battle having thrown away a two goal lead in losing an FA Cup tie to non league Weymouth in their previous home game and when our future player Nigel Vaughan equalised for County with a couple of minutes to go, it looked like they were intent on doing it again. However, in an enthralling match which even featured a good refereeing display by arch self publicist Clive Thomas, there was still time for a twist in the tail which sent City fans home happy.
Actually, with ten minutes to go of an even match, it looked like Bob Hatton's first half close range goal would win the game, but then top scorer Jeff Hemmerman scored with a header to double our lead. Neil Bailey quickly pulled one back for County and not long after that the visitors levelled through Vaughan. They say you are most vulnerable after you have scored and County and their celebrating fans were stunned when, virtually straight from the kick off, Hatton headed  on to Hemmerman who lobbed the late Mark Kendall in the Newport goal to clinch a dramatic win.
2. Cardiff City 3 (Stevens, Kitchen, Buchanan) Swansea 3 (Robinson, Curtis, L James) 27 December 1980 – Att. 21,239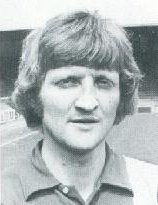 In the late seventies and early eighties, Swansea, under the management of ex City legend John Toshack, were one of the most talked about clubs in football as they embarked on a remarkable journey that saw them go from the Fourth to First divisions in four seasons. Certainly, with City in the midst of one of the  relegation scraps that characterised so much of the seventies and eighties, the second placed jacks were strong favourites when they came to Ninian Park having lost just two of their previous sixteen matches. Although it was City who scored first through Gary Stevens, two quick goals for the visitors has them well on their way to the points at half time.
That feeling only strengthened with twenty minutes left when Leighton James looped a header over Ron Healey to, seemingly, put Swansea out of sight. Peter Kitchen then capitalised on a defensive mix up late on to reduce the deficit and shortly after that, Wayne Hughes tapped a free kick on the half way line (well, okay, not quite!) to John Buchanan and the rest, as they say, is history!
1. Cardiff City 5 (Anderson, Dwyer 2, Evans 2) Peterborough 2 (Hughes, Gregory) 27 December 1975 – Att. 16,094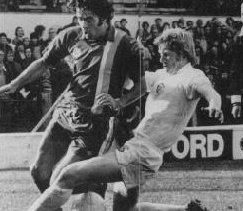 So, having been trounced 4-0 at lowly Swindon a day earlier, City took on second placed Peterborough who had not lost in nine matches. Inside five minutes, the visitors were a goal up and home supporters started to wonder if they were watching the beginning of the end of City's promotion bid – oh ye of little faith!
Another of Willie Anderson's fine Christmas goals (Anderson, especially in combination with John Buchanan, was virtually unplayable at times during this period) had us level at the interval, but few could have imagined what was coming in the second half. City had been playing well before the break, but after it, they put together a tremendous display of attacking football which saw goals coming at regular intervals. The prolific Tony Evans got two of them, but it was Phil Dwyer's couple that I remember most with one of them being an unstoppable effort from about twenty five yards out.