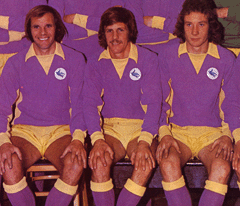 Over the course of the season I have done similar lists for full backs and central midfielders, but I have to say that this one was the hardest to, firstly, whittle it down to ten and then to judge the players selected against each other to give them a position within that top ten. What that tells me is that central defence is probably the position in which we have been strongest in the years 1963-2010 – I jotted down twenty three names for my shortlist and there were plenty of full Welsh Internationals who did not feature as well as a player who played most of his career in the top flight and ate sheep's bollocks when he signed for us for us nearly a million pounds in 2001!
Because the competition is so strong, the ten I have selected does not include one player who played for City solely in the bottom two divisions (Kevin Ratcliffe's non selection is proof that the players were also picked on how they played for us and not on reputation or what they did at other clubs), but this didn't make the final selection any easier really. In particular, I found it very hard to judge the players rated nos. three to seven against each other – in the end I decided that, being someone who likes my centre backs to be comfortable on the ball, that would be the criteria I would use to separate players who I thought were very evenly matched. Others may like their centre halves to be defenders first and foremost and so would rate someone like Roger Johnson higher than I have, but that's very much down to personal preference and I wouldn't argue too strongly with anyone who thought Johnson should be higher.
The thing that struck me more than anything else when compiling the list was how many really good central defenders we have had in the last ten years – if I am being honest, I think I could have included more players from the last few years, but I thought I should go for a ten who were more representative of the past forty odd years rather than just the last decade. As is normal for these lists, I have not included players that we only had on loan and others who were more well known for playing in other positions (e.g. Phil Dwyer, Leighton Phillips, Rod Thomas and Tony Vidmar) do not feature.
10. Anthony Gerrard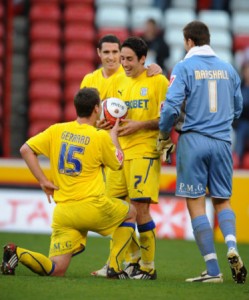 I am sure there will be plenty who disagree with this selection and there is no way Anthony Gerrard would have featured a month ago, but I think you have to look at things in the context of what the club have achieved this season. We are now guaranteed our highest league finish in thirty nine years and this has been achieved by the team going on a very impressive unbeaten run at the business end of the season. Over the past few games it has been our much maligned (certainly by me anyway!) defence that have come to the fore and Gerrard, in particular, has been outstanding in the last four matches. After what happened last year, our team have had to face accusations of being bottlers at various times during the season but, when the pressure was at it's greatest, Gerrard has, so far at least, responded in terrific style – before this month I thought of Gerrard as someone who could develop into a decent Championship quality player, but the character he has shown recently, as well as his ability to play the ball out from the back well at times, has me now thinking he can do better than that.
9. Darren Purse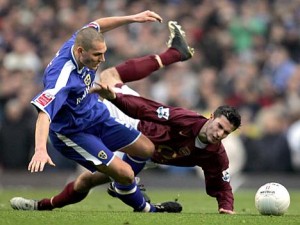 People will remember the red cards and own goals and wonder what Darren Purse is doing in this list, but that is to forget what a good job he did for us in his early years with the club. When Purse came to City in the summer of 2005, we had sold sold two very good Championship quality centre backs, but he helped to ensure that Danny Gabbidon and James Collins weren't missed as much as they could have been. With Graham Kavanagh having also left a few months earlier, there was a need for a natural leader at the club and Purse provided that at a time when we could easily have headed back to the lower divisions for who knows how long. It was typical of Purse that it was he who stepped forward to take the penalty that beat Leeds United in his first league game at Ninian Park and over the next year or so, he proved himself to be surprisingly accomplished in this role as well as showing himself to be more than good enough to cope at Championship level.
8. Keith Pontin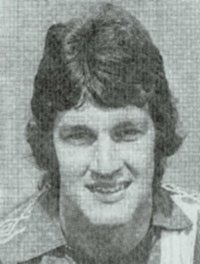 Tends to be forgotten because of his bizarre departure from the game at the age of just twenty six, but Keith Pontin was a fixture in the City team which competed in the old Second Division in the late seventies and early eighties. I remember Pontin as being your basic head it, kick it centre half, but I think I may be doing him a bit of a disservice there (a well struck winning goal in a Boxing Day game with Fulham suggests he had more ability on the ball than I gave him credit for), but, although he, invariably, played in teams battling against the drop, this was a time when City tended to be pretty solid at the back – their problems were at the other end of the pitch. On the international front Pontin was a little unlucky in that his career coincided with a time when Wales were pretty strong in his position but he did win a couple of full caps – one of which came as a half time substitute in Wales' 4-1 win over England at Wrexham in May 1980.
7. James Collins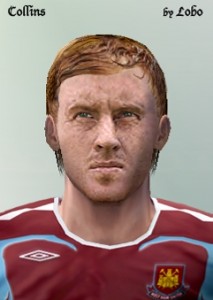 The fact that James Collins has gone on to become a regular starter at Premiership level probably does not come as too much of a shock to those who saw him star for City in the 2004/05 season when, for me, his partnership with Danny Gabbidon was the main reason we stayed up that year. Although he sometimes showed his lack of  experience and could be accused at times of trying to become a Gabbidon mark II, Collins was already a very effective and imposing centreback by the time he left us at the age of twenty one. An ability to ping accurate, long diagonal passes suggests that he is more than just a stopper type centre half and he did start his City career as a, not too successful, striker – that said, he does also possess a fierce long shot which, perhaps, could be made more use of from free kick situations.
6. Roger Johnson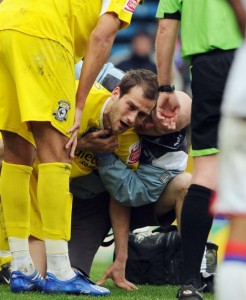 As I mentioned earlier, Roger Johnson is probably placed lower in this list than he should really be – the fact he has made such a success of his move to Birmingham certainly suggests as much. His, at times, suspect distribution counts against him a little for me, but then I suppose what you really want is for your defenders to defend and when watching City games on the telly, you would often see someone make a great block or header and wonder who it was – more often than not during his time with us, the action replay would show that it was Roger Johnson who was responsible for the piece of excellent defending. Single minded and vocal, Johnson already had many of the qualities needed for a successful centre back when he arrived from Wycombe in 2006, but he developed at Ninian Park to the degree that he was regarded by many as the best in his position in the Championship by the time of his move – was a real goal threat as well at set pieces as well.
5. Glenn Loovens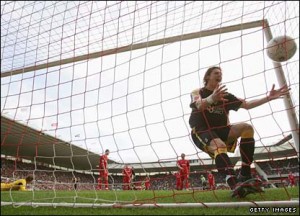 Slightly better footballing ability and the fact that our results were nowhere near as good in games he missed as they were when he played has Glenn Loovens just shading fifth spot from Roger Johnson. Initially signed on loan from Feyenoord in 2005, it soon became clear that Loovens was a foreigner who relished the physical British game, but there was always a little bit of his Dutch heritage to his game as well. Strong and uncompromising, Loovens was, predictably, one of our better performers in the 2008 FA Cup Final (he even had a goal slightly harshly disallowed) and it became inevitable that he would leave during the following summer. Although his time at Celtic hasn't been a total success, Loovens now has a full International cap to his name and will be remembered by City fans as one of the best in a series of excellent centre backs to play for us in recent years.
4. Gary Bennett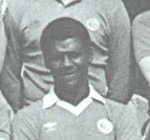 Signed on a free transfer from Manchester City in 1981, Gary Bennett possessed all of the traditional qualities of a centreback but also proved during his time with us that it wasn't his brother Dave who had all of the footballing ability in his family. Although he was talented enough to play in midfield and up front with some success during his City career, Bennett is remembered almost exclusively as a centre back now and it was in this position that he made nearly all of his 350+ appearances for Sunderland during an eleven year career with them after leaving us for a tribunal decided fee of just £65,000 in the summer of 1984 – the decline which led to eighteen years in the wilderness of the lower divisions can be traced to the time we sold Gordon Owen, Andrew Dibble and the pacey Bennett after a comfortable season in the middle of the old Second Division in 83/84.
3. Don Murray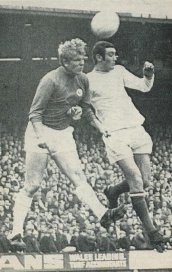 Good enough to have captained a Rest of the World youth team against England's youngsters in front of a full house at Wembley, the term "taking no prisoners" might have been invented with Don Murray in mind. For some time after making his debut in 1963, Murray's abrasiveness too often saw him go the wrong side of the line which separated competitiveness and indiscipline, but, a combination of increasing maturity and the influence of Brian Harris meant that, while he remained a feared opponent, Murray reaped the benefits of becoming a more disciplined footballer. Whether he could have adapted his game enough to cope with today's different interpretation as to what represents foul play is a moot point, but, the old pictures I see of him from time  to time show that he wasn't as limited a player as he is, perhaps, now remembered as being and, as an automatic choice in a Cardiff City team that was a strong one at this level forty years ago, Murray deserves his place in my top ten.
2. Brian Harris
Although the building blocks were already in place and the emergence of youngsters like Toshack and Phillips undoubtedly helped, I would say the biggest single factor in the transformation of Cardiff City from perennial strugglers to European Cup Winners Cup semi finalists and promotion candidates was the signing of Brian Harris. He may have been nearing the veteran stage when he signed for us in 1966, but the experience gained from over three hundred appearances in the top flight with Everton gave him the anticipation and know how to cope in the old Second Division even if he was beginning to slow down a bit. Besides the ability he brought to the club, Harris was also a huge help in terms of organisation and development of his team mates – his reputation as a joker (he is the player in the background of the above photo wearing the policeman's hat after it fell off during the chase to catch a pitch invader at the 1966 FA Cup Final) helped in terms of team spirit as well.
Although much is made of the fact that we were beaten 7-1 at Plymouth in the game which saw Brian Harris make his debut for us, what doesn't tend to get mentioned is that we had shipped twenty six goals in the previous six matches with another 7-1 and a couple of five goal defeats amongst them. Over the next five years Brian Harris made one hundred and thirty nine league appearances for us and, apart from that first game, we only conceded more than four goals in a match just the once (a 5-1 home defeat by Derby in 1967) – if only he had been fit for the 5-1 defeat at Sheffield United in 1971!
1. Danny Gabbidon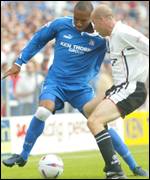 I'm sorry, I just love watching classy footballers and, on the all too rare occasions when they happen to be wearing a Cardiff City shirt, well so much the better! Forget about the surging runs out of defence past three or four opponents, the nutmegging of opposition strikers and the quality goals like the ones he scored against Wycombe, Wrexham and Bolton, Danny Gabbidon was also a very, very good defender when he concentrated on just doing the basics. Gabbidon's clean tackling, anticipation, aerial ability (helped by a leap which meant he was better in the air than others who were two or three inches taller than him) and composed demeanour held him in very good stead when he made the step up to International football (he was frequently referred to as the best player in the team in many of Wales matches in their qualification campaign for Euro 2004 at a time when he was playing in the third tier of the domestic game).
With the exception of Gary Bennett, a criticism of the other players in my selection would be that they lacked a bit of pace – if that was also true of Danny Gabbidon, I would still say that his other abilities were enough to give him a place high up in the top ten, but when you also consider that you could probably count the number of occasions he was beaten for pace by an opponent during his City career on the fingers of one hand. It is this speed of body (as well as mind) which makes him my number one – it's such a shame that his career has been blighted by injuries especially after such a promising first season in the Premiership with West Ham, but that doesn't take away the consistent quality he showed for us in central defence from 2001 to 2005 when he turned in displays which made him the best central defender I have seen in a City shirt.