I'm in a dilemma now, because at 8 o clock last night I fired off an e-mail to the City demanding a refund on my season ticket because of the appointment of Alan Shearer. Four hours later, it emerged that he is not coming after all, so, do I now send off another e-mail cancelling my cancellation, do I do nothing because we'll only go and appoint another idiot in a few days time or do I do nothing because City always ignore the e-mails I send them anyway?
I hope it's obvious that I wasn't being serious there, but yesterday really was an embodiment of the times we live in. If it had been twenty years ago, there would have been a few "in the know" supporters around who would tell a circle of friends that we were in for Alan Shearer. The rest of us though would have known bugger all about any approach for him until we read his statement in the Echo when we would, in all likelihood, have reacted with something like "oh well, but good on City for showing some ambition".
In the early twenty first century though we learn from online bookies early on in the day about large (well, fairly large) amounts of money being placed on Shearer in the Cork area of Ireland. From there a feeding frenzy develops where everyone has an instant opinion to express online and within hours, those "in the know" posters are talking about press conferences this morning to formally introduce Shearer to the media – people have to be first with the news in the race to stay ahead of the rapidly chasing pack.
I suppose the last two paragraphs sound a bit smug and superior, but, if it does, I've got nothing to be smug and superior about. I didn't post much on the messageboards during the maddest period of Shearer mania, but only because I was out for a lot of that time – if I had been able to, I would have no doubt been there with the best of them passing instant judgments on the half truths and rumours as they emerged.
Except, in this case at least, there was some substance to all of the gossip because Shearer (or his representative at least) was in negotiation with City about taking up the job. Now, it needs to be emphasised here that there had been no official comment whatsoever from the club to give momentum to the furore. There has been next to nothing from them throughout the last fortnight on our search for a manager and, when you think about it, that's exactly how it should be until they have something definite to say.
The trouble is though in today's world of instant communication and networking, what used to be a pointer in the right direction from someone at the club to a couple of mates now becomes an "update" that a significant number of the club's fanbase is aware of in hours if not minutes. There have always been leaks from the club and I think there always will be, but their consequences can be so much more profound these days.
Anyway, although it hardly matters now, what would I have been saying if I could have joined in with the, aforementioned, feeding frenzy?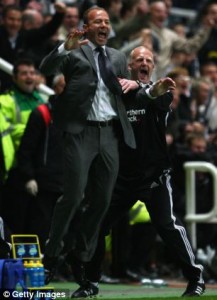 Well, without going into too much detail, much the same as many of those expressing reservations on the expected appointment actually. Carl Curtis the "update king" on one of the Cardiff City messageboards has had something of a nightmare in the last fortnight when it comes to giving us the name of our new manager. However, I agree with him when he said that the choice to go for Shearer was a business one more than a football one made by people as much, if not more, concerned with the impact the appointment had in parts of Asia than it did in South Wales.
Apart from International football, Shearer has never played outside the top flight in his life – in fact I'm not sure I've even heard him talk about the Football League before! Therefore, would he have the required knowledge of the game at this level, or below, to identify players who could make us a better team – somehow, it's hard to imagine Shearer driving to Gillingham, or even Swindon for that matter, on a Tuesday night to check on some promising youngster he'd heard about. No, it seems much more likely to me that we would have ended up going down the, failed, route of bringing in Premiership players (be they youngsters or players on the way down) on loan along with a few "marquee" signings from big clubs who would, almost certainly, flatter to deceive.
In saying all of that, looked at from the Malaysian's perspective, Shearer must have been a much more attractive proposition than the likes of Malky Mackay and Chris Hughton. Despite what so many City fans were saying yesterday, Shearer's appointment may have worked (especially if he was given the much reported £20 million playing budget). I certainly don't see how Shearer can be written off as a manager because of an eight game spell in charge of a Newcastle side that were on their way down anyway. It wouldn't surprise me at all if he becomes a pretty successful manager some time in the future, but I just happen to think he would have been the wrong man at the wrong time for Cardiff.
We don't need a Shearer type at the moment in my view, but I wonder if we might end up with one because yesterday offered up the first real evidence that what many think the club needs and what the Malaysians want is at odds with each other. No one's to blame for this really, but I can't help thinking that a lot of City fans will be hoping that, having almost got their fingers burned, the Malaysians will look at the broader picture a bit more from now on – other sides are proving that there is more than one way to get into the Premiership .