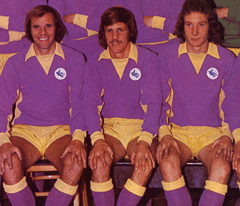 Russell Slade mentioned more than once in the build up to his first game as Cardiff City manager that, maybe even more than a win, what he wanted from the match with Nottingham Forest was for the unbeaten Midlanders to come off the pitch at the end saying that they had just played the best side they had faced this season so far.
Well, as I write this, I've not seen what Stuart Pearce and his players thought of their 2-1 defeat at Cardiff City Stadium yesterday lunchtime, but I suspect they will have been more concerned about their own showing than that of the side they were up against, so I doubt if City's new boss got his wish.
No matter though, I think Russell Slade, who had never won any of his first matches in charge for the clubs he had managed previously, will be happy enough to savour a great start at Cardiff. I would have thought he will also take heart from the fact that, while we probably weren't the best side Forest have faced so far, there was a togetherness, purpose and drive in a Cardiff City team which has been missing too often so far this season.
Speaking for myself, it was so good to see a side which gave the impression that they were clear in their minds as to what the plan was and they were prepared to work their hardest to try to ensure that it came to fruition.
It probably helped that, after the often baffling selections and formations of the Solskjaer months, Russell Slade looked to keep things pretty simple. Having revealed himself to be someone who likes to play with two strikers, it wasn't much of a surprise to see that Slade had opted for a basic 4-4-2 which saw Joe Ralls drafted in at left back to replace Fabio who was suffering with an illness which forced him to drop out during the pre match warm up.
In essence, I believe Russell Slade delivered a side that did what he said it would. There was a clarity of purpose which suggested that the players knew what was expected of them individually and how they fitted into the overall scheme of things.
In saying that, I have to admit that I was concerned how a central midfield of Whittingham and Gunnarsson would fare given our troubles in that area over the first eleven league games of the campaign.
It seems to me that an increasing number of City fans (myself included) are coming to the conclusion that Peter Whittingham cannot be used in central midfield unless you give him two partners in there rather than just one. Therefore I had reservations about how him and Gunnarsson would cope, but, on this occasion at least, my doubts weren't justified.
That said, I think the way Forest set themselves up played into Whittingham's hands in the first half in particular. Like City, the visitors used a 4-4-2 system and, like City, they employed two wingers who tended to hug the touch lines as Antonio and the returning Chris Burke for Forest and Noone and Pilkington for us ensured that there was more congestion on the touch lines than normal.
All of this resulted in more space than normal in central areas of the pitch. There was also the time to sometimes take an extra touch for the central midfielders – when that happens, someone like Peter Whittingham comes to the fore.
For me, Whittingham gave what was easily his best performance of the season so far. Whilst not as influential after the break, Whitts was so important to us during our dominant second quarter of the match which began with us scoring the two goals that decided the game.
All of this came after an opening twenty minutes which started pretty evenly, only for the visitors to become the more likely looking scorers thanks mainly to Burke's ability to turn City defenders inside out on the right hand side of the pitch.
Strangely, it wasn't makeshift left back Ralls who was struggling against the former City man's dribbling ability as the two of them weren't in direction opposition too often, but Whittingham and Pilkington had their embarrassing moments against Burke and they were both skinned by the Scot who then saw his shot cleared off the line as Craig Noone showed the anticipation of a full back to get back and make the block.
Less than a minute later, Forest were picking the ball out of their own net – Whittingham found Gunnarsson who made a lot of ground against a retreating defence, but the attack seemed to have lost momentum when the Iceland captain's pass was a little behind Adam LeFondre who would have been in on goal otherwise. However, Federico Macheda ran on to the pass and stepped past a couple of defenders before placing the ball expertly past Darlow (who may have been disappointed not to keep the shot out having got a hand to it) for his first league goal for City.
Less than five minutes later, the lead was doubled. Noone enjoyed some luck, but also a lot of persistence in retaining possession out on the right touchline before the ball reached Whittingham who fired low from about twenty two yards past the keeper.
Once again, I wondered about Darlow's role in all of this as he was beaten on his near post, but, watching the television coverage later, they hinted that Whitts might have fooled the goalkeeper into thinking he was trying for a curler high into the opposite corner of the net, thereby creating the room to hit his daisy cutter into the space Darlow's step to his right had created –with other players I would have laughed at the suggestion that they could have done this from such a distance, but Whitts definitely has it in his locker to do such things.
This two goal salvo set up a pretty comfortable next hour for City because an off key Forest side never recaptured the attacking threat they were showing in that Burke inspired ten minutes or so.
For about half of that hour, City could justifiably claim that it was their good play that was causing the visitors to be so ineffective and if there was going to be a third goal it looked more likely to come from them (notably when Darlow made a very good save to deny Sean Morrison from point blank range), but a strange thing happened when Macheda made way for Kenwyne Jones because it seemed to me that, his fine goal apart, the Italian had not been that involved in the game and was a natural candidate to be replaced.
However, Macheda must have been doing something because his going off saw City lose their grip on proceedings to some extent as Forest enjoyed more and more possession. I say "enjoyed" there, but that's not really true because their careless passing and lack of a cutting edge despite their greater share of possession only tended to increase their frustration levels.
Even so, although there still wasn't much prospect of their lead being reduced, City had definitely lost something compared to what they had provided in the middle third of the match. It would be easy to blame Jones for this because the striker did look more like the virtual passenger he was last season than the pretty effective performer he has been this time around, but I think any criticism of the target man should be tempered by the fact that he played three times in the space of five days for Trinidad and Tobago while away on International duty.
Also, City's cause was not helped by injuries. Aron Gunnarsson seemed to be carrying a slight knock when he went off to be replaced by Tom Adeyemi and the former Birmingham player enjoyed rotten luck when he picked up what looked like a hamstring strain in making a good tackle seconds after coming on.
Having impressed defensively earlier on, Craig Noone was now asked to fill the problem left back role as Ralls was switched into his more natural central midfield position, but the momentum of the game had changed, in terms of possession and territorial advantage at least, and both players were part of what was now an almost exclusively defensive effort by City.
Like Ralls before him, Noone seemed an obvious target for Forest to attack, but the winger coped well until the eighty eighth minute when the previously anonymous Michail Antonio burst past him and Mats Dæhli (who had come on for Adeyemi) to deliver a goal on a plate for Britt Assombalonga.
Besides making it just one clean sheet in eighteen matches for us, the goal fired up Antonio in particular who delivered a couple of testing crosses and forced the previously under employed David Marshall into a diving save as City endured an uncomfortable four minutes of added time before Forest's first Championship defeat of the season was confirmed.
It wasn't perfect by any means, I still have questions about our central midfield in particular when it comes up against teams who play more narrow than Forest did and employ an extra man in the middle of the park. It cannot be denied either that, once again, we looked tired in the closing fifteen to twenty minutes of a game, but the pleasing thing this time was that at least the effort had been put in to justify that tiredness!
So, the best week of 2014 so far for me, in footballing terms at least, comes to an end. There were a couple of great nights for the national team in fantastic atmospheres at Cardiff City Stadium and then City did their bit as well. The first team followed up wins by the Under 18's (who also drew 0-0 away to a Sheffield Wednesday side who have not conceded a goal in seven games yesterday) and the Under 21's (5-1 winners over their Forest counterparts at the Vale on Monday afternoon) with a much improved display – a shame that the team's efforts could not be matched by the singers in the crowd who could only show much enthusiasm when churning out yet another "Scabby Nottingham" chorus, but I suppose you can't have everything.
* pictures courtesy of http://www.walesonline.co.uk/