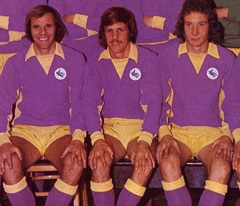 One of the regular correspondents to the blog's Feedback section had the following to say about the man who upset Neil Warnock last night with his decision to disallow a goal by Sol Bamba and failure to award us a penalty late on in the 1-1 draw with Millwall at the New Den;-
"Hi Paul,like you I was astounded by Mr Stroud's decision last night,I was speaking to my son earlier in the day and when I found out that he was in charge I thought that we would get nothing from the game.What I mean by that is I can't remember a time when we have a game when he is refereeing us,until that is you reminded me of the Bristol game,old age does not one alone,but I would be interested if anyone more qualified than me could give a stat that would confirm or deny that theory that in the majority of games we never get a positive result under him."
Well Clive, as this is hardly a day for the wide outdoors, I decided to do some research to see whether your claims stood up or not!
Here is a list of all of the Cardiff matches Mr Stroud has officiated in over the past thirteen years;-
6/2/05 West Ham 1 Cardiff 0 (the first Championship match he ever took charge of)
13/9/05 Cardiff 1 Leicester 0
21/9/06 Southend 0 Cardiff 3
21/1/07 Cardiff 3 Leicester 2
6/5/07 Ipswich 3 Cardiff 1
22/12/07 Cardiff 1 Sheffield United 0
22/3/08 Cardiff 2 Bristol City 1
25/10/08 Forest 0 Cardiff 1
18/4/09 Preston 6 Cardiff 0
22/2/10 Cardiff 0 Barnsley 2
15/1/11 Norwich 1 Cardiff 1
17/8/11 Cardiff 1 Brighton 3
4/2/12 Cardiff 1 Blackpool 3
6/11/12 Charlton 5 Cardiff 4
10/2/13 Cardiff 0 Brighton 2
4/5/13 Hull 2 Cardiff 2
6/4/15 Cardiff 0 Bolton 3
7/11/15 Cardiff 2 Reading 0
9/2/18 Millwall 1 Cardiff 1
Overall record
P   19   W   7   D   3   L   9   f   24   a   35   Pts   24
What stands out from that lot for me is that for a few years at least Keith Stroud was something of a good luck charm for us as we won six out of the first eight City matches he took charge of, but then it all went wrong on a notorious April afternoon at Deepdale in 2009. Since then, far from a good luck charm, he has been like an albatross around our neck with just one win, three draws and seven defeats in the past nine years when he has reffed us.
It's not just that our recent record with him in charge is so bad, it's that he has been the man in the middle for some of the more miserable occasions in our recent history. Preston 6 Cardiff 0 is probably the single most humiliating defeat we've had in the twenty first century, but Mr Stroud was there for the 5-4 at Charlton, the "scarfgate" night against Brighton and I remember Cardiff 0 Bolton 3 as probably the low point of the awful, awful 14/15 season.
Overall, our record in games he has taken charge of is not too bad, but it would not be surprising if some City fans felt he was something of a curse on us when you consider some of the memorable for all of the wrong reasons Cardiff City matches he has taken charge of.
When I see a ref making the sort of blunder Mr Stroud did last night with the disallowed Bamba goal, the same question tends to pop into my mind, "crooked or inept?" – in the huge majority of cases, I opt for the latter, just as I do in the case of Keith Stroud last night.