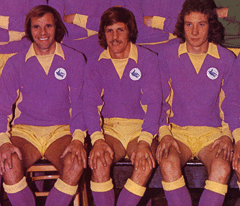 With Ireland winning 1-0 in Austria and Georgia following up their good draw in Cardiff with a feeble 1-1 at home to Moldova that makes me think they may not be able to help us out by taking points of our main rivals after all, Wales now find themselves as outsiders to qualify automatically for the 2018 World Cup following another home stalemate, this time against previous group leaders Serbia.
Sadly, the match followed a similar pattern to the previous two whereby we had a lead (twice in Austria), but weren't good enough to see the match through and I have to say that, in all three cases, a point was the most we deserved.
We have something of a history of drawing very important home matches 1-1 after taking the lead. It happened against Georgia last month, but I'm thinking more of games from more than thirty years ago.
There were almost certainly Serbs in the Yugoslavia team that fell behind to a Robbie James goal at Ninian Park in 1983, but fought back to record a draw that proved crucial in ensuring they qualified for the European Championship the following year, not us. That was followed in the next qualification process with another very costly 1-1 draw on the night Jock Stein passed away when, another, controversial penalty for Scotland saw them make it through to a Play Off for a place in the 1986 World Cup Finals at our expense after Mark Hughes had fired us into an early lead.
There might still be plenty of time left in our group to change the current situation, but last night had the feel of those matches from the past for me and I cannot help believing now that, realistically, we can only qualify for the 2018 finals through a Play Off with another country that finishes in second place in their group.
I say that because Ireland now face four of their next five matches at home after having got seven points points from three away games, whereas we have to travel for four of our next five starting with games in Dublin in March and Serbia in June and it's hard to see how two more draws draws from them will see us making it into the top two when the group finishes in eleven months time.
I'd say that Wales need three away wins now if we are to extend our campaign to make it to the next World Cup Finals. Victories in Moldova and Georgia were always going to be a prerequisite for qualification I would have thought, but following our draw in Vienna with further points in Ireland and Serbia may well have been enough if it were not for last month's very damaging one pointer against the Georgians.
After that setback, last night had the feel of a must win match for me, but I wonder whether that led to a situation whereby we felt we had to amend our tactical approach last night?
I say that while thinking that we would have seen Chris Coleman go with our normal back three or five if one of Ben Davies or James Collins had been fit. In their absence through injury, I had expected Newcastle's Paul Dummett to come in as a centreback or, possibly, at wing back with Chris Gunter moving across into the middle, but, instead, we went with a kind of 4-2-2-2 which saw both Sam Vokes and Hal Robson-Kanu operating up front with Gareth Bale and the fit again Aaron Ramsey operating just behind them as the former featured mainly on the right and the latter on the left.
Now, the general consensus from reports that I've read is that this was seen as a bold selection by Coleman which was widely thought to have worked, but I cannot share that opinion – for me, our manager, who has got virtually everything right tactically over the past two years, played into Serbia's hands last night.
I find it significant that the last time we operated with a back four was when we entertained minnows Andorra in what was, effectively, a dead rubber after qualification for Euro 2016 was ensured.
The success we have enjoyed has been very much based on a certain way of playing and I suppose one of the unforseen consequences of that success is the dilemma as to whether we are now good enough and adaptable enough to alter our tactical approach to best meet the demands of each individual opponent or stick with the tried and trusted system that has served us so well in the past?
My instinct on seeing last night's line up was one of concern. Now, maybe this was down to a conservatism which is said to find it's way increasingly into our psyche as we get older (funnily enough, my footballing conservatism at sixty is not yet matched by a swing to the right politically!), but it seemed to me that an enormous workload had been placed on the two Joes, Allen and Ledley, in particular.
Wales' past triumphs have tended to be based on us playing three centrebacks and one out and out striker with Bale and Ramsey operating in advanced positions in support of one of Robson-Kanu and Vokes.
However with both of those two included this time, Bale and Ramsey did not appear to be given any extra defensive responsibilities to compensate for us going with two out and out strikers and the inevitable consequence of this was that we looked very open throughout the ninety minutes as Allen and Ledley had to assume covering duties for the whole width of the pitch, not just through the middle of it.
It is to the great credit of them both, particularly Ledley, that they made a decent fist of things. However, Neil Taylor was often left isolated on the left as Serbia found it too easy to overload against him – to be fair to the left back, who has had what might politely be described as a mixed 2016/17 so far, I thought he responded with his best Wales performance in some time.
I must say as well that deploying Bale on the right and Ramsey on the left put me in mind of the ongoing Cardiff City debate when about what side of the pitch Craig Noone should play on.
My footballing education, such as it is, is very much rooted in an era which had it that predominantly right footed players were used on that side of the pitch, with left footers on the opposite side.
I know the notion of reversing this so that the players concerned are now more likely to cut inside into a position which enables them to shoot with their stronger foot has become fashionable now and I can accept there is an argument in it's favour. However, I still don't see enough evidence of it working well enough to consign what was considered correct before to the dustbin – no, it's still best to exploit the whole of the pitch by having right footers on the right and left footers on the left for me.
Coming back to Wales against Serbia, Ramsey and Chris Gunter have a personal and footballing relationship which goes back more than a decade to their days in City's youth teams, so isn't that another argument in favour of using them on the same side of the pitch?
If we had to go with a back four, then it would have been preferable to me if we had used Ramsey in the number ten role (where he was so influential during the summer) in a 4-2-3-1 with Robson-Kanu and Bale playing in wider areas – the latter is obviously a special case and would have to be given licence to wander, but there would have been a balance to us that I didn't think was there last night.
Everything I see about Sam Vokes in a Wales shirt says that he is most effective when he can dominate his opponents aerially, but, to their credit, Serbia coped better with him in that department than I expected them to and it was Robson-Kanu's selfless running, combined with his power and pace, which inconvenienced them most.
However, even when he was playing club football every week, Robson-Kanu was only ever truly effective in a forward role for his country for three quarters of a game and, invariably, he would be replaced, often by Vokes, for the last twenty minutes or so – with his lack of game time at West Brom this season, he did well to last as well as he did last night.
Even without his assist for Bale's fine goal (I didn't share the view that keeper Stojkovic should have saved the shot – it was close to him, but, effectively, he was beaten for pace), Robson-Kanu more than justified his selection and Tom Lawrence was an effective replacement for him in the closing stages. However, my definite feeling was that the experiment of playing with a front two had not paid off – better to have gone with the one striker approach which has worked so often in the past.
Behind them, it has to be admitted that Bale and Ramsey are good enough to make the sort of argument I set out above about what side of the pitch they should play on redundant if it's their day and the latter did enough in the first half to show that playing on the left was hardly stifling his creativity, but his influence faded in the second half.
Having played so little this season, this shouldn't have come as a surprise. Beforehand, I had expected Ramsey to only play for an hour or so (particularly when you consider he had been suffering from a virus for the early part of last week) and I found it strange that Coleman kept him on for the full ninety minutes.
In fact, it struck me as downright odd that only two subs were used in a team where many of it's members seemed to be paying a price in the closing minutes for the huge effort they had put in.
Serbia were hardly carving us open, but the "flow" of the game was theirs for long periods and, with a lead to defend, reverting to a back three for the closing stages by introducing Dummett or, maybe, Adam Matthews must have been an option worth considering because, in Bale and Lawrence, they had players capable of hurting the Serbs on the counter attack.
Would we have beaten Serbia if we had gone with our normal tactical plan? It's impossible to say, but the goal we did get was one that owed little to us having two strikers on the pitch and, even if we didn't have three centrebacks from the start, I believe having them there for the closing stages would have denied Serbia the room they always seemed to be getting in advanced areas with our four man defence and under populated central midfield.
I say all this while repeating that my suspicion is that if one of Davies or Collins had been fit, we would have played our normal system – anyway the truth is that, even if this was not the case and Chris Coleman had a complete tactical nightmare, his record in that department lately has earned him the right to have the occasional bad night.
Also, I daresay all of the above questioning of our manager's approach would not have appeared in this piece if it were not for a freakish minute or so which brought back so many memories of how it seemed for fifty eight years that Wales were, somehow, fated not to qualify for the Finals of major competitions.
I say that because, whereas Bale's effort in the eighty fifth minute smacked back off an upright and the ball just eluded the oncoming Lawrence who would have had a tap in, Mitrovic's header in the eighty sixth hit the post and came out in such a manner that Wayne Hennessey (who I thought was blameless in the incident) could only divert the ball into the net – a difference of centimetres either way and it would have ended 2-0 to Wales, rather than 1-1.
The problem with unsurpassed success is that expectation of what can follow rises accordingly and so now no losses after four games is being treated as failure because three of them have been draws. Even if autumn 2016 might be looked at as some sort of failure in the future, the whole of the year still has to be seen as the best, with one possible exception, in the history of the national team and now seems an appropriate time to thank Chris Coleman and his team for a year the like of which I thought I'd never see in my lifetime.
Anyway, all cannot be bad with the world if there is a victory for a Welsh football team over their English counterparts to report on! In my piece yesterday about City's Under 18s  2-1 win over Colchester yesterday I speculated that Cameron Coxe and Mark Harris missed that game because they would be featuring in the Development team game at Millwall on Monday, but it turned out I was wrong because they are away with Wales Under 19 team playing against Greece, England and Luxembourg in a qualifying group being held at Wrexham and Bangor for the European Championships.
The City pair started against Greece on Thursday as Wales' campaign got off to a bad start with a 2-0 loss (England beat Luxembourg by the same score in their first match) and Coxe was in from the start when we faced England yesterday.
However, it was Harris, who came on as a first half sub and within minutes had put Wales 2-0 up, who made the biggest impact. From here. England rallied to make it 2-2 before a further Welsh goal clinched  a great win over opponents who were reduced to ten men after a late sending off,
With Greece thrashing Luxembourg 5-0, they have to be heavy favourites to finish group winners, but a win for England against them in their final game opens up the possibility of three sides finishing level on six points if Wales can beat Luxembourg.
So, a Welsh win should see them finish second and there has to be a slight possibility they could win the group if they were to thrash Luxembourg, but, either way, yesterday's great victory means Wales have a good chance now of reaching the Elite Round which is the last qualifying stage before the Finals.
*picture courtesy of http://www.walesonline.co.uk/