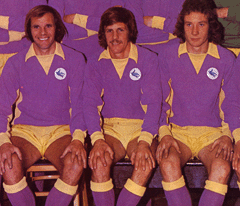 Yesterday's 1-1 draw at Burnley in the final match of the regular season has done little to lift the mood of pessimism amongst City fans that descended during and after last Monday's shocking defeat by Middlesbrough. On one level at least though, it could be argued that the downbeat response to what happened at Turf Moor is almost entirely related to the events of five days earlier – put it in a different context and yesterday's result wouldn't look too bad at all.
For example, if we had returned from a visit to a club in the top ten with a point last November courtesy of an equaliser in the ninetieth minute, I'm sure the general reaction would have been a positive one. The Middlesbrough debacle pervades everything to do with the club at the moment though – it was such a devastating result that I'm not sure even a 6-0 win at Burnley would have been enough to restore complete faith in the manager and his team.
Yes, if I had been listening to the game on the radio (like I do with most of our away matches), I think I would definitely be trying to put a positive spin on a result which, let's face it, wasn't that bad in itself – we are talking about a team that have beaten Norwich, Swansea and Forest at home this season after all. However, the wonders of the Internet meant that I was able to watch the game while sat at my computer and I'm afraid that much of any optimism I might have felt if I had only been listening to the match was dispelled by what the pictures were telling me.
To be fair, despite Eddie Howe's claim that Burnley were the better team, I thought City deserved their draw. Burnley carried the greater attacking threat throughout, but City were in command for most of a second half which offered less goalmouth action than the opening forty five minutes did and their pressure eventually told. However, the quality of the game was not that good (Burnley certainly weren't as impressive as they had been when they came to Cardiff City Stadium in February) and it was very much a case of us grinding out a point.
It was a concern to see how easily our defence was carved open at times by the home side. The impressive Jay Rodriguez gave our starting centrebacks Hudson and Keinan all sorts of problems and I reckon it was a blessing in disguise when Hudson was taken off (hopefully as a precaution) around the half hour mark. Kevin McNaughton's limitations as a central defender were exposed on Monday, but having his mobility and pace in there yesterday improved things as Keinan's performance got better after the switch as well. I've always thought that it should be a question of "horses for courses" when it comes to central defence as the traditional virtues of a Keinan and Hudson partnership are better suited for some opponents while a little and large combination works best against others – Burnley's movement and close passing game meant that the latter approach was more appropriate yesterday and I think it might be against Reading as well.
The midfield didn't function well either – Koumas and the again anonymous Burke made little impact on the flanks, while the Whittingham and Olofinjana combination in the centre were struggling from the off. Things improved after a couple of second half substitutions and, after his very poor showing against Middlesbrough, Steve McPhail gave a reminder of what he can give us with his pass for our equaliser. However, watching the young Chelsea loanee Jack Cork turn in a performance which marked him out as the best midfield player on the pitch by some distance was a reminder of what we lack in that area. It's no coincidence that we have looked strongest in midfield when we have had young players in there who gave us the mobility, stamina and touch of pace that we seem to lack when Whittingham or McPhail play there – although his level of performance declined pretty quickly and he has made little impact at Watford, Danny Drinkwater definitely added something to our midfield early in the season that we only saw again while Aaron Ramsey was with us.
The biggest worry for me though concerned some of the team's body language. A majority of our front six gave the distinct impression that they would rather be somewhere else as they moped around the pitch with heads bowed and shoulders hunched (no prizes for guessing the four players I'm talking about here) and it was interesting to hear Dave Jones talk after the game about how surprised he was to see how downbeat the team were at the final whistle. Now, with his talk of best ever squads and top two finishes, our manager has to bear some of the responsibility for this, but I'd also say that too many of our important creative players, who we rely on for that bit of magic that can make the difference in tight games, are moody and sensitive souls whose heads go down much too easily and  need to be talked into a performance – of course, the same thing applies with many other teams, but we do seem to have more of these type of players than most!
The shining exception to the rule I talked about in the last paragraph was, once again, Craig Bellamy. Now, I accept that there have been times this season when he has disappointed, but for the last ten games or so (i.e. at the business end of the season) he has been magnificent and, for me, has fully justified the money he has cost us. Just as against Middlesbrough, he wasn't at his absolute best yesterday, but when his chance came along he took it very well and his attitude was spot on throughout.
Some of Bellamy's team mates (a few of whom I reckon were born with more natural talent than him) should look at him during matches and ask themselves why is it that the thirty one year old with dodgy knees, who has achieved far more in the game than they have, is doing so much closing down and harrying of opponents and not them. They should ask themselves why it doesn't hurt them when things are not going well as much as it does the multi millionaire alongside them who is giving his all to the cause and, if we don't make it out of this division this season, they should also give some consideration as to why the team they play for are regarded by many to have a core of players at it's heart who are chokers.
With us not winning, it was always likely that we would be pipped by the jacks for third place, but with the FA making the decision not to deduct points from QPR (until the two charges that the Champions were found guilty of are known, there seems little point in giving an opinion on the severity or leniency of their punishment), final positions became less important and I'll admit to being happier to be facing Reading in the Semi Final than Billy Davies' in form Forest team. Now, some may doubt my sanity after reading that and I accept that if you look at Reading's record since November, they have to be favourites to beat us, but they have only won one in their last four and their very influential winger Jimmy Kebe is, apparently, a fitness doubt for Friday's first leg. We will need much bigger contributions from a few of our more flaky individuals than we have seen from them in the last week, but the parallels with 2002/03 are definitely there – remember how people were feeling at the start of the Play Off campaign that season!