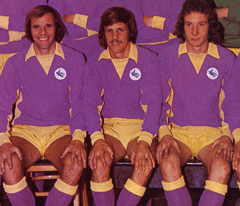 Time was when an away win in the first game in a two leg tie nearly always ensured that the return match would be a fairly straightforward one for the home team, but you don't have to been supporting City for too long to know that this no longer applies – especially when it comes to the end of season promotion Play Offs. Eight years ago a City team which had finished the regular season in tremendous form went to the Brittannia Stadium, Stoke and secured a 2-1 win in the First Leg of the League One Play Offs and I thought the tie was as good as over. I wasn't the only one to think like that either – I remember the pre match atmosphere on the night of the return game being almost party like as people discussed which one out of Brentford and Huddersfield we would be playing at the Millennium Stadium in the Final.
Although the oft repeated claim that ticket details for the Final were being announced just as Stoke began the build up to the last minute goal which forced the tie into extra time aren't quite true, the triumphalism that saw Stoke's Wayne Thomas taunted at the corner of the Bob Bank and Grange End as he rushed to get the ball for the free kick from which the ball would eventually end up in our net was real enough and the Stoke player was able to return it with interest when the tie took a decisive turn in his team's favour. A cruel, deflected goal in extra time then did for us as we lost our discipline and the experienced Spencer Prior, who really should have known better, was red carded for abusing the ref.
Since then, there have been four other cases in the Play Offs where a side which had been beaten in front of it's fans in the first game were able to turn things around and progress to the Final in the return game, so, there have been a fair number of recent precedents which show that Leicester are by no means out of the tie. To be honest, I don't think those who went through that awful experience eight years ago are going to forget it, so, this time at least, I reckon if there is any complacency around it is more likely to be with some of the team rather than our supporters. However, when you consider that our Steve McPhail was in a Barnsley side that lost 1-0 to  Huddersfield at Oakwell in the First leg of their League One Play Off Semi Final in 2006 only to then go the Galpharm Stadium and win 3-1, you would like to think that he will definitely be telling his team mates that the tie isn't over – it has to be said as well, that, surely, any player who was with us at the back end of last season must know the dangers of counting your chickens!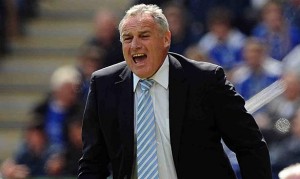 Going back to that Stoke match, I have always thought that, tactically, we got caught between two stools that night. If there is one thing I remember now about Lennie Lawrence's time with us it is how he always banged on about the importance of scoring the first goal (the stats from his and Dave Jones' times as City managers show he may well have had a point!), but that night we didn't go chasing that first goal with any conviction and instead we almost  looked to be more concerned with hanging on to what we had – worryingly, there were a few signs of us doing that yesterday after we had scored.
While I understand the comments about it only being half time in the tie, you don't see sides hanging on for dear life to a 1-0 lead in the minutes before half time but that's what we were doing in the last ten minutes or so yesterday. Of course, you have to give credit to Leicester for stepping their performance up after going behind, but I just hope that we weren't thinking that one goal will be enough because that attitude is where danger lies as far as I am concerned.
In saying that, I am certainly not advocating a gung ho attitude throughout on Wednesday night, but, it 's a fact that we have scored in the first ten minutes of six out of our last eleven home league matches and I reckon we could catch Leicester cold if we really went at them for a while at least. I don't see Leicester winning the tie from a position of 2-0 down and an early goal would virtually have us at Wembley, but, if it didn't come, then I hope that we start playing as if it's 0-0 rather than 1-0 – that doesn't mean we have to pile men forward, just treat it as a normal home game which is  something we didn't do against Stoke in 2002.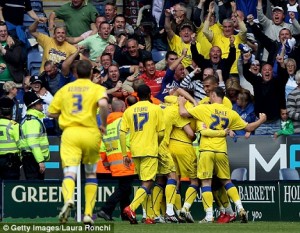 Anyway, to dwell on the last ten minutes too much, would be to ignore what was a very good performance for the vast majority of the game. Someone said on one of the message boards last night that the players looked as nervous as we were in the first twenty minutes, I disagree with that – I was struck by how composed the team looked in the early stages and, apart from one or two instances, they stayed that way through much of the match (no one could have been as nervous as I was anyway!). It seemed to me that City had an inner belief which said they could win the game yesterday and for most of the time, their confidence was justified – what class that was on show came from those wearing yellow yesterday as fine performances right through the spine of the side saw them winning many of the individual battles.
In goal, David Marshall coped well with the sort of inswinging corners that were troubling him five or six weeks ago and then produced two great saves to preserve our lead – the first coming when our two full backs tackled each other to allow a rusty looking Matt Fryatt through on goal and the second bringing comparisons with Neil Alexander's save from Brian Tinnion's header at Ashton Gate seven years ago to mind as he palmed aside Andy King's header. In front of Marshall, one or two dodgy moments apart, Darcy Blake again looked the business as a capable and mobile centre back, while Mark Hudson made up for the loss of the unlucky Anthony Gerrard with what was probably his best performance in a Cardiff shirt – Hudson was, justifiably, many peoples man of the match  making those of us who had argued against his inclusion look like idiots in the process!
We can probably expect more from the Leicester midfield on Wednesday, but yesterday they had no one to match the quiet authority shown by Steve McPhail and Joe Ledley. McPhail provided the continuity that we always seem to lack when he isn't there whilst also never taking a backward step in his battle with the combative and talented Richie Wellens while Ledley gave a very good impression of a done it all and seen it all thirty year old with his youth only being betrayed by his usual high energy levels – interestingly, most of our really penetrative passes that caused Leicester most problems came from him as well.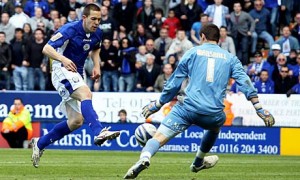 I think this might have been mentioned before, but Jay Bothroyd really is a very important player for us. I don't think it is any coincidence that our dominant first half coincided with Bothroyd's best spell of the game whereas, although we were never really under the cosh for most of the second forty five minutes, we were on the back foot a lot more and I believe much of this stemmed from the fact that our target man wasn't as effective as he had been as he began to get frustrated by the lack of protection he thought he was getting from the officials. To describe Jay Bothroyd as merely a target man though is hardly fair – whereas most target men at Championship level are one or two dimensional players, ours has aerial ability, great technique, decent movement and pace, a thunderous left shot and, since he came to Cardiff at least, an appetite for hard work. Alongside Bothroyd, Michael Chopra's cleverness caused Leicester problems, but he should have done better with that chance which Bothroyd created for him.
On the flanks, apart from the time they combined to create the home side's best chance, McNaughton and Kennedy did what was needed of them, while, although he had his moments, you get the feeling that the best is yet to come from Chris Burke in the tie. As for Peter Whittingham, he was described by many as having a quiet game, but  his willingness to put in a shift defensively (even if he isn't the best at the job by any means) showed the team ethic that has been present all season from him, while it's also true to say that if you looked at City's best attacking moments throughout the game, Whittingham was usually involved in there somewhere along the line.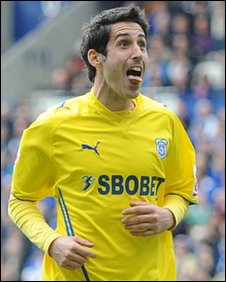 What Whitiingham will be remembered for in this game though of course will be his goal which, again, showed the Premiership standard technique that he possesses – it was another example of the sort of quality which Cardiff were able to show at times, but which was almost entirely missing from Leicester on the day. While I think it is true to say that we had luck on our side with the Kevin McNaughton handball incident, we were short of that commodity when Chopra hit the post after keeper Weale got the faintest of touches to his shot. – overall I thought it was a deserved win and we have earned ourselves a great chance of extending our season beyond Wednesday night if the lessons of Stoke 2002 have been learned.