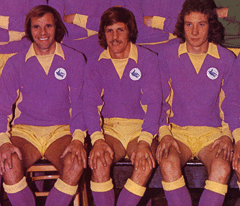 The last question in my six decades quiz on Friday concerned Jacob Mellis, now of Bury, who became the first player ever to score at Rotherham's New York Stadium when he netted for Barnsley in a pre season friendly in July 2012. Whatever happens at that ground from now on, no one will ever be able to take that honour away from Mellis and, although there may not be quite the same kudos involved, it's a little bit the same with me and Mel Charles.
I have this mental picture of Mel scoring with a header at the Grange End, I suspect that's just me taking a bit of artistic licence though, but what cannot be denied, because it's there in the record books, is that Mel Charles scored the only goal in the first Cardiff City match I watched – Cardiff City 1 Northampton Town 0 on 5 October 1963 and because of that, Mel Charles has always been a special player to me.
In saying that, a look at his record suggests that his career was in decline when I saw him for the first time (I have no memory of seeing him play before that afternoon because the first match I can remember watching on TV was the 1964 FA Cup Final between West Ham and Preston) and so, as is always the case with former City players of the era I'm talking about, there are other regular correspondents on here better placed to comment on his talents than me.
I've always thought of Mel's place in the Charles brothers relationship as a bit of a Jackie to John's Bobby, but, perhaps, that is to put him down somewhat. Certainly, Pele rated Mel highly enough to describe him as the best defender he faced in the 1958 World Cup Finals and this view is given more credibility by this story which confirms that the younger of the brothers was voted into a best of the tournament selection eleven.
I've searched unsuccessfully for a video of the great goal Mel scored for City in a derby game against the jacks at Ninian Park which, from memory, we won 5-2 (I know one exists because I was not at that game, but have seen the goal somewhere). so, in it's absence, here's a link in which Mel talks about his career.*
RIP
*I'm very grateful to the poster known as A Quiet Monkfish on the City messageboard I use who has located the goal about three minutes into this You Tube video