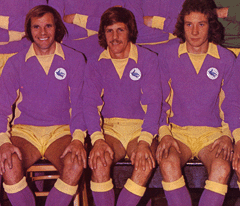 I can remember reading City programmes from the sixties which had a feature on what was going on 10, 20 and 30 years ago at the club and can remember thinking what an old fogey someone must be to remember games from so long ago.
Changing the subject completely, its fifty years to the day since I saw my City game tomorrow, so I thought I'd do something different and ask a question for each season I've been supporting the club – I'll not post the answers until Monday because there's so many questions.
I feel anyone who gets all of these questions (I think there's some really tough ones amongst them) right deserves some sort of reward, so I'll pay for a copy of the "The Journey Back – Cardiff City's Rise through the Divisions 1991 2013" for the first person who posts all of the correct answers on here before Monday morning when I'll be putting them on here. There's just one condition to this offer, the correct answers will have to appear on here before they do on the Cardiff City messageboard I'm going to post a link to this quiz on.
63/64. My first match was a 1-0 win over Northampton Town, who were the managers of each side that day?
64/65. City's final home match of this season was a 3-2 win over Rotherham – Peter Rodrigues scored one of the goals, but probably wouldn't have done if the game had been played a few months later, why?
65/66. This player shares a surname with a more famous footballer from Cardiff and in 65/66 he played his only game (an important cup match) for the club, can you name him?
66/67.Who was the manager of the Hereford side beaten 6-3 at Ninian Park in the Welsh Cup during this season?
67/68. Who was the Aston Villa keeper involved in the incident which ended City centre forward Bobby Brown's career on Boxing Day 1967?
68/69. What was unusual about City's kit for the home leg of their Cup Winner's Cup tie with FC Porto during this season?
69/70. How long did it take John Toshack to score his first goal of this season?
70/71. Frank Parsons and Ian Gibson both made their City debuts on the opening day of this season and youth products Nigel Rees and John Parsons played their first games for the club later on in the campaign – name the future Wales international who was the other City debutant this season.
71/72. Name the international  goalkeeper who scored at Ninian Park during this season (I don't mean an own goal either).
72/73. The season of the infamous mauve and yellow kit! City wore it in three matches, how many goals did we concede in them?
73/74. Who was in charge of the side for City's game at Millwall on 10 November 1973?
74/75. City beat Aston Villa 3-1 on 28 December 1974 at Ninian Park – who was Villa's keeper that day employed by from 1998 to 2012?
75/76. There was a future Tory Councillor on the pitch when City played Hereford in front of 35,000 on 14 April 1976 – can you name who the player (who played 700 plus games for his previous club) was?
76/77. This goalkeeper played over 530 times for a team that play in red and white stripes and he was in goals for a team that played in red and white stripes for the game they lost at Ninian Park  during this season, can you name him?
77/78. Two individuals on City's payroll with a West Ham connection had a difference of opinion that was widely reported at the time after the 0-0 draw with Hull in December 1977, name them.
78/79. City had a miserable time of it in the cups during this season can you name the four knock out tournaments they were involved in?
79/80. City used a player during this season (he made one appearance as a sub) who shared his name with a City left back from the 90's, do you know it?
80/81. Name the City player from this season who passed away at the age of just 37.
81/82. Who was the member of staff who spent some time at the club during this season nicknamed Mr Punch because of his habit of saying "that's the way to do it"?
82/83. I'm sure I've asked this question before, but can you name the seven keepers City used in league games during this season?
83/84. Name the Cardiff born winger who scored once in nineteen appearances in all competitions and was released at the end of this, his only season as a first team player at the club.
84/85. Despite their abysmal record, City fielded an England international, two Welsh internationals and a Republic of Ireland international who won a total of 204 caps between them during this season, can you name them?
85/86. Another despite their abysmal record question – what impressive scoring feat did the side which took us into the Fourth Division for the first time in our history manage during the season.
86/87. Name the two members of a squad which was probably one of the poorest in their history at that time who were playing First Division (Premier League) football the following season.
87/88. Name the Wales International striker who joined us with nearly three months of the season left but failed to find the net in that time.
88/89. Who was the midfielder, signed on loan from Leyton Orient, who scored a couple of goals for us during this season.
89/90. Ray Daniel only missed four matches in all competitions during this season – can you name the two players who filled in at left back while he was out (one had a, completely sarcastic, nickname and the other was a locally born youngster making his debut).
90/91. Name the player who made one substitute appearance during this season who we sold for £175,000 a couple of years later.
91/92. This Welsh international with a business degree didn't play at Ninian Park against City during this season, well he did kind of – who am I talking about?
92/93. The player who scored the first league goal of our double season didn't net again during the campaign, who was it?
93/94. Kevin Bartley made his only City appearance in the same game that keeper Steve Williams made his first start in, who were we playing?
94/95. Name the decongestant who played for City during this season.
95/96. This was probably Cardiff City's worst post war side, but one player managed an extraordinary  personal achievement which no one else has matched in all of the time I've been watching us – who was the player and what was his achievement?
96/97. Name the player who was sent off on his City debut during this season.
97/98. This undistinguished season saw City equalling a Football League record which still stands –what was it and, bearing that in mind, what links the following teams; Exeter, Cambridge United, Barnet, Rotherham, Darlington and Scunthorpe?
98/99. He won two league titles, two FA Cups and a European tournament while playing for one of his previous clubs (for whom he played 750 times for in all competitions) and gained 92 caps for his country –he also played against City in this season, who am I describing?
99/00. What links Notts County, Chesterfield, Reading, Colchester and Bristol Rovers from a City viewpoint during this season?
00/01. What happened in a match at Ninian Park during this season that, to the best of my knowledge, has only happened again once in a City game since then (it was in a home match against Millwall), what am I talking about?
01/02. What very unusual scoreline occurred twice in games involving City during this season?
02/03. QPR were missing which important member of their squad due to suspension in the Play Off Final at Millennium Stadium?
03/04. Something happened in our game at Sheffield United which I'm pretty sure is unique in a City game in my time supporting the club, what is it?
04/05. The League Cup was hardly a favourite competition for one City player during this season, why?
05/06. Who did we sign from Darlington during this season?
06/07. It happened when we played Swansea at home in 1980 and didn't occur again until early in this season, what am I describing?
07/08. This young striker made a couple of substitute appearances in the Championship for City during this season and is currently playing for Hereford, can you name him?
08/09. This Scandinavian born defender played three times for the City in the league during this season, who is he?
09/10. Name the player who missed a one on one with the keeper in the opening fifteen seconds of the first competitive match played at Cardiff City Stadium?
10/11. Who was the other player to make his first City appearance alongside Craig Bellamy in the 4-0 win over Doncaster?
11/12. Another one of those unique occurrence questions – this happened in the 11/12 season and involved Joe Mason in a local derby, what happened?
12/13. Whose goal ensured that the last few minutes of the Charlton game weren't as nail biting as they could have been on the night we went up?
13/14. How many yellow cards have City picked up in competitive matches so far this season?
Answers – as I did not receive a comment on here with all of the correct answers by this morning , the prize is unclaimed. .
63/64. George Swindin and Dave Bowen who was also Wales manager.
64/65. Rodrigues was injured and moved to centre forward to be no more than nuisance value from his usual right back spot. However from 65/66 onwards substitutes were allowed and Rodrigues would almost certainly have been taken off if the match had been played a few months later.
65/66. David Yorath.
66/67. John Charles.
67/68. Colin Withers.
68/69. They played in red and white.
69/70. Twenty eight seconds, his goal at Carlisle was the first one in the Football League that season.
70/71. Derek Showers.
71/72. Gary Sprake scored a penalty for Leeds against the All Stars in a testimonial game for John Charles in December 1971.
72/73. Ten – Bristol Rovers 3 Cardiff 1, Portsmouth 3 Cardiff 1 and Carlisle 4 Cardiff 3.
73/74. Trainer Lew Clayton was in charge after Jimmy Scoular was sacked.
74/75. Jim Cumbers was Chief Executive of Lancashire County Cricket team from 1998 to 2012.
75/76. Terry Paine.
76/77. Jim Montgomery of Sunderland was on loan to Southampton and played for them in their 1-0 defeat at Ninian Park.
77/78. Keith Robson and Assistant Manager Alan Sealey.
78/79. FA Cup, League Cup, Welsh Cup and Anglo-Scottish Cup.
80/81. Tim Gilbert.
81/82. Graham Williams.
82/83. Steve Humphries, Martin Thomas, Andy Dibble, Jim Brown, Eric Steele, Linden Jones and Phil Dwyer (the last two had a go in goals after Dibble was injured at Bradford City).
83/84. Wayne Matthews.
84/85. Gerry Francis, Brian Flynn, Dean Saunders and Mick Martin.
85/86. They managed to score four times in three successive away matches – 4-0 at Lincoln, 4-3 at Chesterfield and 4-4 at Plymouth (they also beat Notts County at Meadow Lane 4-1 on the opening day of the season).
86/87. Rob Turner and Mel Rees.
87/88. Ian Walsh.
88/89. Steve Ketteridge.
89/90. "Lethal" Lynex and Nathan Blake.
90/91. Gavin Ward.
91/92. George Berry was in the Aldershot team beaten 2-0 by us in March 1992 in their last game before they dropped out of the Football League and all games played by them that season were declared null and void.
92/93. Damon Searle.
93/94. Standard Liege.
94/95. Leigh Vick.
95/96. Carl Dale who, with 21 out of 41,managed to net more than 50% of the team's total number of league goals for a season.
96/97. Keith O'Halloran who was on loan from Middlesbrough.
97/98. Most draws in a season – we drew with all of those sides in both league matches.
98/99. Neville Southall (Torquay).
99/00. The only teams we beat at home in the league.
00/01. Three players were sent off.
01/02. City won two games by 7-1 (at Oldham in the League and against Rushden and Diamonds in the Associate Members Cup.
02/03. Richard Langley.
03/04. There were eight goals scored in a half in a City league match – half time 0-0, full time Sheffield United 5 City 3.
04/05. Tony Vidmar got sent off twice in the tournament (in the First Round at Kidderminster and the Third Round at Bournemouth).
05/06. Guylain Ndumbu-Nsungu.
06/07. The crowd of 20,109 for the game with Birmingham was the first 20,000 plus gate for a league match at Ninian Park since "Buchanan's match".
07/08. Jon Brown.
08/09. Tony Capaldi.
09/10. Gary Hooper for Scunthorpe.
10/11. Lee Naylor.
11/12 A couple of Mason shots were deflected in by Bristol City – the only instance of the opposition scoring two own goals for City since October 1963.
12/13. Shaun Batt of Millwall got the only goal of the game against Watford in the 83rd minute.
13/14. Seven from eight matches.