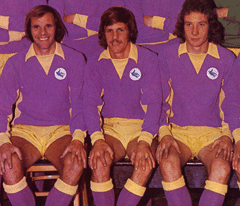 I did a piece on here in the very early stages of the World Cup saying it had, up to then, been the worst one I could remember (I have watched them all since 1966). Well, things improved a bit as the tournament developed as some fine games (e.g. Italy v Slovakia, Holland v Brazil and Germany v Uruguay) plus very good performances in certain matches by the likes of the Germans, Argentinians and Brazilians helped to take it above Italia 90 in my book, but I'm afraid that is the only one I would rate as worse worse than the tournament which ended last night with the Final that it probably deserved.
There were parallels with the Germany v Italy Final from twenty years ago as one side set out to stop the other playing using fair means or foul and it was only a goal late in extra time which stopped them going to the penalty shoot out which could easily have given them an unjust win. In 1990, Argentina (who had kicked their way to the Final) held on until Andreas Brehme's late penalty and then lost what little discipline they had completely as two players were red carded. This time around, a Dutch side who, while not being as negative and dirty as that Argentina team, were so much more functional and defensively minded than many of their predecessors, got to within four minutes of penalties before justice was done and, by then, they could and, perhaps, should have been down to seven men.
There is one way in which the 1990 tournament trumps South Africa 2010 though in that Gazza's tears gave it a visual image, to UK viewers at least, which is instantly recalled even now by those who watched it at the time – I can't help thinking that in a couple of decades time it will be the image of a harassed Howard Webb doling out yet another yellow card which will be the main visual memory of South Africa 2010.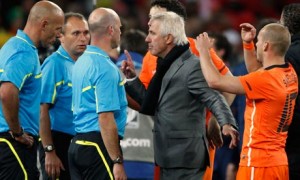 I get no satisfaction from saying this, but I found South Africa 2010 to be a real let down. Before the tournament, I had hopes that the fact that it was being played in what was mid winter for the host nation would lead to a competition which would see sides not being hampered by hot and humid conditions as they played at a higher, more energetic tempo but, sadly, the increased energy levels of teams did not result in attractive football – quite the opposite in fact.
So why was the tournament a disappointment? Everyone who feels the World Cup 2010 wasn't very enjoyable will have their own answers to that question, but I'll concentrate on two aspects. Firstly, although it became less of a factor as players got a bit more used to it as the tournament went on, the Jabulani ball still made very good players look idiots at times – Iker Casillas was almost caught by a ball which bounced ridiculously high when a Dutch player returned it to him after the Spaniards had put the ball out of play to let one of their opponents have treatment for an injury and, right to the end, well struck crossfield passes (which would have been excellent balls in any other tournament), were bouncing over the intended recipient's head and out for throw ins.
Secondly, I believe it's instructive to read Dutch coach Bert Van Marwik's after match comments. The part of them that will make the headlines will be the critical words about the referee where Mr Van Marwik , in true football manager/coach style, argues that Howard Webb could have sent Puyol off in the second half of the game while conveniently ignoring the fact that Van Bommel (yet again!), De Jong and Robben could all have seen red as well as Heitinga!  The interesting bit for me though was how the fear he had of Spain comes through in so much of what he says – all this from someone whose team had come from behind to beat Brazil in the Quarter Finals.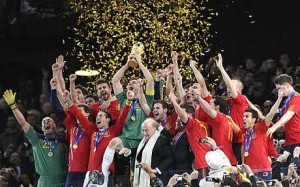 Now, I know that stopping the opposition playing is a very important part of the game and I wouldn't for one moment argue that this aspect of football should be ignored, but this is a tournament to find out the best team in the world, not the team who can stifle their opponents best  - in my view, far too many of the coaches at South Africa 2010 concentrated on stopping the opposition while forgetting or ignoring the fact that this is only doing half of the job. To illustrate what I mean, you only have to look at the system used by the majority of teams involved. Apart from a few dinosaurs who persisted with 4-4-2 (the only team England beat played that system!), the vast majority of sides played 4-3-3 (as Jose Mourinho calls it when his team play it)/4-5-1 (as virtually everyone else describes it), but it was how this system was implemented which defined South Africa 2010.
On 22 May, two teams won hugely important club matches using 4-3-3/4-5-1. In the afternoon Blackpool beat us by using the formation in an attacking way – although they only had one player acting like an out and out striker, they had three forwards in their starting line up as Ormerod, Taylor-Fletcher and Campbell were all used primarily as attackers with the influential Adam backing them up not too far behind them. On the other hand Inter Milan used two of their three alleged front men (Eto'o and Pandev) in withdrawn roles to beat Bayern Munich in the Champions League Final with both of them having plenty of defensive responsibilities.
Jose Mourinho is a very charismatic individual and it's impossible to ignore the trophies he has won in a great managerial/coaching career, but, especially when you consider the talent available when you work at the level of the game he does, his sides don't half play boring football and it was the Mourinho version of 4-3-3/4-5-1 which won out in South Africa rather than the Ian Holloway one. If you accept, as most, seemingly, do now, that playing 4-3-3/4-5-1 at the highest level means having a back four supported by two, central, holding midfielders, then you would think that the other four outfield players' main duties would be attacking ones. Unfortunately, that wasn't the case in the World Cup with many sides (including quite a few who were touted as possible winners) being happy to leave a lone striker completely isolated for long portions of the game – the increased energy levels through playing in lower temperatures I mentioned earlier being used up more by three of those four notional attackers I have talked about tracking back to check opponent's forward runs rather than them going forward to get level with or beyond the lone striker.
Still, at least the tournament was won by a team who always went out with the intention of winning the game rather than of stopping the opposition and at least the winning goal was scored by a proper footballer, but, truth be told, although they were deserved winners in my view, Spain were never the free flowing side which dazzled at times in Euro 2008 and four consecutive 1-0 wins tends to tell a story -Spain's brilliant midfield always ensures that they will get their fair share of the football during matches, but not many of them were too willing to get forward to support Villa (or Torres when he started).
After Italia 1990 the fact that it was felt by many that the balance between attack and defence had gone too much in favour of the latter was addressed by introducing changes such as the one which banned a goalkeeper from handling a back pass as well adjusting how the offside law was interpreted so that the benefit of the doubt went to attackers rather than defenders. Maybe there should be a similar attempt to try to make the game a more attractive spectacle after South Africa 2010 – off the top of my head, it's hard to think what this could be (after all you cannot tell coaches how they should be sending their sides out to play), but, perhaps, a system whereby anyone who gets a yellow card for foul play could also serve a five or ten minute period in the sin bin might see the Van Bommel's of this world become less influential?