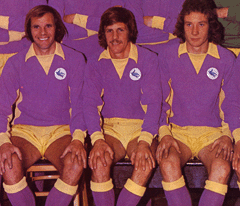 Shortly before City entertained Nottingham Forest ten days ago, our Academy side brought their season to an end with a 0-0 draw against Barnet at Leckwith. This was the club's ninth season at Academy level and there was a change this year as City were placed in a league with other Category Two sides (this link explains what a Category Two club is) . Previously, we had been placed in a league with the same teams every season and as this included clubs like Spurs, Villa, Reading, Watford and  Leicester (I'm pretty sure the first four are category one clubs now, while Leicester were very strong at this level and often won the league), I have to say that, having seen eight out of our ten home league matches this season, my impression is that the standard is lower than it was in our first eight seasons as an Academy club.
I'm grateful to Queens Park Rangers' official website for including  a pretty up to date league table for the Under 18 league we compete in (why can't our website do this?) . I'd say that just looking at the clubs involved would lead people to conclude that it wasn't as strong a league as the one we used to be in – trying to be fair, I don't think there's a huge difference in the standard and it's probably not right to jump to too many conclusions after one season. From memory, we finished in lower mid table in every one of the eight seasons we had under the previous system (I think we always finished between sixth and eighth in a ten team league) and so I suppose it could be claimed that it was more of the same this time around in terms of our playing record.
However, I don't remember many, if any, seasons where we lost half of our league matches  (and this in a league which I believe is a bit weaker than the one we were in don't forget), so I'm afraid 2012/13 was a far from vintage season for our Under 18's. It should be said mind that Declan John, Josh Yorwerth and new signing Rhys Healey were barely seen in the team this season because of their Under 21 team commitments and so City were hardly ever fielding what would have been their strongest team at this level – when Yorwerth and Healey did feature, Swansea were thrashed 6-1 at Cardiff City Stadium. Similarly, the team gave a Nottingham Forest outfit which reached the Semi Final a tough time of it before succumbing 2-1 at the City Ground in the Youth Cup.
So, you get the feeling that City could have done better if the object of the exercise was to win as many Under 18 matches as possible, but it also needs to be said that the likes of Kane Owen, Tommy O'Sullivan, Theo Wharton, Jaye Bowen  and Gethyn Hill (before he was badly injured half way through the season), who all played their parts for the Under 21's during the campaign, were available for most games and you would have thought that they had the ability and experience at this level to have enabled us to win more of them. That's one of the reasons why, although O'Sullivan especially looked  a very talented played at this level at times, I wouldn't nominate one of the "seniors" as my Under 18 player of the season – that goes to Brad Williams who pipped Ben Watkins to the award.
Just a couple more things about the Under 18's. Firstly, I understand why people at the club say that it is all player development at this level, but the thought does occur to me that, after nine seasons of pretty similar playing records and league finishes, there is an argument to say that Cardiff City's Academy has not advanced at the same rate as the senior side has during that period. Our first season as a club with an Academy was 2004/05 when we had our only relegation battle since we got back to the second tier in 2003, but we developed into one of the strongest sides in the Championship over the past five years, culminating in this season's success – the Under 18's have stood still while the senior side marched on ahead. It's to be hoped that our change of status will have beneficial effects when it comes to youth recruitment and development – Cardiff has produced arguably the most successful Premiership player ever, the man reckoned by many to be the World's third best player at the moment and the player who has starred at the top level for almost fifteen years before he came back to help his home town club to promotion in the last two decades and you'd like to think that, from now, City would at least be plausible contenders to sign similarly talented locally produced players in the future.
The second point is that maybe the Cardiff City class of 2012/13 isn't as bad as I've made them out to be. Although the club have not confirmed it yet, there have been messageboard reports that nine scholars have been offered pro terms by the club – this is far higher number than I can ever remember since we got Academy status. As I mentioned, nothing official yet, but, just by looking at Twitter messages, it looks pretty certain that Owen, Yorwerth and Hill have been offered contracts along with goalkeeper Dave Richards and striker Dane Griffiths.
Turning briefly to the Under 21 side, their place in the end of season Play Offs was confirmed almost a fortnight ago, but Charlton's 3-1 win over Millwall yesterday means that the South London side were able to complete a notable double by  winning the Under 18 and Under 21 leagues that we compete in. We finished runners up on goal difference and so will face the Champions of the Northern section, Leicester City (who included Martyn Waghorn, Jamie Vardy and Ben Marshall in the team which drew 1-1 with Forest yesterday). Looking at the last paragraph in this link  from Charlton's website, it looks like the Semi Final will be a one off away game, possibly at the Walker's Stadium, or whatever it's called these days, and, if we win that match, then I presume the venue for the Final would be decided on a toss of a coin?
Finally, we've only been a Premiership club in waiting for six days, but it's already obvious that the national media are treating us very differently – everyone now wants to have their say on Cardiff City! To illustrate what I mean, there's still eleven days of the 2012/13 Championship left (considerably more than that for the clubs who make it to the Play Offs) and yet the names of rumoured new players for 2013/14 are being chucked at us from all angles – here's a decent looking team and subs bench of "transfer targets";-
Bond (Watford)
Byram (Leeds)
Pearce (Reading)
Van Dijk (Groningen)
Bridge (Man City)
Williams (Palace)
Ramsey (Arsenal)
Ledley (Celtic)
Robson-Kanu (Reading)
Kalou (Lille)
Finnbogason (Herenveen)
Subs
Brayford (Derby)
Zamora (QPR)
Mackie (QPR)
Phillips (Blackpool)
LeFondre (Reading)
Eagles (Bolton)
Buckley (Brighton)
There's a fair few names there who I'd be very happy to see us signing, but I'd be amazed if something like 85% of our signings this summer will be domestically based players as indicated here.
* Picture courtesy of http://www.cardiffcityhouseofsport.co.uk/