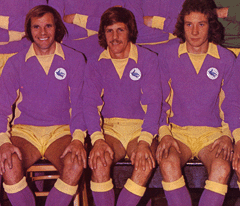 I've often heard it said by managers (probably ones who have gone into the league campaign without a win from their warm up games!) that it is performances not results that are important in pre-season friendlies. Despite a third win in five games as Athletic  Bilbao were beaten 2-1 at Cardiff City Stadium yesterday, I'm guessing Malky Mackay will have his fair share of concerns after a display which I thought did not bode too well for the journey into the unknown which is Cardiff City's first season of top level football in fifty one years.
If football was just about technique and passing, City could have taken a pasting because the difference between the two teams in those departments, especially in the first half, was pretty embarrassing at times. With a starting line up which only included one of the five newcomers (Steven Caulker) in it, there was a bit of a last season feel to proceedings and what I saw put me in mind of the Middlesbrough and Palace home games where we were under the cosh for long spells. The thing is though that we won both of those matches and, in managing to beat a team yesterday that were a lot better than us in some aspects of the game, we again showed the character, spirit and defensive resolution that were such important factors in our success.
There was some quality in our performance as well – Caulker defended impressively, showed a willingness to get forward in open play in the second half (he didn't do badly when he found himself in attacking positions either) and, unlike his defensive colleagues, was pretty tidy with his passing. Fraizer Campbell looked good as well, playing an important part in the opening goal as he picked out Peter Whittingham after bursting on to a ball played into the channels and he was also sharp with his all round play, but it was his goal after fifty two minutes which really took the eye. Campbell showed so many of the facets of a top quality striker as he raced on to a good through pass by Kimbo after Bilbao had lost possession in the City half, his pace took him clear off the last defenders and he then rounded keeper Iraizoz before rolling the ball into the net as the trailing centrebacks tried desperately to get blocks in.
In midfield Aron Gunnarsson lasted the pace well in his first game of the pre season campaign and broke up attacks with some crisp tackling during Bilbao's dominant spell in the first half. Kimbo came in for some rough treatment from the visitor's defence as he became more of an influence after the break and, if, as previously mentioned, we fell some way short of Bilbao in the technique department at times, no one in the Spanish side could have shown better technique than Peter Whittingham did in drilling home a first time shot from Campbell's astute pass just before half time.
Unfortunately however, although each of the three central midfielders had their moments individually, I don't think there was much evidence of them working well as a unit and, on this evidence, we need strengthening in this area. It's a good job therefore that a transfer deal to bring Sevilla's fifty one times capped Chilean international Gary Medel to Cardiff is 95% completed according to Malky Mackay in his post match press conference – in fact, the club now feel confident enough to say the transfer, for a club record fee reckoned to be around £11 million, has been confirmed subject to the granting of a work permit which, surely, won't be a problem. Twenty six year old Medel was in the Grandstand watching the game less than twenty fours after starring for Sevilla in their 3-1 win over Manchester United in Rio Ferdinand's Testimonial match at Old Trafford.
If the deal is completed, Medel will bring tigerish ball winning ability, fine defensive anticipation and a better than generally accepted passing game to Cardiff's midfield. It needs to be said as well that his seven red cards in two seasons in Spanish football and this video  show his confrontational side, while also offering the occasional sign that he can play a bit as well. If there was one club performance that Medel is famous for though it is this one  against Barcelona in which he makes two goal line clearances while also keeping Lionel Messi quiet for the ninety minutes – it was probably after that performance that Xavi urged Barcelona to sign the man with the wholly appropriate nickname of Pitbull.
Medel showed against Barcelona that he can win the ball cleanly and if he can do that against them, he can do it against anybody, but, if he does end up in a Cardiff shirt, we will have to display more creative ability than was on show against Bilbao because, apart from the two goals, there was very little to show in terms of an attacking threat – an otherwise quiet Craig Bellamy knocked over a dangerous cross early on that had to be fisted away by Iraizoz and Ben Turner controlled a John pass well before firing not far over just before Whittingham's goal, but there was nothing else to unduly worry Bilbao.
The capacity to "win ugly" served City well last year and I think they will go a long way towards retaining their status if they can carry it on into the new season, but I don't think they can just rely on grit, character and defensive organisation allied to a fairly large slice of the sort of luck like they had yesterday – with the squad we have at the moment, the responsibility for creative play falls on the likes of Whittingham, Kimbo and Bellamy and we'll need more in that department from them (or, hopefully, a couple more players in who are capable of providing the flair that we, arguably, lack at the moment) than we saw yesterday.
* picture courtesy of http://www.walesonline.co.uk/