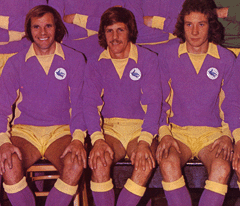 If the home team had been able to hang on to their lead on that muddy pitch at Chasetown then I suppose the 2007/08 season would have been seen as a disappointing one with only a much improved second half to the league campaign and the emergence of the precociously talented Aaron Ramsey to remember it by. Instead of that though, the aforementioned Ramsey put in a man of the match performance in his first start for the team and the amazing adventure which ended with us going all the way to the FA Cup Final had begun – and, despite all the talk from critics of Dave Jones in particular about us not having to beat anyone special to get there, it was a fantastic achievement by the team.
The summer of 2007 had seen City spending big in their bid to return to the top flight for the first time in nearly half a century. If this wasn't reflected in the size of the transfer fees, then it certainly was in the size of the wage budget as Scots Steve MacLean and Gavin Rae were recruited on Bosman free transfers with other interested clubs reportedly unable to match the sort of wages City were prepared to pay. Within a month or so though, all of that appeared pretty small beer as former England Internationals Trevor Sinclair and then Robbie Fowler arrived on frees and when they were followed within a week of the season starting by Jimmy Floyd Hasselbaink, then the squad had been transformed not only in terms of personnel, but also in respect of a wage bill that had risen by almost 50%.
Hindsight has made Peter Ridsdale's comment at the time about Fowler being his greatest ever signing look ridiculous, but, to be fair to him, there were many who went along with him at the time as the early games of that season saw what seemed to be thousands wearing "Fowler 8″ or "God 8″ shirts in the crowd (wonder where they are now!). I'll willingly admit that I was overjoyed by the signing of Fowler because I hoped it marked the onset of a new era for the club but I would qualify that by also saying that I recognised the possibility that we could be buying a very expensive injury, riddled dud and I am pretty sure that I wasn't the only one to start thinking that way after watching his twenty five minute "cameo" against FC Twente in the pre season friendly which saw Fowler's first appearance in a City shirt.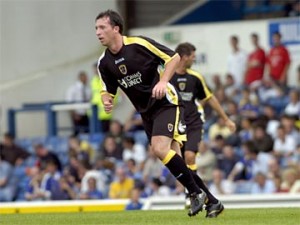 Although Fowler had his moments in the early weeks of the campaign (once he had finally got himself something like match fit that is) and Trevor Sinclair always tried his hardest when available, the two of them (along with MacLean) spent more time on the treatment table than on the pitch during their time with Cardiff. As for Hasselbaink, he occasionally offered a reminder as to what a formidable player he had been in his pomp while doing a decent job overall, but was he really worth what we were paying him? No, when the City finally started to play to their potential in November after Dave Jones had, seemingly, been given two games to save his job following an awful 3-0 beating at Charlton, it was almost entirely off the back of the efforts of players who were already here like Ledley, Parry, Johnson, Loovens, McNaughton, Gunter, McPhail, Ramsey and Thompson before the jump in the wage bill.
A run of just two defeats in fourteen league matches around the turn of the year turned what had been a relegation struggle into a challenge for a Play Off place, but, from February onwards a squad that was, perhaps, increasingly distracted by thoughts of Wembley, were too inconsistent to carry that pursuit of a top six finish right through to the end. Therefore, when Barnsley brought Ninian Park's penultimate season to an end in the last league match of the campaign, there was little riding on the game.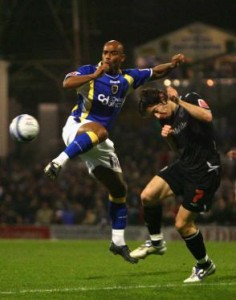 Actually, Barnsley must have needed this game like they needed a hole in the head, their league season had been like City's but in reverse as former Swansea player Steve Davey's side, which relied heavily on foreign imports, were up there challenging for much of the time only to fall away so badly in the New Year that they had only made sure of staying up the previous week when Charlton were beaten 3-0 at Oakwell. Like City, it was in the FA Cup that Barnsley had made their real impact with superb wins over Liverpool and Chelsea helping to take them all the way through to the last four and a Wembley Semi Final – now their team and supporters faced the prospect of having their noses rubbed in it by the very club who had pipped them for that Final place in a very tight match won by Joe Ledley's spectacular early volley.
Barnsley's performance that afternoon bore all the hallmarks of a side who would rather have been somewhere else. As the first half went on City's dominance grew until Paul Parry (who was needing to prove his fitness for the Cup Final after being out for more than a month) scored with a crisp shot from just outside the penalty area two minutes before the break.
Once ahead, City went on to enjoy themselves in the second half, Kevin McNaughton doubled the lead, as well as the number of goals he has scored for City, when visiting keeper Luke Steele made a right mess of his cross and ended up knocking the ball over the line before the onrushing Joe Ledley made sure that there was to to be no doubt about the validity of the goal. Having missed out on his goal then, Ledley capped off what is still the best league season of his career when, having switched to left back in a reorganisation which saw Tony Capaldi withdrawn, he calmly side footed home from about ten yards to make him the club's joint top scorer for the season with Paul Parry on eleven.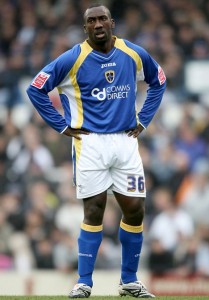 City could have added further goals against disinterested opponents, but, perhaps with what was to come at Wembley in thirteen days in mind, took things pretty easily after that and at the end of the game enjoyed the applause of what now strikes me as a very poor crowd of 14,469 which meant that for every one City fan you saw that day at Wembley who were at the Barnsley game, there almost another two there who weren't – it was ever so with our club I suppose.
A couple of other things before finishing, firstly it was pretty obvious after this game that Aaron Ramsey wasn't going to start against Portsmouth – I am not the only City fan who says that was a mistake by our manager and that is not being wise after the event because there were plenty like me who were saying in the build up to the Final that he should replace Hasselbaink who had struggled in the earlier visit to Wembley for the Semi Final. Secondly, you look at the financial mess we are in now and wonder how did getting to the FA Cup Final help us off the pitch? It didn't contribute to us getting the new ground (work on that had already started about six weeks before we faced Portsmouth) and it certainly didn't provide the funds to stop us selling Loovens and Ramsey within a few months – at what increasingly looks like a knock down fee in the latter's case.
4 May 2008
Cardiff City 3 (Parry 43, McNaughton 49, Ledley 63) Barnsley 0
City Enckelman; McNaughton (1), Johnson, Loovens (Purse), Capaldi (Ramsey), Whittingham, Rae, McPhail, Ledley (1), Hasselbaink,  Parry 1 (Thompson)
Barnsley Steele; Van Homoet, Souza, Nayatanga, Kozluk (Togwell); Campbell-Ryce, Hassell (Adam), Butterfield, Leon; Macken, Ferenczi (Mattis)
HT 1-0
Att. 14,469