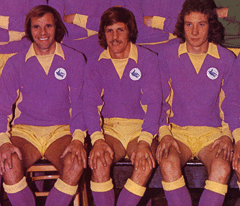 I suspect that many of the regulars on here will know Mark, who died in the last day or so, but, if you do not, then I call tell you that he was the salt of the earth and that the collective Cardiff City knowledge of the club's supporters has probably dropped by a few per cent as a result of his passing!
Here is the message I posted in the thread about him on the City messageboard I use.
"That is awful, shocking news. I met Mark a few times and can only echo your description of him. If you fall into the category of someone who knows the name, but cannot put a face to it, Mark is the City fan sat on the right (the one who does very well in answering questions from 82/83) in this video which was posted on here a few days ago.
http://www.ccmb.co.uk/showthread.php…-Not-Like-That
Mark also wrote this book
https://www.amazon.co.uk/Our-Ninian-…/dp/0957205503
back in 2012 and a very good read it was too,
I'm sure that most on here will have come across Mark at sometime or other at a City game or club related event – this news has certainly taken a lot of the gloss off yesterday's very good win for me.
Heartfelt condolences to Mark's family and friends.
RIP to, as Steve says, a top, top bloke who was no age at all."