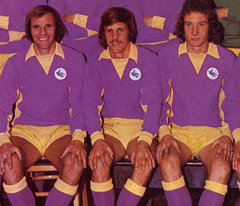 When it was reported that staff at Cardiff City had not been paid at the end of February 2005 because of a "clerical error" hardly anybody seemed to notice and amongst those who did, the reaction was probably along the lines of "another cock up then, same old City". However, as the match with Sheffield United on Saturday 5 March drew closer things took a more serious turn with yet another delay being announced to the start date for work on the new ground scheme and news that auditors had been brought in to review running costs.
Speaking for myself though it was in the early hours of "Black" Friday 4 March when I really realised that something was seriously wrong at Cardiff City. I woke up at about 2  o'clock, had a pee and then had what I thought would be a quick look at the Cardiff City.com messageboard. There's a term "Car crash television" which refers to a programme that you know you shouldn't watch but you just can't help yourself as you end up watching it from beginning to end, well this was the messageboard equivalent with all sorts of horror stories regarding what was going to happen to my club having been posted in the four hours or so since I had last looked on there.
Long term users of the messageboard in question get used to claims of impending doom made by sad attention seekers after a while, but, given other events over the previous few days, this time they had the ring of truth to them. I did not go back to bed that night, I spent the next few hours reading and posting messages on the board and I can remember that I had plenty of company on there that night.
I went into work on Black Friday half expecting to hear news of the club going into administration or worse sometime during the day but I had already become certain that captain Graham Kavanagh's time at the club had come to an end – the messages on the board were so persuasive that it didn't come as any shock at all when the news broke that Kav had been sold to promotion chasing Wigan for an initial fee of £350,000 which would increase if his new club made it to the Premiership at the end of the season (thankfully for us, they did).
Kav, who was spirited away in a helicopter in the morning for his rendezvous with Wigan, had to be sold to ensure that the wages got paid and to give the club a chance to keep on trading, but, there were none of the usual bland statements you get when players involved in "normal" transfers from our captain – he made his annoyance clear and it was reported that he was in tears when he was first told that he would have to be sold. At that time, it seemed Kav would be the first of many to leave the club in the following days and there was all sorts of speculation regarding players such as Danny Gabbidon, James Collins and Peter Thorne.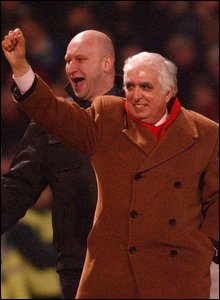 Black Friday ended with Sam Hammam meeting a group of fans and declaring that he had been a "buffoon". Supporters were far more imaginative than that though with some of the descriptions they applied to the man who, only a week earlier, they had seen as a hero – however, if Friday was bad for Sam Hammam, it could be argued that Saturday was even worse.
Saturday dawned with no more players having been sold but, with timing which would have been hilarious in better circumstances, details were released of the horrific set of accounts that had been filed with Companies House a few weeks earlier. In the three seasons since he took over, Cardiff City's debts had risen under Sam Hammam  from £3 million to £29 million, but worst for me was that the man in charge of the whole shambles was claiming hundreds of thousands of pounds a year in "consultancy" fees! So, seven months after he was still telling us that there was no way Rob Earnshaw would be leaving the club and six weeks after he was telling us that the new ground scheme had cleared it's last hurdle, Sam Hammam was now in charge of a club on the brink of administration.
Under the circumstances, it was easy to forget that there was a game to be played – although the club's immediate future was unclear, the consequences of relegation were too awful to contemplate now for City while Sheffield United came into the game in eighth position, three points off the play off places, but with games in hand on their rivals and owners of a very impressive away record.
Sam Hammam decided to forego his seat in the Director's box and instead sat in the City dug out for what was a very important game (he was to stay for no more than an hour of the game but it was probably just a coincidence that City improved so much after that!) . However, in bright, but very cold and blustery conditions, good football was virtually absent during a first period in which the visitors made little use of the elements being in their favour. City did come close when keeper Paddy Kenny mispunched  a Richard Langley cross on to the bar, but it was Peter Thorne's substitution around the quarter of an hour mark which proved to be the main talking point. In the prevailing circumstances it was hardly surprising that many wags spoke of helicopter engines being started up as Thorne left the pitch, but the prospect of our leading scorer having been taken off to avoid an injury which would knock a pre arranged transfer on the head did not seem too far fetched – as it turned out though, Thorne had felt a twinge in his hamstring.
With midfielder Lee Bullock and teenager Cameron Jerome forming a makeshift attacking partnership, City had struggled to create anything in the first half, but in the second period they were transformed as they put Sheffield under continuous pressure. Considering what was happening at the club, it is hard to think of too many times when I have been prouder of a City team than I was during that second half – the football they played wasn't anything brilliant, but there was a resolution and determination about them that better sides than Sheffield United would have struggled to overcome.
With man of the match Jobi McAnuff causing all sorts of problems, Bullock came close on a couple of occasions, but, although time was running out, it just felt as if City were destined to score and that is what they did fifteen minutes from time when McAnuff's low cross was half cleared to Joe Ledley who crashed the ball home from eight yards.
That it was the local boy who had got the goal on this of all days only added to the feeling that there was something pre ordained about the goal and as Ledley ran to the Bob Bank side of the pitch to celebrate with virtually the whole City team, the crowd response was that bit more passionate than normal.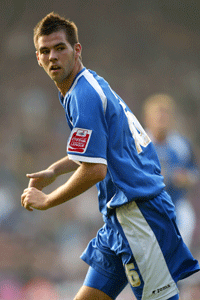 City were never going to be caught after that and Langley wasted a good chance to double the lead before the final whistle brought celebrations from the crowd that this time including more than a few tears along with the cheers as they rose to a team which had, largely, under performed throughout the season. However, on that afternoon those players had shown that, despite the bungling in the Boardroom, they were going to do all that they could to keep Cardiff City in the Championship while they were still at the club.
Truth be told though, I think most supporters fully expected many of the team to be gone by the time City played again, but the anticipated sales never came as a loan from the player's union the PFA helped them to see the season out. Indeed, City angered some of their relegation rivals by bringing in Neil Ardley from Watford (who was a big success) and Michael Boulding (who was far from a success!) from Aston Villa on loan deals that had people like Gillingham Chairman Paul Scally asking, with some justification I thought, how a club that got a loan from the PFA to avoid administration could afford to make such signings.
For me, it was Ardley who scored the most vital goal of that season when his second half free kick got City a point at relegation rivals Leicester, that was followed up by a 2-0 win over promotion candidates Reading at Ninian Park which, with other results going in their favour, virtually secured their place in the Championship for another season. Survival was guaranteed with a game to spare a week later when Paul Parry's header got us another point at Gillingham, but, the severity of the financial situation became apparent over the following weeks as Gabbidon, Collins and McAnuff were all sold to raise funds and Thorne left on a free for Norwich in a bid to cut the wage bill.
There had been some contact between Sam Hammam and Peter Ridsdale before the severity of the financial situation became apparent to supporters, but when it was announced during the dark days of March that our owner's response to the crisis was to hire the man largely held responsible for bringing Leeds United to their knees, I don't think I was the only City fan who reacted with derision.
However, although I still wouldn't consider myself to be a fully paid up member of his fan club, when you consider where we were five years ago with where we are now, you have to admit that both Peter Ridsdale and Dave Jones have got something right somewhere along the way.
5 March 2005
Cardiff City 1 Sheffield United 0
City Aleaxander; Weston, Collins, Gabbidon, Barker; Langley, Inamoto, Ledley (1), McAnuff; Thorne (Bullock), Jerome (Fleetwood) Subs not used Warner, Vidmar, Williams
Sheffield United Kenny; Morgan, Culip, Bromby; Geary, Montgomery (Quinn), Jagielka, Liddell (Francis), Harley; Gray, Beckett (Kabba) Subs not used Barnes, Thirlwell
HT 0-0
Att. 12,250