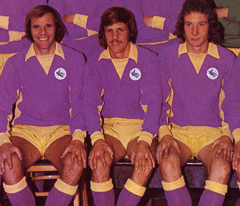 Well I woke yesterday, turned on my computer in the morning, went straight to my favourite Cardiff City messageboard and one of the first messages I read was from a respected poster who tends to be right about these sort of things saying that, even if we overcome the current winding up order from HMRC next month, Cardiff City Stadium (which, as far as I can gather is effectively Cardiff City FC when it comes to this sort of thing) are going to face another one in April from a company claiming that we owe them several hundreds of thousands of pounds for unpaid bills relating to the catering equipment used in the stadium. I take it that this is separate to the mysterious "fitting out" costs of anything up to £7 million for the new stadium claimed to be owed by the football club?
Still, it was a match day and at least there would be some football to take my mind of our financial woes. In fact, there were two City games to watch. At midday (actually a bit later than that because the game didn't kick off until about 12.15 for some reason) the Academy team took on Aston Villa at Leckwith and, following their dismal 5-1 trouncing by Spurs a fortnight ago, turned in a far better showing against another Premiership side's Under 18s only to end up losing again.
This time though the margin of defeat was only 1-0 and, over the ninety minutes, the City youngsters could count themselves unfortunate not to have ended up with a draw. After an ominous first ten minutes which saw a lot of Villa possession and pressure, City went on to dominate the rest of the first half with only a quick break down the City's left by the visitors which led to their left winger meeting the cross with an angled shot which hit the outside of the upright representing a threat to their goal during this period. By comparison, City forced plenty of corners and from one of them Ibby Farah had a fine volley turned aside by the Villa keeper, from another Nat Jarvis was foiled by some last ditch defending and there were also a couple of clearances off the line by the hard pressed Villa defence during this time.
For a while, it looked as if the second half would see more of the same as Jarvis' well struck effort from outside the penalty area was deflected just over the bar, but Villa then began to turn the tide as they started to retain the ball better and they scored the only goal around the hour mark when their tiny, but skillful, number ten found the centre forward who made a bit of room for himself being firing past Reece Ottley from about ten yards. After that, City were never able to raise their game to first half levels and it was all quite comfortable for Villa. There was a free kick from captain Jon Meades which drew a save from the Villa keeper and a header just wide from a corner, but it wasn't to be for the City and it needed a great tackle by Meades and a fine save from Ottley from the follow up to keep the losing margin down to one (although, truth be told, Villa never offered too much of a goal threat throughout a game in which Meades, Jarvis and right back Luke Cummings were the stand out City players for me).
Still, the Academy game was just the starter, there was still the main course against a Barnsley team that had lost it's last three matches to come, but after about twelve minutes it had become obvious that the fare being provided was going to be flat, stodgy and bland. Twelve minutes was all it took for Michael Chopra to first almost knock the ball out of the ground from about four yards out as City started brightly and then be given a lesson in the art of finishing by Barnsley's Maltese International striker Daniel Bogdanovic with the second of his goals especially being beautifully tucked away.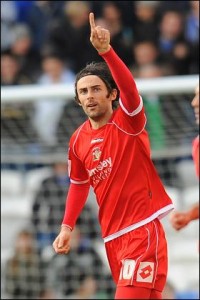 In saying that though, Bogdanovic was certainly helped along the way by some awful defending by our centrebacks as two very ordinary looking high balls through the middle left him clear on goal both times. After the West Brom match I argued that our current lack of inventiveness in central midfield might make a long ball approach our best attacking option, well having seen those two goals yesterday and Drogba's goal last week, it seems that Gabor Gypes in particular is struggling to cope with straightforward looking long high balls down the centre of the pitch, but, then again, I suppose most Championship central defences are better organised than ours has been lately.
City never really suggested they could come back in the rest of the first half as Chopra's shocking early miss remained the closest we came to a goal in the opening forty five minutes, but it was typical of the way the game was going that on a couple of occasions when City were showing some promise going forward, the ref got in the way to slow things down.
After the break though, the team at least showed some attacking urgency for a while with the woodwork being hit twice and visiting keeper Steele being forced into some good saves, but after Gavin Rae's effort stayed out after hitting the underside of the crossbar, it was if both fans and players realised it was going to be one of those days – I'm still trying to work out quite how I didn't see either of the two City teams I watched yesterday find the net!
That said, although you got the feeling that if they could have scored during that five minutes when they really had Barnsley under the cosh in the second half City would have got something out of the game, they didn't deserve anything from it really as they gave a tired and lacklustre performance which strongly suggested that playing the same players (some of whom's fitness was at least questionable) game in, game out had finally caught up with them. It can only be hoped that having just the one match in the next two weeks will enable a few players to get fit and for some batteries to be recharged for a March programme which, frankly, looks too much for our overstretched resources to cope with.
I think the normal "we were shit" comments that we see after every defeat are particularly harsh in this case. Since the turn of the year, the players have done supporters proud with the effort and commitment they have shown in the face of injury, illness and off field distractions and perhaps those so quick to have a go at Dave Jones and his players should consider the following before being too critical of what happened yesterday.
In the four matches we have played in the Championship since the January transfer window closed, the opposing teams have had a total of NINETEEN players they recruited last month in their squads and, as Peterborough have brought another one in since they played us, we are on average facing sides who have five new players available whereas we have to continue on with an already far too small squad which is missing three first choice players with medium to long term injuries.
That is what we are having to compete against week after week and that is why it was particularly galling to hear our Chairman telling the nation what a fantastic job he is doing in his interview on Five Live yesterday. I'm sure that if it is true that there is another winding up order to come in April, Mr Ridsdale will already have worked out what sort of spin to put on that story and, if the questioning is as bland as it has been from different BBC employees in the past week, I am sure outsiders will be convinced by what he says. However, if you are unfortunate enough to be a supporter of one of the three clubs he has been associated with, you will know that they are just mere words – the reality is quite, quite different.