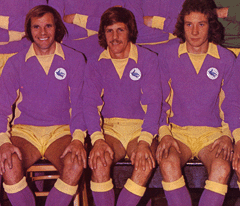 As the City side ran towards the Canton Stand just before kick off yesterday, I gradually realised that, apart from the predictable recall for Andrew Taylor after suspension in place of Declan John, we were facing mighty Manchester  City with the same side that had lost at West Ham in their first ever Premier League match eight days earlier. This prompted me to mutter "I don't like the look of this team" to no one in particular, but I took the lack of dissenting views to mean that the people sat around me agreed.
After all, that one change aside, this was the same side that had, according to much of the media and a fair cross section of the Cardiff support (myself included), provided the Hammers with a nice, gentle introduction to their Premier League campaign with a display that, for some of the team anyway, brought to mind the term "rabbit caught in the headlights". With a lone striker who must have wondered if he had a body odour problem as no colleague seemed to want to get within twenty yards of him, City did a passable impression of an outfit which didn't really think they belonged in the self styled greatest league in the world and Malky Mackay's tactical judgement was questioned by all and sundry with one member of the local media saying he looked "rattled" at his post match press conference.
From the moment though that City broke fluently down the right within seconds of the kick off to create a position whereby Fraizer Campbell unsuccessfully claimed a penalty, this was a different City team to the one seen at Upton Park – most of the names might have been the same, but this time they were disciplined,assured and showing more attacking intent.
As the minutes wore on and Manchester City found it hard turn plenty of possession into a meaningful threat on the Cardiff goal, so a couple of things became clearer – far from being the embarrassing of an outclassed team that many had predicted, this was actually a very competitive match with City nipping in to win tackles when possible, but, for most of the times showing an admirable team ethic and organisation with every outfield player fully cognisant with the role given them.
The second thing that began to dawn on people was that if Malky Mackay had got it wrong at Upton Park tactically, he had most assuredly got things right for the first top flight match played in Cardiff for fifty one years. Aron Gunnarsson and Gary Medel effectively blocked up the areas through which Man City like to build their attacks by sitting in front of the excellent Caulker and the very good Turner, Kimbo was playing with as much defensive responsibility as I've ever seen him do and, with Navas and Silva tending to come infield, Craig Bellamy and Peter Whittingham were able to help Matt Connolly (far more solid here than he was against West Ham) and the composed Taylor keep Clichy and Zabaleta a lot more quiet in an attacking sense than they are normally.
With his nine out field colleagues all having their share of defensive duties to perform, Fraizer Campbell was again an isolated figure up front at times, but, having done well at West Ham with the scraps he had to feed off, the striker was able to cause the visitor's makeshift centreback pairing of Lescott and Garcia no end of problems and could easily have scored twice in a vibrant first half performance.
City had succeeded in getting in the faces of their illustrious opponents, but had done so with a discipline which saw them only concede two free kicks for fouls throughout the whole match. Not only that though, they had cleverly been able to take advantage of the absence of a Medel type player in the visitor's midfield when they were able to get men forward to assist Campbell, while also causing the Man City rearguard problems when they went for a more direct approach – City's best chance of the opening forty five minutes came when Garcia misjudged a long clearance by David Marshall and Joe Hart had to make a smart save to deny Campbell as he broke clear.
Half time came and went with me, frankly, not quite believing what I had seen in the first half – City were level at 0-0, but they weren't hanging on to that scoreline, they were the side more likely to change it. The minutes immediately after the interval saw more of the same, but there were the first few signs of a few City players beginning to feel the awesome shift they were having to put in to match their opponents all over the park.
Still, it looked like the match would end up as one of those decided by the first goal rather than the five goal thriller it turned out to be and so when the visitors broke the deadlock, I think there were many who just assumed that it was game over (after all, who really thought we would actually score against Man City?). When the goal came, it was not through our opponents passing their way through us, but because of a superb finish from distance by someone who showed why his club had paid £27 million for him.
Malky's tactics had not been found out in any way by that goal and now we entered the most amazing part of an incredible occasion with Kimbo coming to the fore as City only went and scored a truly superb equaliser! On an afternoon when a few myths were disproved, our equaliser should surely see the end of accusations that our manager is just a long ball merchant – from  Peter Whittingham doing well to gain possession near our left hand corner flag. to Kimbo receiving the ball from Whitts, some thirty yards out from goal on Man City's left, we put together sixteen passes to get ourselves into a position where our South Korean international burst past four opponents in the sort of run which none of the superstars in Man City's ranks were able to match yesterday. Campbell must have wondered what he had to do to score as Hart blocked his effort from point blank range from the resultant cross, but Gunnarsson, in true box to box midfielder style, was there to sweep in from about five yards out and City had scored their first ever Premier League goal.
As I mentioned before, City actually scoring just wasn't in the script for me and,as I was still struggling to comprehend just what I was seeing, I found myself thinking, well "I don't mind if we go on to lose now, that goal is enough for me". Thankfully, that sort of thinking is an anathema to our manager and players, but, once the adrenalin boost they got from scoring had subsided, the team began to look very tired indeed as the pressure from the visitors became incessant. With a quarter of an hour to go, it seemed certain that the best we could hope for was to cling on to what would have been a fantastic 1-1 draw, but within three minutes there'd been a third goal – the only thing was it was Hart fishing the ball out of the net not Marshall!
Once again, Kimbo played an important part by slipping past his marker and freeing Bellamy down the right. Our captain was out on his feet by now, but did really well to earn a corner and now it was time for another myth to be disproved. Now, I admit this one is I think one of my own making and it says we won"t be anywhere near as successful in terms of scoring from dead ball situations as we were last season. However, a brilliant dead ball delivery by Whittingham is a brilliant dead ball delivery by Whittingham in whichever division it is played and, having suffered because of their lack of a midfield tackler for the first goal, Man City were now let down because their defending of set pieces on the day was no better than the many Championship teams who conceded goals to us last year – Hart flapped, Zabaleta lost his man and Campbell caused pandemonium by shouldering the ball in from about two yards out.
Now it was back to the siege on our goal, but Kimbo was able to earn a free kick deep in our own half which was turned into a throw in and corner by some Whittingham sleight of foot. This time the corner was left to sub Don Cowie who could have been a right footed Whittingham as he curled the ball in for the by now rampant Campbell to power in with his head – this was getting ridiculous! The remaining ten minutes (including a nerve jangling six minutes of added time) were more like the game was supposed to be with Man City now being able to get past very tired opponents to create dangerous positions for themselves, but the goal they got to give them hope came from a pretty routine cross which sub Negredo nodded in expertly after getting away from Turner.
Somehow we survived until the final whistle (I mean me there not the team!) and Malky Mackay could look back on what has to be the most satisfying ninety minutes of his managerial career so far. Tactically, he got it spot on (thereby ending the myth that this facet of the game is a weakness of his), but our manager must be a hell of a motivator too – he is the first City manager I've seen whose natural home is the top level of the domestic game.
Of course, a fine manager can only do so much without quality players to back him up and there were fourteen heroes out there for Cardiff yesterday. Actually, that's not strictly true because David Marshall has had busier afternoons playing against the Barnsley's and Doncaster's of this world than he did against Manchester City – perhaps that's the greatest tribute than can be paid to those who protected our goal in front of him.
So, what does yesterday tell us about how our season will pan out? The first thing about that I'd say is that I've always been concerned about our very tough first seven home matches from the moment the fixtures were announced back in June, but have also felt that if we could get a positive result from one of the first three of them (Man City, Everton and Spurs) then it would completely transform the way Cardiff would be looked at by the other nineteen sides in the Premier League. They now know that a visit to Cardiff City Stadium will not be a cakewalk – at home at least, Cardiff City as a team, and a group of supporters, now feel we belong at this level.
That's not to say there will not be tough times ahead – you only have to look at Burnley beating Manchester United in their first home game after promotion in 2009 to know that a win over the team many hacks were handing the title to after just one game does not guarantee safety. Although we were so much better at supporting Campbell yesterday, he still has a huge workload and we need some players who can get up to and beyond our lone striker more quickly than we are doing at the moment – I also cannot see how any group of players can keep up the intensity and energy we saw yesterday for the course of a whole season (that said, we, hopefully, won't have to spend as much time without the ball in most of the matches we play from now on).
As for where yesterday's match stands in any list of great City matches down the years, it's got to be right up there near the top. The difference is though that Leeds, the Cup Finals, the Play Off Final, Real Madrid, Hamburg, Spurs, Man City in 94  were all one off's so to speak – there has to be a chance that we can do something similar, or even better, in a few weeks or months down the line this time.
Finally, there is of course another reason why yesterday lived up to all of the hype and then some. The last myth to be nailed was the one that Cardiff City Stadium is not an atmospheric sporting arena – that was as good as, if not better than, anything I've experienced before at Ninian Park. People say that the sort of players Man City have would not be affected by the sort of atmosphere they encountered yesterday and they are probably right, but I wonder if there were one or two of them wishing they were elsewhere when they faced up to the second of those corners with the Canton Stand baying behind them? Now, I'd like to claim that it was my entreaty to supporters to support the boys and make some noise in my new South Wales Echo column last Wednesday which galvanised our support for yesterday, but I know better than that! Cardiff City's support is as noisy as any you come across at any ground in the country when the mood takes them and it certainly did yesterday – let's ensure that it wasn't a one off for this season.
* pictures courtesy of http://www.walesonline.co.uk/