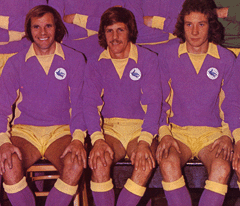 So, after writing "forget the fact that there are still fifteen points to play for, we are down now and, in all likelihood, we will be finishing bottom of the league." last weekend following the absolutely woeful 3-0 defeat by Crystal Palace, am I prepared to reconsider those words following City's hard fought 1-0 win at St. Mary's over Southampton yesterday?
I'll answer that in two parts. Firstly, I'm prepared to concede that I may well be wrong about us finishing bottom of the league – Sunderland, who are now four points behind us with two matches in hand following the 1-0 home loss to Everton, will have played at Manchester City and Chelsea by this time next week and so, you have to believe that the distance between them and the rest of the division will, at best, be the same as it is now. Although their last four matches will offer them some hope in that they include games at the Stadium of Light against three sides in the relegation battle, Sunderland's home record against teams in the lower half of the table is pretty awful and I reckon they'll have too much to do to prevent relegation in twentieth place.
The second part of my answer is a little more complicated – I still think we are going down, but I would be foolish to believe that an away win against a team that has taken points off three of the current top five this season means that the outcome of our campaign may not quite be as straightforward as I thought it would.
What gives greatest hope I suppose is the fact that two of our four remaining opponents have nothing much to play for – granted, Stoke are in fine form and will be tough opponents next week, while free falling Newcastle have the talent within their ranks to beat anyone in the league on their day, but I'd like to think that City will have that extra bit of desire that might make a difference if they can remain in the game going into the last half an hour against these teams. Sunderland will be a real dog fight, no doubt about that and I still don't think we want to go into the game with Chelsea needing to avoid defeat, but, all of a sudden, getting to, say, thirty six points doesn't look as impossible as it did last week.
Perhaps it was that little bit of extra desire that proved crucial yesterday? Whatever it was that enabled us to chisel out a so valuable three points, it was ironic that the tactical approach that put us in the position to get them was straight out of the Malky Mackay book of how to win football matches!
At the back end of last year Malky Mackay was not only under pressure because of his ongoing feud with Vincent Tan and results which had left us too close to, but not in, the bottom three. Besides that, he was, incredibly in my view, feeling the heat because some City fans, many of whom said little or nothing about our former manager's pragmatic brand of football during the previous season when we were winning a title, had decided that they now wanted to be entertained as well as see their team survive in the Premier League.
Indeed, when Mackay was finally dismissed after Southampton had taken his team apart at Cardiff City Stadium on Boxing Day, we were told that that one of the reasons the man who had taken us to the most prestigious honour (in league terms at least) that we had won in our history had gone was that he was too boring.
For a little over three months, Mackay's successor had tried a variety of formations and approaches and had, largely, failed to provide the results we needed. The entertainment factor under Ole Gunnar Solskjær had been a little higher than under Malky Mackay in my opinion, but, apart from a deserved win over Fulham and a lucky one over Norwich in basement battles, the victories we needed resolutely failed to materialise – mainly because the down side of that bit more attacking threat we carried was a defence that was conceding around two and a half goals a game on average.
Now, I'm not saying that Ole had followed an all out attacking approach up until yesterday (the three at the back formation first used at Spurs was a recognition that we could not go on conceding at the rate we had been), but it is quite revealing that the best result of his reign so far was achieved on the back of a team selection and tactical approach that cried out solidity in a match that was labelled by most as a must win one.
The recall of Peter Whittingham to provide two sitting midfielders in front of a back four was, essentially, a defensive move and, with Kimbo and Mats Dæhli in the wide areas having to concentrate on covering their full backs for much of the opening forty five minutes especially, Fraizer Campbell was as isolated up front as he had ever been under Mackay as Jordon Mutch's chances of providing the striker with the support he needed were curtailed by wave after wave of Southampton pressure.
Although the tactics used were similar, perhaps the differences between the managerial philosophies involved were seen in the team selections. Although Dæhli (who, unlike so many in our team, does not give the ball away for fun) did a decent defensive job overall on the left, Kimbo struggled at times to give Kevin Theophile-Catherine much effective support down the right. With the Frenchman generally defending quite well and Fabio (who was very careless in possession at times) coping better than I thought he would with Ricky Lambert's habit of drifting into positions where he was jumping against him rather than one of our centrebacks, the defensive shortcomings of our two wide midfield players didn't cost us as much as they may do on another day if we go with the same outlook and personnel.
Overall, I do believe we'll need to show a bit more quality than we did yesterday if we are going to get to the thirty six/thirty seven point mark because, certainly during the opening forty five minutes, it seemed to me that we stayed in the game more by luck than judgement. Southampton have been an entertaining and accomplished side this season and I believe most teams would have struggled to contain them in that first half – dare I say it, but did a degree of complacency on the home side's part have something to do with our win?
Going back to the Boxing Day game between the two sides, it was, to all intents and purposes, all over in twenty seven minutes as the visitors netted three times. If anything though, yesterday's opening period was even more one sided than the one at Cardiff City Stadium had been because, with Gary Medel, seemingly still suffering from a virus that has affected him recently, we looked much slower in mind and body than the Saints. Some good saves by Marshall, the woodwork and some last ditch blocks ensured we got to half time at 0-0, but we are going to have to play better than we did yesterday if we are to make sure we are still in with a chance going into the second period in our next three games.
If we can do that, then the enigma that is Wilfried Zaha comes into the equation – yesterday Zaha was as good as he had been poor against Palace. Just as against Norwich, Everton, Liverpool and West Brom, Zaha was effective when coming off the bench in a way he never has been when starting against the likes of Swansea, Hull and Palace – if City can unleash him against tiring defences (ideally when we are leading), then he undoubtedly can provide the "X factor" that Malky Mackay used to talk about and Ole did in his meeting with supporters last week.
So, in essence, the plan yesterday was to keep things tight and nick something on the break or from a dead ball situation – although they still needed a couple of superb Marshall saves to preserve their lead once they had got it, it's to City's credit that they were able to hang on to it with fewer problems than they had faced when the score was 0-0.
In general, teams get out of situations of the sort we are in by winning matches 1-0 or 2-1 more than they do by coming out on top 3-2 or 4-3 – it might not be entertaining, but it's the way it is and it'll be interesting to see if, as has been his wont in his time here, Ole is more ambitious in his approach when it comes to a home game.
* – courtesy of http://www.walesonline.co.uk/