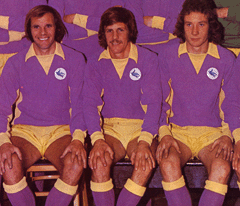 The Leckwith Athletics Stadium pitch has certainly being getting plenty of use lately and yesterday afternoon it staged its third Cardiff City match in less than a week.
Given the wet weather we've had through most of November, the pitch has held up well and, with the wind that has accompanied so much of that rain absent, the weather was nowhere near the factor for the Under 21 match with Watford that it had been for the games against West Brom Under 21s and Charlton Under 18s.
With the change in weather, came a change in fortunes for City. Both of the earlier games were lost, but the Under 21s were able to end a run of four consecutive defeats as they recorded a very hard fought 2-1 win.
No doubt, Watford will have headed home thinking of the three penalty claims their bench got very excited about that were all turned down – maybe I'm biased, but I thought the ref, who was certainly not averse to penalising City outside the penalty area for fouls, got the decisions right.
Even if the official definitely was correct about those penalty shouts though, Watford might well feel they were the better team for the last hour of the match and I'd say that, yes, it wasn't a game they deserved to lose.
Nevertheless, having described the previous Under 21 match I'd watched (the 2-0 defeat to Barnsley a fortnight ago) as the worst performance I'd seen from City at this level, this was a lot better as there was a discipline and spirit present that wasn't always there against Barnsley.
However, it was a victory earned through character rather than good football. Even when City were dominant in the first thirty minutes, it was hardly as if they were tearing their opponents apart with their fluent football – it was more that they were winning the physical battle.
That said, when they made it 2-0 just shy of the half hour mark, the scoreline seemed about right when Watford's total lack of an attacking threat up to then and their inability to gain any sort of tangible foothold in the match were taken into account.
That second goal was scored by Federico Macheda who was playing his first match since the pre season programme. Given the nature of many of his performances last season, I'm not going to say that Macheda will be the catalyst that will spark a big improvement in our very poor recent goal scoring rate, but, at least having him back in first team contention will help provide the sort of specialist competition up front that has been wholly absent lately.
Macheda's run right to left run across the penalty area followed by a neat shot into the corner from around the penalty spot doubled the lead given to City in the tenth minute by Semi Ajayi as he was left unmarked to head in captain Jamie Veale's well flighted free kick amid half hearted Watford appeals for offside.
At 2-0, I was starting to believe that City could be on for a really big win, but, thinking about it now, I'm struggling to remember any occasion when we looked like scoring after that – to say we were hanging on from that stage would be going over the top somewhat, but it would be true to say that we were on the back foot for very large portions of the game.
For a while, Watford's growing belief and ability to win the tackles they were losing earlier did not lead to any direct threat on the City goal and so it was completely out of the blue when they put together a good move down City's right which led to a cross being pulled back to Alex Jakubiak who confidently shot past Luke Wakeman from fifteen yards.
The remaining five minutes or so of the half saw Wakeman save well from a curled free kick over the wall and half time arrived with the feeling that the second period was going to be nowhere near as comfortable as it had seemed like being for City just a quarter of an hour or so earlier.
Macheda was withdrawn at half time as Jamie Bird, who had done very well on the left wing, moved forward to partner Eli Phipps up front, with left back Rhys Abbruzzesse going into midfield and Tom James coming on to play at the back.
This had the effect of improving City's left hand side defensively, but Bird's thrust and creativity was missed and, as he tired after the break, Phipps was left to fight a lone, and mostly losing, battle up front.
Bruno Manga (a surprise choice as sub at Derby on Saturday) lasted until the hour mark when he was replaced by Jordan Blaise. Although it had been a quiet return to action for last season's City Player of the Year, I couldn't help but think that the loss of Manga's experience and ability to read play may turn the game Watford's way, but the fact it didn't was down to some resolute defending by all of the outfield players.
In saying that, Semi Ajayi played a bigger part than most in preserving the lead. I had been pretty critical of Ajayi after the Barnsley defeat, but, perhaps buoyed by his early goal, this was a much more confident showing from the giant centre half – he wasn't faultless, but he was often there to shore things up when Watford threatened.
There was no doubt that Watford were dominant in many ways in the second half and City were lucky when the visitor's captain and impressive play maker George Byers hit the post with a free kick from twenty five yards, but, essentially, all his side had to show for all of their pressure was a series of "nearly moments".
Although some of City's defending at the very end of the game was on the desperate side, they managed to get over the line to record a gritty win – their team may have had a couple of first team players in it, but in Abbruzzesse, Bird, Phipps and Marco Weymans, it also had a smattering of youngsters with little previous experience at this level.
Just one other thing to finish, City have signed Charlton striker Tony Watt on loan until mid January. Watt is a Scottish Under 21 international who scored a winning goal for Celtic against Barcelona in the Champions League at the age of 18 three years ago. He does have a bit of a chequered past with some of his previous managers and coaches having some less than complimentary things to say about his attitude, but he undoubtedly has a lot of talent – will he turn out to be a Jay Bothroyd or a Ravel Morrison for us?