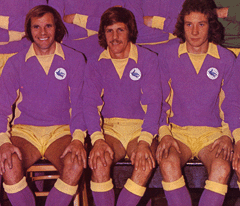 I put a link to a story about Peter Odemwingie being critical of the tactics used during his time at Cardiff on a City messageboard yesterday and added some throwaway words to the effect that he was lucky to find another Premier League club willing to take him on after the way he performed for us. Predictably, this drew a response defending the player and bemoaning the defensive tactics of our former manager Malky Mackay, to which I replied I didn't want to get involved in yet another argument about him and I was only commenting on Odemwingie's play and attitude while he was with us.
Now, I've argued Malky Mackay's cause online and person to person on stacks of occasions over the past few months, but it seemed to me that the position the team finds itself in now means that the present should take priority over the past and I would have preferred to  concentrate on the here and now – in particular, can Ole Gunnar Solskjær's squad stave off relegation?
Unfortunately however, it seems that some people are not prepared to let the matter rest and after this statement  appeared on the club's website a few hours later it seems City fans are almost obliged to keep on discussing Mackay and Andreas Cornelius ad infinitum!
I suppose predictably, Simon Lim's statement drew a response by Malky Mackay, through Richard Bevan of the League Managers Association, countering the accusations of "imprudent and careless management", with, as has been the case since Mackay was sacked, the Cornelius transfer being right at the heart of the club's accusations – has a player ever played so few matches and attracted as much discussion and controversy as the young Danish striker in Cardiff City's history?
I'm not going to go into too much detail on what was in the two statements except to make three observations;-
1. The Cornelius transfer went through on 27 June (more than two months before the transfer window closed), Steven Caulker joined on 31 July and Gary Medel on 11 August. So, we spent nearly £30 million over a six week period on those three players as well as bringing in the likes of John Brayford and Simon Moore. On the weekend the window closed we paid a further £5 million or so for Kevin Theophile-Catherine and Odemwingie, – it just strikes me as odd that nobody noticed how "imprudent and careless" our manager was being over this pretty lengthy period and didn't do anything to stop those last two deals.
2. Maybe point 1 is explained by the revelation that the club did not appear to know what was happening as far as transfer spending was concerned last summer. After all, how else can you interpret the comments about the five year contract Cornelius was given? Furthermore, Sam Hammam (who, sadly, is still hanging around like a bad smell) makes some remarks towards the bottom of this piece about Vincent Tan and Simon Lim which effectively say that Mackay and Moody were given carte blanche to do much as they wanted when it came to the club's transfer dealings.
3. If point 2 is correct, then that seems a very dangerous precedent which inspires little or no confidence in my mind as far as Tan and Lim's footballing decision making is concerned. The line "A manager, even in the Premier League, does not go out and "sign" players." seems particularly relevant here and, if this was, indeed, not the case at Cardiff, then it seems a bit rich that one of the parties responsible for creating that situation should be trying to absolve himself of any responsibility in the matter.
If this season ends in relegation (actually, even if it doesn't), I can see that word "blame" being used an awful lot in the weeks and months that follow. As I mentioned in my reaction piece to the Swansea defeat, I don't see how any one individual can be held wholly responsible for our season going wrong – there will be plenty of responsible parties and it seems to me that any arguments should just be about how much blame you are prepared to attribute to any of them.
Foremost amongt those parties are bound to be Vincent Tan and Malky Mackay and, although my sympathies undoubtedly lie more with the latter than the former, I don't think either of them can claim any moral high ground in the battle which looks like dragging on for sometime yet.
I find the club's website being used in the way it was yesterday (and for the "not a penny more" response to Malky Mackay's request for funding for January signings) cheap and distinctly lacking in class, but it needs to be remembered that throughout the autumn there were stories which were very detrimental to Vincent Tan often appearing in the media – if they did not come from the man himself, then they surely came from someone who had our former manager's interests at heart.
In that respect, they are both as bad as one and other – I can't remember which one accused the other first of "washing their dirty linen in public", but the words it takes one to know one spring to mind. If either of them really do have the best interests of Cardiff City at heart, it would be good if they could call a cease to hostilities for three months or so to enable the relegation battle to be resolved one way or another without these distractions which have to make Ole's task all the harder.
One last thought, in this new found spirit of transparency which sees Simon Lim prepared to go into such detail about one of our former players, would now be a good time to ask him for a breakdown of the "admin expenses" figures (which were around 50% higher than the figure he tells us we are going to lose through the Cornelius sale) for season 12/13 that appeared in the latest set of club accounts ? Also, would the CEO be able to come up with a figure for the amount of money the club have made as a  direct result of the re-branding of the club kit and badge in the summer of 2012? No? I thought not.