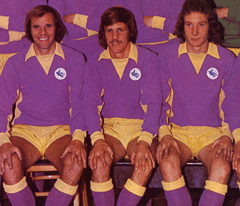 Having, apparently, had his effort against Ipswich taken off him by the dubious goals panel, Adam LeFondre would have probably announced his retirement if he had missed the opportunity which came his way early on in yesterday's match against Watford at Vicarage Road.
When you're a striker who has averaged around a goal for every 2.5 matches you've played in a career that has seen you make nearly 400 league starts and you are still awaiting your first official goal of a campaign that is eighteen matches old, you must think all of your Christmases have come at once when you are the closest player to a gently rolling ball barely a yard from the goal line with none of your opponents anywhere near it.
That was the situation which faced City's forward yesterday and, under the circumstances, it was no surprise that he decided to take a touch before scoring the goal which might well be the easiest one of his career, but it could also turn out to be a very significant one for the player and his club. For me, one of the main reasons why it was Federico Macheda and not LeFondre who was dropped from the side out of the two man strikeforce Russell Slade has gone with up until yesterday was that, despite the former's goals, it was the latter who was offering the team more with an all round game which I'll admit has surprised me, because I saw LeFondre as a goalscorer pure and simple before he signed for us – he offers more than that though and if his winning goal yesterday could prove to be the catalyst for more to follow on a regular basis, then we'll have someone who'll be well worth his place every week.
The goal ensured our away scoring drought ended at the 442 minute mark and meant that we had done the first thing needed to get us that long awaited away win. Having lost a two goal lead at Derby and been hauled back on the opening day after scoring first at Blackburn though, going 1-0 up with seventy eight minutes left was no guarantee at all that City were about to back up their good home results with three points on their travels.
This applied particularly when you considered that, even before we scored, the home team had twice forced David Marshall into fine saves and we had to rely on John Brayford, very good yesterday and, arguably, our most consistent player this season, to clear Troy Deeney's follow up from the first of our keeper's stops off the line.
Also, Watford looked to have the sort of attacking individuals best equipped to cause our two giant centrebacks maximum problems – Matej Vydra is the sort of nimble, darting opponent that you would have felt that Sean Morrison and Ben Turner would find very hard to contain and alongside him, Troy Deeney's impressive all round game makes him more than the sort of static target man whom Morrison and Turner would relish a contest with and Ikechi Anya (as well as sub Lloyd Dyer) is lightning quick.
Yes, Watford have the sort of attacking pace and movement that has more of a Premier League feel to it than it does Championship, but both Morrison and Turner, while not being in the Danny Gabbidon at his peak class for pace, are a little more quick than you'd expect them to be and this no doubt helped as they played a leading part in reducing the home team to hit and hope long shots in the closing stages.
Morrison has improved recently after some awkward moments in his early games with us, while Turner, despite coming closer to scoring for Watford than anyone when he diverted a cross on to his own post, is simply a very good player at this level (personally I don't think he's as bad as many do at the next level up either)  - it's no coincidence that we have conceded just one goal, courtesy of a very rare error by Marshall, in the three matches since he has come back from injury.
Bruno Manga, the man who has missed out for the last three games, is a better footballer than Morrison and Turner, but, with Russell Slade continually talking about building partnerships and Bruno having had an uncomfortable evening last time out at Bolton (Fabio seems to have paid a big price for his substandard showing in that 3-0 loss), I don't think getting back into the team will be as straightforward for the Gabon international as many think it might be if the Morrison/Turner partnership continues to prosper.
With the consistently good Matt Connolly offering further competition, centreback is an area where we are very strong by the standards of this division, but he has also proved in the past that he is an accomplished right back at this level and, for those who like their defenders to be footballers as well, he has the ability with the ball at his feet that is so highly valued in a defender these days.
Brayford is showing that he seems to be as equally as comfortable on the left as he is on the right and, again, I think  a popular player with the fans (Fabio) might find it very hard to break up our new full back partnership .
Russell Slade has shown that he is very much the opposite of our last manager when it comes to team selection as it seems to take a lot (some would say too much) for you to be dropped from a City side these days, but the bare fact of one goal conceded in three games since the two changes he made to the defence he used in his first five games in charge suggests he got them right. Similarly, the early signs are that his decision to break up the striking partnership used in his first seven games was correct as well.
Kenwyne Jones probably qualifies as one of those static front men I mentioned earlier, but it's an indictment of our other strikers that they have been unable to come close to matching the Trinidad and Tobago international for effectiveness this season. Jones has scored more goals and caused defences more problems than any of the others – there's is no way we would have scored that goal yesterday if Macheda, Maynard or Guerra (who was in the twenty man squad that traveled to Watford on Friday apparently) had been playing instead of Jones.
The cross for the header Jones beat Watford keeper Heurelho Gomes to came from Anthony Pilkington who I think is becoming one or our most important players. For seventy minutes, he was a strong contender for City man of the match, but the one piece of bad news yesterday (Russell Slade seemed to think that both Connolly and Aron Gunnarsson should be okay for next week's game with Rotherham despite the knocks which forced them off)  was that, after forcing Gomes into a good diving save with a shot from just outside the penalty area,  Pilkington had to go off with a hamstring injury that will keep him out for up to a month.
With Slade coming in for some criticism for not including any "flair" (I daresay he might view the word "luxury" as more appropriate) players in his team, it will be interesting to see which way he goes in our next match, which is at home to a Rotherham side currently just above the bottom three.
To say we have no flair players just isn't true – Peter Whittingham has it, Craig Noone does and there were increasing signs that Pilkington was one of those players worth their weight in gold at this level who can provide flair and graft in equal measure. However, if it were my choice to make, I'd use Mats Dæhli in Pilkington's absence next week, but there are plenty of options available for our manager – if he wants a different flair/luxury player, then he could opt for Kimbo or Ravel Morrison (although I get the feeling he may have made his last appearance in City colours) or, as a couple of left field (sorry!) candidates, how about Fabio being given a route back into the side as a left winger or Kadeem Harris being given his chance (a very long shot maybe, but I'd be tempted  to have him on the bench for the next few matches)?
However, bearing in mind what we have seen from our manager so far, maybe the more likely path he'll take will be to include a "steady as she goes" type? For example, Joe Ralls did very well when he played left midfield for forty five minutes against Leeds recently or maybe he or Tom Adeyemi (both he and Ralls did little wrong during their appearances off the bench yesterday) could play in the middle with Whittingham moved out wide.
One reason why I feel we might see Ralls starting next week is that, yet again, we were well beaten in the possession stakes yesterday. The BBC's stats show Watford having 72% possession to our 28%. Now, Russell Slade made a good point after the game when he said that a lot of that Watford possession was in areas of the pitch where we were perfectly happy for them to have the ball – with a lead to defend, keeping our two banks of four pretty rigid was essential and letting the other team have the ball a long way from our goal was, probably, the best way of doing this.
However, with us now up four places to eighth, just two points off the last Play Off place and only six behind leaders Derby, I maintain that we need more of the ball than less than a third of possession during the course of a game if we are to be realistic challengers for promotion -using someone like Ralls to come in off the wing and provide more support for the middle two should get us up towards respectability. It doesn't have to be more than 50% possession, but I don't think you can ever be in control of a game when you only have the ball for something like 35% of the time.
*Pictures courtesy of http://www.walesonline.co.uk/