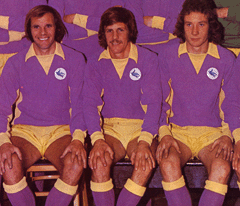 On 14 April 1945 City entertained Bristol City in the second leg of a Second Round League North Cup tie. With a 2-1 advantage from the first game at Ashton Gate, City were well placed to make the next round, but the Wurzels managed to turn things around with a 2-1 win of their own.
Thirty minutes of extra time couldn't settle the tie and with war time restrictions meaning the game had to be played to a finish (penalty shoot outs were still twenty five years or so away), two more thirty minute periods were played without either side scoring.
The game's fourth period of extra time was nearing it's end when City's Billy Rees scored the goal which decided the tie – the match had lasted 202 minutes.
Well, yesterday's U21 Premier League Cup Second Qualifying Round match against the same opponents at Leckwith yesterday afternoon probably represented the closest thing I'll experience to what those hardy souls in the crowd went through on that day seventy years ago!
Of course, there was always going to be a penalty shoot out after 120 minutes yesterday, but I believe there must have been similarities of a sort between the two games because the time spent between the visitor's seventy second minute equaliser and Ashley Baker's very late winner for City saw two already tired looking sides flogging their guts out in the search for a goal which barely ever looked like coming.
It was pretty poor stuff at times in a game in which, to put things on a basic level, the defenders and destroyers on show were generally better than the attackers and creators.
Yet, City's start to the match suggested that they would win comfortably. The first five minutes saw Eli Phipps move on to a poor back pass, but then put his cross from the bye line too close to keeper Jojo Woolacott as an unmarked Tyler Roche waited to pounce and then Roche's excellent cross was just about to present Matt Kennedy with an easy looking headed chance when a last ditch intervention by a defender put the ball out for a corner.
City were far sharper than their opponents at this stage though and it only took seven minutes for them to score. The build up to the goal contained what was, by far, the best individual moment of the match as Theo Wharton beat six opponents (I'm not exaggerating there – Cardiff City World subscribers can watch it on the club's website) in a thirty yard run which took him from a left wing position on the half way line to a central area on the edge of the penalty box.
It was an outstanding piece of play by the midfielder which, in an ideal world, would have ended with a shot into the top corner. However, Wharton's effort, though well struck, was straight at Woolacott and the keeper will have been disappointed that he could only knock the ball into the path of Phipps who put away the chance as comfortably as he did so consistently for the Under 18s over the last two seasons.
If Robbie Patten had been able to reward another fine individual run by a City player when Roche's pass after a mazy dribble presented him  with a shooting chance about ten yards out, then I'm pretty sure the game would have followed a different pattern, but another good defensive block saw the home team gain nothing more than another unproductive corner.
Effective last ditch defending notwithstanding, the Wurzels couldn't really be as bad as they had looked in the opening half an hour. Clumsy in possession, lightweight in attack and, seemingly, slower in thought and deed than their opponents in the middle of the pitch, the opportunity was there for City to settle the match once and for all in the first thirty minutes.
Yet, for the remainder of the first half, all you got from City were "nearly moments" when they were a poor pass or wrong decision away from the chance to double their lead.
Given how comfortable they had been, it probably wasn't a surprise that City's intensity levels began to drop and the visitors were able to finally keep possession and suggest that the game could become more competitive as the half drew to it's close – that said, half time arrived with them not having given Ben Wilson in the Cardiff goal a single anxious moment.
The second half proved to be a dour affair – City had left their first half fluency behind in the dressing room during the interval as failed individual sorties and hit and hope passing took over from the smooth teamwork they had shown during their best moments in the first forty five minutes.
Now, although there was little suggestion of a further goal coming at either end of the pitch, it was the Wurzels who looked more likely to provide one. Wilson was finally called into action when their number seven had a couple of efforts from around twenty yards which drew routine saves from the keeper, but he was in more difficulty when a dipping effort from further out by Bristol's number eight bounced off the top of the crossbar and out for a goal kick.
By now it was looking as if the only way City would win in ninety minutes was if they could see the game out with their 1-0 lead intact, but they were unable to do so as the Wurzels claimed an equaliser with just under twenty minutes left when a corner beyond the far post was won by one of their players who headed across goal. Patten was able to head clear, but the ball went back to the Bristol man who dinked a good cross in which a group of players went for and it was Shaun McCoulsky who got his head to it as the ball rolled gently over the line.
All City had to show in terms of a goal threat during the second period was a cross from the right that was met on the volley by Roche to draw a good save out of Woolacott. Even so, the keeper's block dropped into the sort of area I would expect Phipps (who may not look the complete package at this level yet, but has always had the natural goalscorer's instinct which seem to anticipate where the ball is likely to go) to profit from, but he had got a glancing touch with his head to the original cross and so was in the process of picking himself up from the floor at the time.
I don't know whether it was because of a pitch which looked more lush and green than the normal one seen at Leckwith, but a couple of players had needed treatment for cramp even before Bristol's equaliser and tiredness was already a factor as the teams played out the remainder of the ninety minutes with little in the way of goalmouth action at either end.
In saying that, it did show how the match had changed in that it was now City who were being called upon to produce the sort of good defending that had been seen by Bristol in the opening stages of the game – centrebacks Baker and captain Tom James being increasingly called upon to nip possible goal threats in the bud.
The vast majority of the thirty minutes extra time produced little in the way of memorable football. Wilson dealt capably with another long ranger by Bristol's number eight and Woolacott reacted sharply to grab a low cross from Matt Kennedy (who had a largely frustrating afternoon – Roche on the other flank looked the more dangerous of City's wingers to me) on the goal line with sub Abdi Noor close by.
Mostly though, the game became a stop start affair as tiredness and frustration led to a series of fouls and, inevitably, the yellow card count mounted. By and large, there was nothing malicious in the majority of the challenges, but that could not be said of the crude lunge by Bristol's number six which took out Roche in full flight as the game entered it's final minute – to me, it was the sort of foul which would have been punished by a straight red card in first team football.
The fact it was that foul which provided the free kick from which City won the match provided an element of justice, because, although City had been sloppy in allowing what had been a stroll to become a slog, there was little doubt that they were the better side over the 120 minutes and it was fitting that they were able to come up with another moment of quality which their opponents couldn't match on the day to decide the game.
Kennedy's free kick was half cleared to James who produced a chest trap and volleyed cross that a Whittingham or Noone would have been proud of and it was centreback partner Baker who was there to head in from about five yards out to put his team through to the next round.
In setting up the goal, James showed the composure which, for me at least, marks him down as a possible first team player of the future, but, as mentioned before, this was an afternoon where composure and creativity was in pretty short supply and it was more of a game for defending and dogged determination – those were the qualities which made James my City man of the match with the always impressive Robbie Patten not too far behind him.