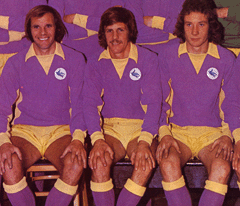 Ever since City were granted Academy status back in 2004, the line has been that it's not about results, but about player development. I've never had a problem with this approach, but it must be that much harder for players to develop in the way that the club wants them to when they are being beaten continuously.
For the first seven or eight years of our Academy's lifetime, we were in a section where MK Dons were the perennial whipping boys. Invariably, the Dons were bottom of the table every year and yet that club have had a pretty steady stream of young players making their way into the first team with one of them being sold to Spurs earlier in the year for a big fee.
So, it is possible for losing teams to succeed in the Academy's main function of producing first team players. However, in losing their fourth successive match yesterday lunchtime at Treforest when a very late goal snatched a 3-2 win for Leeds, I thought there were telltale signs that confidence is falling away – after Leeds got it back to 2-2 with twenty minutes to go there was only ever going to be one team who might be able to snatch the win and it wasn't Cardiff.
As is usually the case with youth team matches lately, there was little to complain about when it came to entertainment. Although I thought Leeds just about deserved their win, there wasn't a great deal between the sides, but City were hanging on for their draw in the last five minutes or so, while their opponents had the belief to press for the win – that was the difference between the teams really.
After fifteen minutes or so of sizing each other up, there was a cut and thrust to the first half which had you wondering why it took around another twenty minutes for the first goal to arrive. The Leeds keeper had to make good saves on his near post from Harris and Matondo, while at the other end, Coughlan made a fine stop, but was powerless when the Leeds number 11 cut in from the right to fire against the bar from twenty yards.
The City player who made the biggest impression in the opening half for me was Rabbi Matondo. Apparently, still young enough to play for the Under 15s, Matonda has plenty of pace and Leeds couldn't cope with him when he got up a head of steam.
This was shown to its best effect when Coughlan caught a free kick and threw quickly to Matonda who raced half the length of the pitch before shooting just wide – truth be told, he should have scored, but the run which created the opportunity was probably the highlight of the half.
Around this time I thought City were just beginning to get on top, but, within a couple of minutes of Matondo's miss, it was the visitors who got their noses in front.
A constant factor in the Academy team's play in the last decade or so has been their insistence in building the play from the back with the goalkeeper looking to throw to a defender rather than launch the ball upfield.
Again, I've no problem with this policy because I think this is the best way for the game to be played at this level, but I think you have to accept that goals are sometimes going to be conceded as a direct result of playing in such a manner.
That's precisely what happened when City midfielder Welch was given a pass some thirty yards from goal in an awkward position and promptly was robbed of possession – the ball was quickly worked to a Leeds striker who netted with a low shot from fifteen yards which I feel Coughlan would have been disappointed to let past him on the near post.
For a short while, Leeds threatened to take control, but when left wing back Abbruzzesse threaded a ball through the centre of the visitor's defence for Matonda to race onto,this time the striker was able to confidently score as the keeper advanced to meet him.
All square at half time, City needed just a minute or two after the beak to go ahead. Lloyd Humphries, who was the best midfield player on the pitch for me for the first three quarters of the game, swung in a lovely free kick which seemed to present Matonda with a simple opportunity, but he could only knock the ball slightly forward and it needed skipper Rollin Menayses to apply the finishing touch from about five yards out.
Cardiff 2 Leeds 1 is a score City fans have become used to since we last tasted defeat at first team level by the Yorkshire team thirty one years ago, but, with so long still to go and the open nature in which the game was being played, there was always going to further goals.
That said, there weren't as many close misses in the second half as there was in the first. In fact, City went into the match's final quarter looking pretty comfortable as the visitor's goal attempts tended to belong in the high/wide and not very handsome category.
City's best chance during this time fell to Harris after he had been set up by some superb work Matonda, but he shot narrowly wide. With hindsight, this turned out to the match's decisive moment, because I believe a two goal lead would have put City in an unassailable position.
Instead, they found themselves pegged back shortly afterwards when the visitor's rediscovered their shooting boots as an effort from just outside the penalty area crashed down off the underside of the bar – to me, it looked like the ball had crossed the line when it hit the ground, but any doubts about whether a goal had been scored were rendered redundant when their substitute striker nodded in from point blank range.
After this it seemed as if City had hit some sort of wall in an attacking sense at least. There were still opportunities for them, but a combination of a bit of anxiety and poor technique saw them unable to connect with their forwards from a number of counter attack chances.
Perhaps it was a feeling that they thought it unlikely that they could score again which caused City to start to drop a little deeper as the distance between the midfield and strikers grew, but it was a dangerous policy given the "quality" of much of the team's defending this season.
City were given a warning when the dangerous Leeds number 11 flashed a shot just wide with Coughlan rooted to the spot. The pressure was mounting though and the game was into it's last minute or two when a corner dropped to a Leeds player who was unmarked beyond the far post and his low shot eluded Coughlan to decide the match and ensure that a losing run, which may not be as troublesome as it would be at first team level, but still must be a concern nevertheless, goes on for another week.